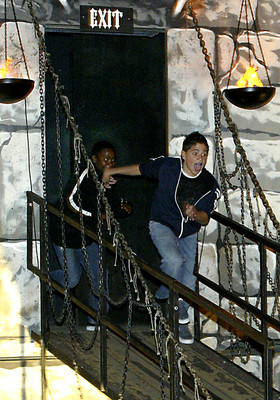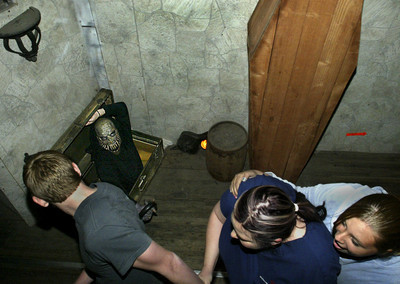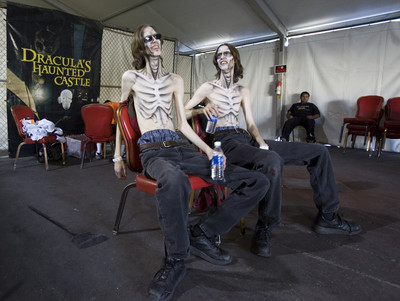 Gabriel Lundquist, 7, doesn't like to be scared so, while he waited to enter the Fright Dome with his cousins and friends recently, he formed a plan to ward off the heebie-jeebies.
Glow sticks. Lots of them. He wore glow-stick necklaces. He wore glow-stick bracelets, on both wrists.
He thought he was ready for anything. He didn't count on the clowns with chain saws. Moments before the doors opened at 7 p.m., a hearse filled with freaky characters pulls up to the line of customers, giving them a sample of what is on the evening's menu of fear.
Screams are drowned out by the revving of chain saws and evil laughter as the monsters and clowns lunge at people, and Lundquist, who had been so proud to be among the first in line, pushes against the legs of those behind him, fighting to be anywhere but in front.
The actors leave as suddenly as they arrived but their scary presence lingers, leaving people in line tittering nervously and wondering, "What the heck is in that building?"
And that, says Jason Egan, the mastermind behind the five haunted houses in Circus Circus' Fright Dome, is the first rule of fear: Build suspense.
Though people are more sophisticated in 2007, thanks to over-the-top horror movies and high-tech special effects in every form of entertainment, they're still easy to scare so long as you stick to the basic methods, haunted house creators say.
"It still boils down to the staple items," Egan says. "Spiders, snakes, claustrophobia, clowns, chain saws. What scares people is the startle effect, not the blood and gore. It's the fear of not knowing who's around that corner."
That's true, agrees James Ash, 28. He was at the Fright Dome with his girlfriend, Lola Rowe, 25, waiting to enter the haunted house featuring chain saws. The Fright Dome is actually Circus Circus' Adventure Dome turned into a Halloween haunt.
A stoic, muscular guy, Ash doesn't look like he would be afraid of anything. But he is: "Just about anything popping out of the dark."
Rowe's fears are a bit more specific.
"The chain saws scare me," she says.
Then why were they waiting to go into the haunted house where tall, gangly ghouls greeted customers by coming up behind them with a running chain saw?
"We like this kind of stuff," she says.
The art of scaring people is a lot like riding a roller coaster, says Rich Strelak, owner of the Asylum and Hotel Fear. The scare, like a ride, starts while people are waiting in line.
Even though most haunted houses in Las Vegas are in portable trailers, if you decorate them to look spooky, it will help set the stage, Strelak says. People standing in line can hear the screams of those going through the haunted house then begin to anticipate what's going to happen when it's their turn. Live actors outside add an extra touch of surrealism that prepares people for more, horrific things to come.
"Once you're inside it's the same thing," Strelak says. "Hook them with a startle effect, then tone it down, then hit them again. You have to do this roller coaster effect. If you hit them with scare after scare, it's not fun anymore. You use a lot of different techniques and you build off people's fears and phobias."
The primal fears that are in everyone's DNA are the same as they were 100 years ago, says Duke Mollner, owner of Freakling Bros. haunted attractions. Any good haunted house will incorporate them: fear of the dark; fear of spiders, snakes and creepy crawlies; fear of clowns and claustrophobia. And fear of the unknown.
"We are a big believer that what you can't see is scarier than what you can see," Mollner says. "The longer we can sustain that, the more heightened the scare is."
A good scare always starts out in the imagination of the victim, say Ryan and Garret Pfeifer, identical twins who have been on Fright Dome's chain-saw gang for three years. For years, they have studied what scares people and can identify those who are easiest to frighten, they say.
At 6 foot 7, the gangly twins cast an imposing figure once they're done up in their ghoulish makeup and tattered rags. The chain saws make the costume.
The art of scaring people is more psychological than physical, they say.
"Everyone who goes to a haunted house knows they'll be scared. They just don't know when it will come," Ryan says.
Middle-aged Jan Bingham, standing in line for the Fright Dome's chain saw haunted house, thinks the scare will come when she gets inside. She doesn't see Ryan Pfeifer until he stands behind her, revving his chain saw. Her friends laugh; she quakes with fear.
Chain saws are a must-have at a haunted house, Egan says, because people expect them. Why they're scary remains a mystery, though. Maybe it's the idea that the guy could actually have a working chain saw, he guesses.
Whatever it is, it's effective. Bingham yelps with fear, clutching her chest after Pfeifer leaves.
"I was thinking I should have brought my nitro pills," she jokes.
Ten minutes later, she runs screaming from the haunted house, a guy with a chain saw hot on her heels. Once she gets away, she stands with her friends laughing. She enjoys a good scare and seeks one out every year because it's Halloween, she says.
What did she think of the chain saws, the dark house, the ghouls and creatures?
"It's a good thing I'm wearing Depends," she says. "A double layer."
Contact reporter Sonya Padgett at spadgett@reviewjournal.com or (702) 380-4564.
HAUNTED HOUSES
The Freakling Bros. Circus of Horror: In the parking lot of Sunset Station, 1301 W. Sunset Road, Henderson
Hours: 7-11 p.m. Sundays through Thursdays; 7 p.m.-midnight Friday and Saturday; 7 p.m.-midnight Halloween
Admission: $11, or $25 for the Freak Pass, which allows admission to all three Freakling Bros. attractions. No one younger than 5 allowed; no one younger than 12 admitted alone.
More info: 362-3327
Freakling Bros. Castle Vampyre: In the parking lot of United Artist Rainbow Promenade, 2321 N. Rainbow Blvd.
Hours: 7-11 p.m. Sundays through Thursdays; 7 p.m.-midnight Friday and Saturday; 7 p.m.-midnight Halloween.
Admission: $10, or $25 for a Freak Pass
More info: 362-3327
Freakling Bros. Mortuary: In the parking lot of Charleston Swapmeet, 4530 E. Charleston Blvd.
Hours: 7-11 p.m. Sundays through Thursdays; 7 p.m.-midnight Friday and Saturday; 7 p.m.-midnight Halloween.
Admission: $10, or $25 Freak Pass
More info: 362-3327
The Fright Dome in the Adventure Dome at Circus Circus: 2880 Las Vegas Blvd. South.
Hours: 7 p.m.-midnight today and Thursday through Halloween
Admission: $32.95 general admission; $44.95 fast pass enables holders to go to the front of the line.
More info: 794-3939 or www.frightdome.com
The Asylum Haunted House: In the parking lot of Home Depot, 1275 W. Craig Road
Hours: 6:30-10 p.m. Monday and Tuesday; 6:30 p.m. to midnight today and Wednesday through Halloween
Admission: $10
More info: www.lasvegashaunts.com