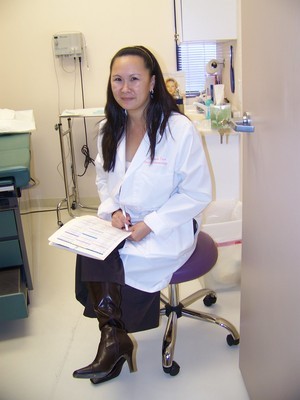 Now that Vegas' summer heat has disappeared, teens probably won't be found tanning by the pool.
Rather, many are turning to tanning beds as a substitute to keep their skin glowing, enduring sessions under the ultraviolet light to keep that summer splendor.
Though most teens understand that there are health risks associated with "fake baking," they continue to rely on it.
Khrista Khwaja, a junior at Silverado High School, and Kristina Foti, a senior at Liberty High School, admit that tanning beds are their choice for year-round bronzing.
Khwaja is aware of the consequences that tanning beds present and tries to use them sparingly, rather than visit multiple times a week.
"I only use them when I feel like my skin is too light and I need more color or for big events like Homecoming," Khwaja says.
Although she realizes that tanning beds can cause cancer, she continues to use them because they offer an easy way to get tan fast.
Foti also understands the potential dangers of tanning beds.
"A lot of things are bad for you that you keep doing," Foti says. "I keep using them because it's faster than tanning outside and I can do it all year."
Many teens share Khwaja's belief that they aren't causing as much harm to their skin because they only use tanning beds once or twice a month. However, according to Dr. Alison Tam of Desert Dermatology, this is a common misconception.
Tam says one of the reasons the use of tanning beds is so dangerous is "because you won't know you're doing damage to your skin until you're in your 40s or 50s and skin cancer comes up."
According to the American Academy of Dermatology, a review of seven studies found a 75 percent increase in the risk of melanoma, the most deadly form of skin cancer, in those who had been exposed to tanning beds before the age of 35.
"When you tan, there are two types of ultraviolet rays that are released from the bulbs: UVA and UVB," Tam says. "Ultraviolet A causes wrinkling of the skin, aging and dryness and ultraviolet B causes burns. Tanning beds are harmful because (the radiation is) concentrated and people usually go in two to three times a week."
According to the World Health Organization, as many as 60,000 people a year worldwide die from the effects of excessive sun exposure, mostly from malignant cancers.
But when being bronzed is the look so many teens are striving for, known statistics and consequences tend to be ignored.
"There's that constant demand for beauty, and people think tan is beautiful," says Rachel McComas, manager of the Ultimate Tanning salon on Maryland Parkway and Wigwam Avenue.
Tanning salon employees understand that tanning beds have a bad reputation. However, McComas says, "There are a lot of new innovations in tanning beds. Newer tanning beds in salons regulate the UVA and UVB rays which is a lot better for your skin."
Although many teens are aware of the risks associated with tanning beds, some assume that tanning under natural sunlight is harmless, or at least, less harmful.
However, these teens are mistaken, according to Tam.
Even a small amount of sun exposure can cause skin cancer, she says. It can develop without the use of tanning beds or lying out in the sun for long periods of time.
"If you're going to go out in the sun, you have to use sunscreen," Tam says. The American Academy of Dermatology promotes sunscreen as the best product to prevent wrinkles and skin damage.
For teens who are determined to have bronzed skin but don't want the risks of tanning, Tam advises using spray tanner.
"Most of the newer ones don't leave an orange color so they look very natural."
R-Jeneration