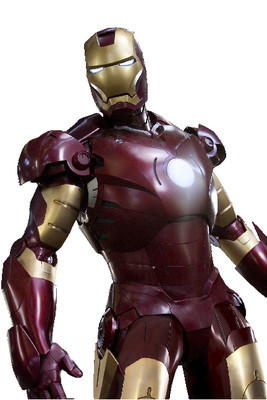 He was Vegas when Vegas wasn't cool.
Which explains why "Iron Man" director Jon Favreau seems a bit peeved when asked who came up with the idea of having the title character, weapons manufacturer Tony Stark, visit Vegas to establish his zillionaire-about-town status.
"Of course it was my idea," Favreau says during a telephone interview to promote Hollywood's latest comic-book adaptation, which opens in theaters tonight.
After all, this is Mr. "Swingers," the guy who wrote the 1996 sleeper comedy for himself and pal Vince Vaughn; he also co-starred in "Desert Breeze," a 1996 TV pilot that never took off, and the 1998 made-in-Vegas "Very Bad Things."
But enough about him. Let's get back to "Iron Man" Tony Stark (played by Robert Downey Jr.), who metamorphoses from superrich scientific entrepreneur to superrich superhero.
In the beginning, "there was talk" of establishing Stark's character "in Beverly Hills at an awards ceremony," Favreau recalls.
But Favreau had a better idea: Vegas, baby.
"Iron Man" gives us the awards ceremony, a swanky Caesars Palace banquet where those assembled extol Stark's visionary genius.
But is Stark there to accept the prestigious Apogee Award from his good pal, Air Force Col. Jim "Rhodey" Rhodes (played by Terence Howard)?
Of course not. Stark's at the craps tables, flirting with the babes and generally behaving as if he owns the place. Which, considering his bank account, he could afford to.
"As soon as you cut to (Stark) in Vegas, you know what he's about," Favreau explains. "And which casino we chose told you a whole world about the guy."
A Las Vegas casino also provides instant, extreme contrast with Stark's next destination: Afghanistan, where he travels to introduce his latest superweapon and winds up captured by terrorists who covet his killer technology.
"You want to start him off as far away as possible from a cave in Afghanistan," the director explains.
Once Caesars Palace was on "Iron Man's" map, there was never any thought of trying to fake one of the Strip's most recognizable casinos elsewhere, Favreau says.
"If you know Vegas, you know nothing can stand in for it," he maintains. (Although the filmmakers had to "create our own ballroom," complete with Roman columns, because they couldn't get access to the real thing.)
But in capturing the casino floor, the baccarat room, even outside by those famous fountains, it's all genuine, authentic Caesars.
"There's a certain grandeur Vegas has," Favreau observes, pondering his rise from a low-budget sleeper like "Swingers" to "Iron Man," a potential blockbuster with major-studio roots.
Beyond its Caesars location, "Iron Man" has three additional Vegas connections.
The first: "Tony Stark is based on Howard Hughes," Favreau notes, making the Strip setting a natural for a real-life legend whose influence continues today in the Summerlin and Hughes Center developments.
The second: To research his role as Rhodey, Howard visited Nellis Air Force Base.
And last but certainly not least: Favreau has extended his "Iron Man" connection by writing a four-part comic book series titled "Iron Man: Viva Las Vegas."
The first chapter debuts May 7, hot on the heels of "Iron Man's" multiplex launch. That seems appropriate, considering its status as another collaboration between Favreau and Adi Granov, a comic-book artist who also helped design the movie's Iron Man armor.
"We talked about doing a short series," Favreau notes, which would focus on "anything I wanted."
And what Favreau wanted was "a big fight on the Strip." Naturally.
"It's such a playground visually," he explains, citing the casinos — from New York-New York, Luxor and Paris to the Stratosphere — providing "a great background for a big fight."
And let's not forget the Stark Casino, a major fixture on Favreau's imaginary Strip.
As for whether "Viva Las Vegas" might become the inevitable "Iron Man" movie sequel, Favreau isn't quite sure.
"It's definitely fun for the comic book," he says, in part "because I don't have to worry about the budget."
But Favreau's sure of one thing: He'll return to Las Vegas, even if Iron Man doesn't make the trip.
"I'll be filming there," he predicts, in part because "Vegas has been very good to me. It helped to define me. It feels nostalgic and familiar to me."
Especially with such memories as the final scene filmed for "Iron Man," which "we shot on the floor at Caesars," he recalls. Downey was at the craps tables — and so was Favreau, playing Tony Stark's driver, Hogan.
Off-camera, Favreau's "Swingers" partner, Vaughn, watched the scene — until "Cut!" sounded, the cameras stopped rolling, and the three could share a hug at the conclusion of the successful shoot.
"That was our moment of celebration," Favreau recalls. "Yet another fond memory of Vegas."
Contact movie critic Carol Cling at ccling@reviewjournal.com or 702-383-0272.