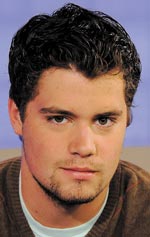 Here are a few things in news, sports, entertainment and popular culture that we've been talking about lately.
• A Las Vegas man wins the right to use the word "HOE" on his license plate. A resounding victory for the rights of Nevada gardeners.
• A new study says cats manipulate humans by the way they purr and meow. Why, those sneaky, manipulative … aww, who's a good little Fluffy!
• Buskers file a lawsuit to continue performing on the Strip. As long as their talents don't include shoving seedy pamphlets into our hands as we pass by, we're good with it.
• Levi Johnston , Bristol Palin's ex, says fame went to Sarah Palin's head. Seems to be a lot of that going around, doesn't it Levi?
• A photo catches President Barack Obama reportedly — maybe — checking out a comely lass. On behalf of American men: We KNEW you were just like us!
• Jon Gosselin reportedly shows off his new girlfriend in St. Tropez. Just rename the show "Jon and Whomever Plus 8" and go away already.
JOHN PRZYBYS (jprzybys@reviewjournal.com)