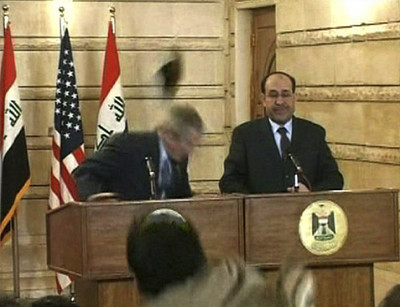 Here are a few of the things in news, entertainment and popular culture that we've been talking about lately.
* An Iraqi TV reporter flings his shoes at George W. Bush during a news conference in Baghdad. Good thing U.S. broadcast journalists are more professional, because Katie Couric could take out an eye with those stilettos.
* Michael Jackson unveils a new look that includes a fedora, a black head scarf and a Zorro mask. Yeah, it's the mask that makes it not creepy at all.
* About half of the population of Cranfills Gap, Texas, enjoys an all-expenses-paid trip to Las Vegas as part of a Las Vegas Convention and Visitors Authority promotion. There are still seats available on the reciprocal trip from Vegas to Cranfills Gap. Any takers? Anyone at all?
* Avril Lavigne dashes rumors of pregnancy when she's spotted downing tequila shots in Las Vegas. Either that, or she has embraced Dr. Jose Cuervo's prenatal program.
* Tom Cruise and Matt Lauer make nice on "The Today Show." The denouement to a drama everybody stopped caring about a long time ago.
By JOHN PRZYBYS (jprzybys@reviewjournal.com)