They're Gonna Live Forever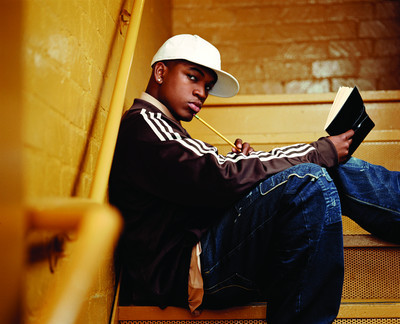 They'd like to thank the Academy.
Not that one. Not yet. One Academy at a time.
"I never thought I'd be making a living off of acting — it's still kind of a shock for my family and friends to see my face on TV every Wednesday night," says Matthew Gray Gubler, co-star of CBS' "Criminal Minds" and Las Vegas Academy graduate, class of 1998.
"My friends and I joked that our major at the academy was Acting Not As An Occupation 101. I knew that at the academy, those were the people I wanted to be around. My junior high experience wasn't the most creatively charged, so I was very happy to make an exodus to a place where creativity was lauded instead of beaten down."
The grad's got cred. When a fan posts a YouTube montage of your scenes set to a Red Hot Chili Peppers soundtrack and titled "The Awesomeness of Matthew Gray Gubler," that's major mojo. "That school changed my entire life. Had I not gone there, I don't know what I'd be doing now, maybe serving shrimp cocktail somewhere."
The school motto is a model of dignified inspiration, urging aspiring artists to "Share the Vision, Build the Dream." But riffing on that gloriously goofy "42nd Street" mantra — You're leaving school a nobody, kid, but you're coming back to the class reunion a star! — might better predict several career trajectories launched from 315 S. Seventh St.
"The kids come here focused, they come here with a dream," says Stephen Clark, principal of the Las Vegas Academy of International Studies, Performing and Visual Arts (the full name on the birth certificate after it was born of the former Las Vegas High School in 1993; Las Vegas High was reborn elsewhere). And if, as the "Fame" theme proclaims, they're gonna live forever, baby, remember these names: R&B singer Ne-Yo, "Dancing with the Stars" hoofer Julianne Hough, stage/screen actress Rutina Wesley, stand-up standout Baron Vaughn, chanteuse/pinup pixie Leah Dizon and series star Gubler.
They're linked by the academy where, to varying degrees, their talents were revealed, respected and refined.
"They all stood out when they were here," Clark says of the school's pro-performer ranks, which also include the R&B belters of the group 702 — Kameelah Williams and the Grinstead sisters, LeMisha, Irish and Orish.
Talent doesn't come much wider and deeper than Wesley's. Hers is a one-woman artistic assault of singing, dancing and acting that stormed Broadway and landed on screens big and small. "She could charm the chrome off a trailer hitch," Clark says, perhaps understating her gracious charisma. "She always seemed a little bit more mature, and even though she had more talent than a lot of the kids, she would work with them, she never lorded it over them."
Show-biz bookers beware: Cornering her into an easily labeled commodity will prove as pointless as trying to nail Jell-O to a wall.
"Going to that school allowed me to train in being a triple threat, and when I got out, I had all the tools I could use — there's nothing you can throw my way that I'm not going to be able to do," says Wesley, who made critics smile (as much as critics' facial muscles will allow) with her role in the movie "How She Move." Entertainment Weekly applauded how the Las Vegas Academy grad "glowers with just the right touch of sweetness as a brainy student (and stellar after-school stepper) who needs to learn how to honor her old hood even as she studies hard to move on out."
Wesley, who moved on to the University of Evansville, the Juilliard School and the Royal Academy of Dramatic Art, also strode onto the Great White Way, appearing alongside Julianne Moore under Sam Mendes' direction in David Hare's "The Vertical Hour." Now, she's set to co-star with Anna Paquin in next fall's new HBO vampire series "True Blood," from "Six Feet Under" creator Alan Ball.
"All my juices were used every day," she says of the academy, where, as part of the first full graduating class of 1997, she has reached role-model status. Before America tuned into her talent, Las Vegas audiences caught her in academy productions such as "Fame," and in the lead of "Sweet Charity," as well as one of five portrayers of Henry V in a shake-up of Shakespeare.
"I got the famous Kenneth Branagh speech, and I was really excited," she recalls. "When I was there, they were taking people who had the rawest talent, but they just had something about them, and I loved that. It wasn't about the most talented person at an audition, it was about the person who just had that spark. Everybody got a shot."
While Wesley's career found forward motion at the academy, Ne-Yo (real name: Shaffer Smith) backed into his.
"I was there for visual design for the first three years of high school, then I went to Rancho High," says the singer, whose albums "In My Own Words" and "Because of You" went platinum. As a songwriter he has struck lightning with some high-voltage collaborators, penning Rihanna's hit "Unfaithful," Beyoncé's "Irreplaceable," and tunes for Whitney Houston, Celine Dion and Enrique Iglesias.
"I've been doing music since before I could talk, but I never thought I was good enough to be out in public with it," he says. "I wanted to go out for the choir, but I heard it was difficult to get in so I chickened out at the last minute and went with art. I hung out with a lot of the choir majors, but I was afraid to sing until the annual talent show. That was the first time my friends knew I could do it, and they were impressed. So I was like, 'OK, maybe I'm a little better than I thought I was.' From then on, I knew exactly what I wanted to do with my life."
By then, approaching his final year at the academy, a budding singer remaining a visual design major was like leaving a singer without a song — and triggered some strange, alienating urges.
"They'd put up an orange, an apple and a banana, and say, 'Paint the still life,' so I'd have the orange fighting the banana, the apple with a machine gun shooting the orange, and I'd get an F."
Shortly after the apple whacked the orange, Ne-Yo transferred to Rancho High, though the art chops the academy encouraged still might color his career — he's negotiating with the Cartoon Network to create a show for which he will do all the drawing. (No word on whether it features any fully armed fruit.)
"I loved the whole environment at the academy," he says. "It was very free-expressive, not like a regular high school where they try to make you be something. In this school, it was like, 'Well, what do you want to be? And if this is what you want, this is how you can be that,' and that's a beautiful thing. Those people helped me come out of my shell."
As Ne-Yo discovered he could rock the world with rhythm and blues, Baron Vaughn found he could make a joke sing:
"Every white woman I've ever dated, I'm the first black guy they've ever dated, which sounds cool, but I know a lot of them are like, 'I don't want a full-on, ghetto Negro. How about this Steve Urkel-Alfonso Ribeiro guy over here, because I'd like to go black, but I'd still like to go back.' "
Vaughn's quick-wit shtick first found a voice at the academy. "I remember they did a one-act play festival at the academy, and I became the stage manager of the whole thing and directed one of the plays," recalls Vaughn, a class of '99 graduate. "Before the show, I came out and did a six-minute set to warm up the audience. None of it was my own material. That was the first time I did stand-up, even though the stand-up wasn't mine."
Vaughn has waded into acting, playing "Partygoer" in the recent film "Cloverfield," ("I survived and got across before the monster got the bridge.") as well as small roles in "Law & Order," "Law & Order: Criminal Intent" and the indie film "Black Dynamite," plus commercial voice-over work for AOL, Radio Shack and McDonald's. But he's mostly packin' punch lines, perhaps on his way to becoming a next-gen Chris Rock. Vaughn has manned the mike on Comedy Central and at HBO's Comedy Arts Festival, and is among the smart-aleck Greek chorus that rains sarcasm on misbehaving celebs on cable's put-down/countdown shows — you know, "The 100 Most Embarrassing Celebrity (Fill in the Blank)."
"At the academy, I was always on the fringes in shows, I called myself 'The King of Small Parts,' " Vaughn says. "But my crowning achievement was 'Oliver,' where I played Fagin. I had songs all to myself, it's the first show my little sisters came to, they loved it, and that made me very happy. I had a great time there, made a lot of friends who I keep in touch with. … Actually, I need to call them. Maybe I will after this interview."
He'd need the international operator to reach Leah Dizon. Born in Las Vegas to parents who were both croupiers, the 21-year-old of Chinese, Filipino and French descent is now a car model and pop princess in Japan, and much-ogled eye candy on hot-babe Web sites. Editors of DSport magazine practically panted during an interview: "While (Dizon) would be too young for the majority of our staff, everyone on staff was claiming that this was their future wife. … Fortunately, anti-stalking laws kept (Dizon) safe."
Post-Las Vegas Academy, Dizon posed on the covers of import car magazines, earning an overseas fan base, and once her sexy image slinked onto the Web, she'd gotten male motors revving to the beat of 2 million hits on search engines. In 2006, after sending demo tapes to a Japanese talent agency, she relocated to Tokyo, and since has released several albums, as well as photo books. (A couple of seminude photos sparked a miniscandal in Japan, and several look-alike porn performers cropped up in the wake of her success.)
Dizon couldn't be reached for an interview in Japan, but in 2006, she told DSport that, "I didn't enjoy public school very much, I have memories of being pushed around and being lonely. But I went to the Performing Arts Academy for the first two years of high school, and I loved it because I was able to do every day what I loved, which is perform."
Back on the domestic front, dance floor dynamo Julianne Hough dazzled America with twin wins on ABC's "Dancing with the Stars," which catapulted her to the top of the tabloids and gossip blogs buzzing about her romantic entanglements. Her academy stay was only a year, but it registered impressively on Clark.
"She came to us after spending years at a dance academy in London and just stunned everybody with her dancing," Clark says of America's latest sweetheart, whose fame comes with the standard accoutrements, including publicist/gatekeepers who declined to make her available for an interview. Recalling her co-leading role in "Beauty and the Beast" on the academy stage, Clark says Hough's talent had a surprising side. "Julianne was a strange dichotomy, because not only is she very pretty and striking onstage, but she also had excellent comedic timing — she stole the scenes."
But the most consistently visible academy alum is Gubler, who recently returned to the "Criminal Minds" soundstage following the resolution of the Hollywood writers strike.
"I have to shoot the show in L.A., but if I had my way, I'd move the show to Las Vegas," says the actor who portrays FBI profiler Dr. Spencer Reid on the hit CBS series starring Joe Mantegna, and recently voiced Simon in the big-screen adventures of Alvin and the Chipmunks.
Mainly focused on filmmaking early on, the wryly amusing Gubler — who has made several self-deprecating mock-u-mentaries skewering Tinseltown narcissism, viewable on YouTube — initially studied acting at the academy as a fallback skill.
"I thought it would help me become a lawyer or something, help me speak in public. That's how I looked at that school." But while interning for director Wes Anderson, Gubler was cast as "Intern No. 1" in the Bill Murray film "The Life Aquatic with Steve Zissou," opening up audition opportunities that eventually landed him "Criminal Minds."
"There's nothing like the academy, and a lot of people there like myself probably couldn't function as well in a public school where people beat you up, you know? There weren't any bullies at the academy, and that made it a sanctuary for us," says Gubler, who later graduated from NYU's Tisch School of the Arts and directed and co-produced The Killers video "Don't Shoot Me Santa."
"I was in 'Picnic' at the academy, and 'The Importance of Being Earnest,' and I also got to play The Cat in the Hat and The Mad Hatter, two of my favorite fictional psychopaths. Those were fun shows. I miss those. I wish I could go back."
Right now he's striding forward. Someday soon he might even thank the academy.
Not this one. That other one.
Contact reporter Steve Bornfeld at sbornfeld@reviewjournal.com or (702) 383-0256.
Follow the links below to see (and hear) more from these former Las Vegas Academy students:
MATTHEW GRAY GUBLER
• Official site
• IMDB profile
• Criminal Minds
• Youtube.com
702
• "Steelo" video
• "Where My Girls At?" video
RUTINA WESLEY
• IMDB Profile
• "How She Move" official site
NE-YO
• Official site
• Neyoworld.com
• IMDB profile
• "Because of You" video
BARON VAUGHN
• Official site
• Blog – "Negro Witticisms"
• IMDB Profile
LEAH DIZON
• Official site
• Dsportmag.com interview
• "Love Paradox" video
• "Koi Shiyo" video
JULIANNE HOUGH
• Official site
• IMDB profile
• "Dancing With The Stars"