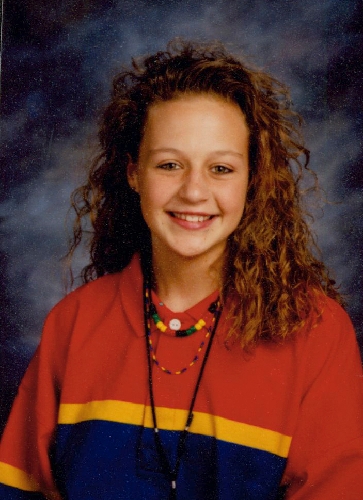 When you're a grown woman with a career, mortgage and husband, the expression "meet me halfway" is supposed to turn your thoughts to negotiations. It makes this grown woman think of prank calling boys, ratting bangs to Wasatch mountain-heights and absorbing "Days of Our Lives" drama.
It's all because of Alaina Jo Faber, my childhood friend who never reached adulthood.
She and I ended most our calls with "meet me halfway." We'd hang up the phone, dash out the front door and make good on our word. A whole nine houses separated us. It goes to show how small our worlds were at the time.
Even as our circles expanded, though, we kept up the ritual, still making that walk with our driver's licenses in our back pockets.
Alaina felt more at home in the Garza house than our living room furniture. She was the first friend of any of us kids to charm her way through my dad's surly demeanor, too carefree to realize she was supposed to be intimidated.
She'd ask him why he kept so many cars he didn't drive. He'd explain his auto body work. She'd beg him to translate English words to Spanish. He'd oblige. She'd ask to change the channel from news to cartoons. He'd laugh at her bravery.
It got to the point where the two would conduct singalongs in his truck as he drove us to school.
My dad wept when he found out she left us, and how. My mom rushed home from work to be with me and my little sister.
I was 16 years old when it happened. Alaina had just turned 17. It's a selfish time of life, the teens. I thought my family had something special with Alaina – and we definitely did. But there were so many more just like us.
Church officials said they'd never seen a funeral procession so populated. We parked a block away.
The tightest hug I've ever felt came in the lobby of that church. Our former Girl Scout leader squeezed my body so hard it physically hurt. Leslie had three boys and always longed for a girl. The stay-at-home mom considered her troops the daughters she never had.
But Alaina didn't have to wear her green uniform to pay her a visit. She frequently kept Leslie company, even when it meant dusting shelves.
There was also Mark, the man whose cherry trees the neighborhood kids couldn't resist. A few of us were midpluck one summer afternoon when he emerged from his house and surprised us. We sprinted in the other direction, cherries folded into our shirts like baby kangaroos. On our way back home, we found a stepping stool and bucket waiting for us under one of his trees.
Mark eventually hired Alaina to baby-sit his two girls at an unheard of $10 an hour. He trusted her and, where teenagers were concerned, trust was hard to come by.
In the wake of a loved one's death, we tend to remember them as doing no wrong. But that romantic regard eventually expires. It's 19 years to the day since she left us, and still, the one thing I can think of that Alaina really did wrong was take her own life.
In the almost two decades I've had to reflect on it, my answer to the suicide survivors' unending question of "why?" has changed over the years. Normally, the older you get, the closer you come to finding answers. In this case, the older I get, the further removed I am from teenage logic. Her death boggles me even more today.
Still, I can't say I'll ever stop trying to answer that question, or stop wondering what could have been.
Alaina had drive. She crunched her way to six-pack abs in high school and, before that, read every "Adventures in Babysitting" book to win our elementary school's read-a-thon.
She had courage. While her girlfriends dillydallied with handstands during recess, she sprung into backflips. Sans a spot.
She was funny. I still laugh out loud recalling her impressions of fellow churchgoers as they bore their testimonies, quivering lips and all.
If she'd ended her life as an adult, I'd feel differently about pondering her potential. She was a child.
My brother and his family now live in my childhood home. When I visit him, I drive past the cul-de-sac where Alaina's parents still live today and reflect on all that's happened since she passed. The weddings, divorces, promotions, graduations, baptisms, funerals.
But I always go back to this: Stomping through that snowy street, running with raindrops on my cheeks, cartwheeling on the sunny sidewalk and shuffling through orange and red leaves – just to meet Alaina halfway. I guess you could say her loved ones are still doing just that.
X=Why normally runs Sundays in the Living section. Contact Xazmin Garza at xgarza@reviewjournal.com or 702-383-0477. Follow her on Twitter @startswithanx.