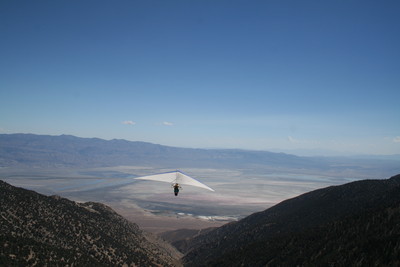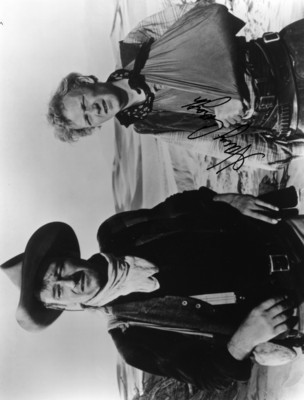 Everywhere around Lone Pine, Calif., a first-time visitor is followed by an overwhelming sense of déjá vu. It may be the first time you've ever driven some scenic curve on the blacktop, or the first time you've ever pondered the striking shapes of particular boulders, but it feels comfortably familiar. Intellectually, you soon realize it's a symptom of watching a lifetime of Western movies and TV commercials. Yet emotionally, it feels like trotting home after a long cattle drive — even if you've never punched cows.
For nearly 90 years, Hollywood has sought out Lone Pine's spectacular landscape. More than 300 feature films have been shot in whole or in part here, the majority within the rounded granite boulders of the Alabama Hills, which lie a couple of miles west of town at the base of the Sierra Nevada.
In 1969, the Bureau of Land Management dedicated nearly 30,000 acres as the Alabama Hills Recreation Area. Because of this protection, the landscape looks much the same as it did when the 1920 silent western "Round Up," starring Roscoe "Fatty" Arbuckle, was filmed here.
Lone Pine lies in the lower Owens Valley. Its neighbors include some of the Sierras' tallest peaks, one of them 14,496-foot Mount Whitney — highest in the 48 contiguous states.
On our first morning in town, my daughter, Charlotte, and I headed out to spend a few hours exploring the nooks and crannies of nearby boulder-covered slopes. These hills were formed by faulting a few million years ago. Although created at the same time as the sharp-chiseled peaks and forest-covered mountains just miles away, this lower-lying area experienced a different weathering process because of difference in elevation.
In an average year, the mountain tops receive about 35 feet of snow pack whereas the Owens Valley only gets about six inches of rain.
Although the Alabama Hills are a long journey from the Heart of Dixie, Southern sympathizers, mining in this area during the Civil War, named them after a Confederate warship, CSS Alabama.
We had set out exploring the hills on foot, finding thousands of boulders each unique in size and shape, and even many natural arches. Most of these arches had an east-west orientation and when we got up close we found them framing the mountains, including Mount Whitney, perfectly.
Armed with a self-guided driving tour map of the Alabama Hills, we next set out to visit some of the most popular movie locations along Movie Road. We stopped at a few old filming locations, including one used for 1948's "Yellow Sky," which starred Gregory Peck and Anne Baxter; another associated with 1936's "Charge of the Light Brigade" starring Errol Flynn and Olivia de Havilland, and one used in 1951 for "Rawhide" with Susan Hayward and Tyrone Power.
We also stopped at the temple site from the epic 1939 film, "Gunga Din." That film, featuring Cary Grant and Douglas Fairbanks Jr., took 104 days to shoot, double what most films took during that era. It was such a large production, a tent city was built in the Alabama Hills for cast and crew.
Although I had been up to Mount Whitney before, Charlotte hadn't, so we drove up the 13-mile Whitney Portal Road to its end. This heavily forested area is where you find the trailhead to one of the most popular hikes in the United States. I showed her around the area, including the small fishing pond that was full of trout; then we walked up along a cascading waterfall that is nearby. The area was crowded with hikers ready to set out for the summit of Mount Whitney, a strenuous hike of 10.7 miles one-way, with an elevation gain of more than 6,000 feet.
Although hikers who summit Mount Whitney deserve bragging rights, another group of outdoor lovers reach even greater heights in these mountains. Hang-gliding pilots come here to touch the sky, and a group of them invited us to their launch site.
To get there was an adventure in itself, as we headed up the steep and winding Horseshoe Meadows Road, another one of only two in the immediate area that serve as entry points into the Sierra Nevada high country. The last time I traveled up this road, just a few years ago, I encountered one area where the entire left lane, over about 50 yards, had fallen off the cliff. That segment still hadn't been repaired, though there were some orange traffic cones and a poor attempt at making a temporary wall with rocks and sand. Our white-knuckle drive brought us to Walt's Point, 9,000 feet in elevation, and 5,300 feet above the valley floor. A couple of dozen hang gliders were set up already, appearing ready for take-off.
Charlotte found a 10-foot boulder to perch upon for a choice view of the action, while I spent a few minutes talking to some of the pilots.
Attaching themselves by harness to their gliders' wings, today's pilots carry radios, variometers and even oxygen. They also wear warm clothes, for the frigid altitudes they aspire to reach.
Heather Stoddard, 38, of Oakland, Calif., was one of only two female pilots present. It was her third weekend visit. "I have always had flying dreams," she said, adding that many other hang-gliding pilots also have them before taking to the air in real life.
The views were easily worth the trouble of getting here; but the pilots came for air currents, rather than the view. Looking east, I could see the Inyo Mountains and the Owens Valley spread at our feet. I thought they would glide down to the valley floor, but that wasn't what they had in mind.
Bob Anderson from Oxnard, Calif., surprised me when he said, "A good cross-country flight today would be about 100 miles."
All the pilots I talked to had their goal set for Janie's Ranch, once a thriving brothel but now closed, north of Bishop on Route 6 in Nevada, 105 miles away.
We watched five pilots launch off the cliff. One or two steps and they were airborne, flying gracefully just to the south of the launch site. They stayed close for a while, flying over to a wide saddle, where they located the rising thermals they sought. Then they circled again and again, climbing the column of air until they were high enough to peel away toward the north and out of sight.
The next day, I got an update from Stoddard, who said she had achieved some personal best statistics on that flight. She reached an altitude of 15,799 feet, the highest she had ever been in the Sierras. And she was aloft more than five hours, traveling 69 miles, crossing the Owens Valley to the White Mountains. "My longest flight so far in my flying career," she said.
Along the way, she had the priceless experience of circling with a hawk at 13,000 feet.
"The birds sort of accept us as one of them and come over and share some thermalling with us," she said.
She also said that flying over the crest of the Sierras, "I got to see many, many alpine lakes in beautiful shades of blue and green that otherwise would only be visible after hours of hiking."
We earth-bound visitors finished our day at the Beverly and Jim Rogers Museum of Lone Pine Film History. The name may ring bells for Nevadans, because the philanthropist and TV mogul for whom it is named is also chancellor of the University of Nevada system. The museum opened last fall and is a must for film buffs. We started by heading into the Wild West Theater for a 15-minute orientation film on the local history of movie-making. This gave us not only a lot of worthwhile information but a few laughs, as we saw movie clips from some of the old Westerns that were filmed here.
Movie aficionados will require at least an hour to taste the museum's excellent collections. Charlotte and I especially enjoyed the stagecoach in the main lobby, a costume from Russell Crowe's hit "Gladiator," and the lifelike Graboid worms from "Tremors," a sort of comedy-horror buddy movie that starred Kevin Bacon and Fred Ward. Set in Nevada, it was such campy fun that it generated two sequels and a prequel. There is also an impressive collection of saddles, cowboy hats and chaps formerly used by well-known Western stars.
Other highlights were two impeccably restored cars, one used in "High Sierra," a 1941 film starring Humphrey Bogart; the other in Gene Autry's 1947 film, "Trail to San Antone."
Honda and Volkswagen were recently in town filming commercials, and I recently saw a Nissan pickup truck ad with the familiar Alabama Hills in the background. Filming wrapped up in April for "Iron Man," a movie based on the fictional Marvel Comic book character and scheduled to be released in May 2008. The movie features Jeff Bridges, Robert Downey Jr. and Gwyneth Paltrow. This big budget production was filmed under tight security, which must have been difficult considering there were about 500 in cast and crew.
The 18th Annual Lone Pine Film Festival will be Friday through Oct. 7. The festival's theme this year will be "The Singing Cowboy," honoring stars such as Gene Autry, Roy Rogers and Tex Ritter.
During the festival, visitors can take more than a dozen guided location tours. Tours include the Loren Janes Stunts Tour, in which this celebrated stunt man will guide visitors to many sites of the spectacular feats he designed and performed for "How the West was Won." Others are helicopter tours, geology tours, Audie Murphy/John Saxon tour and one called the "Sci-Fi Movie Sets to Avocets Tour," which will bring you to locations for "Tremors," "Bamboo Saucer" and "Star Trek V."
Celebrity guests will be on hand throughout the festival to take part in panel discussions. Confirmed guests include Ben Cooper, Richard Herd, Robert Easton, Richard Eyer, Lou Gossett, Jr., Ben Murphy, Gregg Palmer, Elaine Riley and Peggy Stewart.
The guest panels this year are titled, "The Singing Cowboys," "Riding the Hollywood Range," "Life in Front of the Camera" and "Stories of the Movie Business."
A special panel has been added and will feature several people who helped make the beloved John Wayne movies, including actor Harry Carey Jr. and Wayne's personal costumier Luster Bayless. Bayless worked with the star on many films, including "The Shootist," "True Grit," and "Rooster Cogburn." This panel discussion takes place on Friday at the film museum.
We found a long weekend less than adequate for all we had planned to do; the bird watching and visits to picturesque nearby towns will have to wait for another time. Leaving Lone Pine at the crack of dawn, driving east into the rising sun, I couldn't help thinking we should have been riding west into the sunset.
GETTING THERE
Location: Lone Pine, Calif., about 215 miles from Las Vegas.
Directions: From Las Vegas, take U.S. 95 north for about 115 miles to Beatty. Turn left onto Nevada Route 374 and go west for about 27 miles. Then go west 73 miles on California Route 190, which becomes California 136, just before passing through Keeler, Calif., and intersecting U.S. 395, just south of Lone Pine.
When to go: Lone Pine is at an elevation of 3,700 feet making it an ideal place to visit year-round.
Lodging: Dow Villa Motel, 301 South Main St., (800) 824-9317, www.dowvillamotel.com; Best Western Frontier Motel, 1008 South Main St., (760) 876-5571, www.bestwestern.com.
Restaurants: Alabama Hills Cafe and Bakery. Open daily except Tuesdays, 5:30 a.m.-2 p.m. for breakfast and lunch. 111 West Post St. (760) 876-4675.
Campgrounds: Tuttle Creek Campground. From Lone Pine, drive three miles west on Whitney Portal Road then go left 1.5 miles on Horseshoe Meadow Road. BLM-managed, 85 sites. Diaz Lake Campground, three miles south of Lone Pine on US 395, has 200 sites. Both campgrounds are first-come, first-served.
Lone Pine Film Festival: This year's theme is the Singing Cowboy. Tours, guest panels, movies and entertainment Friday-Oct. 7. (760) 876-9103, www.lonepinefilmfestival.org.
Beverly and Jim Rogers Museum of Lone Pine Film History: www.lonepinefilmhistorymuseum.org.
Inyo County Film Commission: 126 S. Main St. Lone Pine, Calif. (760) 876-0076, (866) 469-6345, www.lonepinechamber.org.
Lone Pine Chamber of Commerce: Your best bet to find out what is happening in Lone Pine year-round. Walk-ins encouraged at 120 S. Main St.; (760) 876-4444, www.lonepinechamber.org.
Eastern Sierra Interagency Visitor Center: At junction of US 395 and California Route 136 in Lone Pine, Calif. (760) 876-6222. Open daily 8 a.m. to 5 p.m. (760) 876-6222.
California road information: www.dot.ca.gov.
NEARBY POINTS OF INTEREST
Whitney Portal Road: Drive 13 miles west of Lone Pine on the Whitney Portal Road, however, this road is usually closed from mid-November through early May because of snow. From here, the Mount Whitney Trail leads to the highest peak in the contiguous U.S. Hike is strenuous 10.7 miles one-way, and snow is common on the trail as early as September. Permits are required, and available at Eastern Sierra Interagency Visitor Center; see above.
Cerro Gordo Ghost Townsite: Travel to Cerro Gordo is on a steep passageway where high clearance and four-wheel-drive are recommended. Snow is common during the winter months. From Lone Pine, take State Highway 136 east for 14.7 miles turning left after the town of Keeler at the historical plaque, and head up about seven miles to the town site. Reservations needed. (760) 876-1860.
Manzanar National Historic Site: Acknowledges and explains the United States' policy of interning Japanese-American families, some of them on this site, during World War II. From Lone Pine, drive nine miles north on US 395. Interpretive center, self-guided auto tour and ranger-led programs. Open daily 8:30 a.m.-5 p.m. daily. (760) 878-2194, www.nps.gov/manz.