Tickets for High Holy Days services support work of synagogues in Southern Nevada
October 1, 2016 - 1:22 pm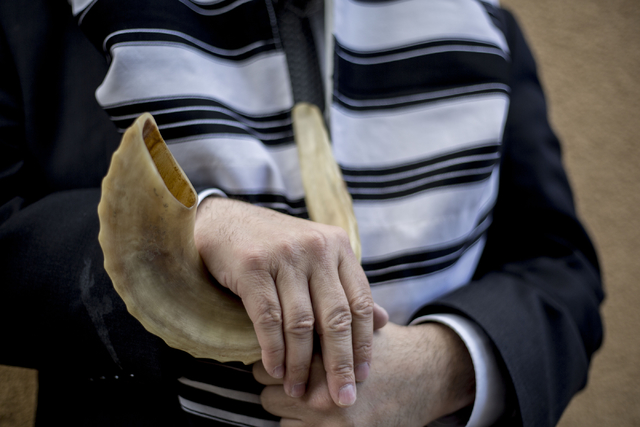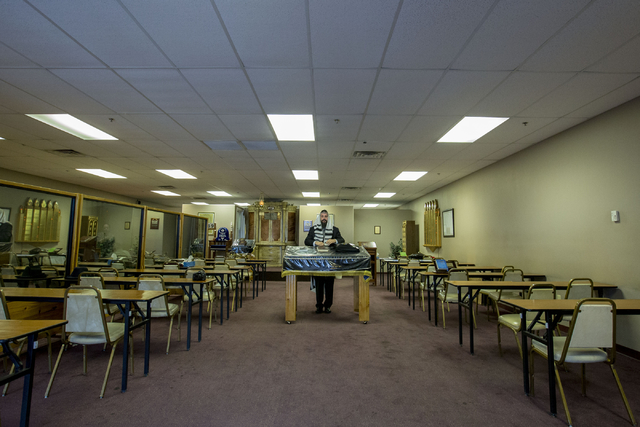 For many members of Southern Nevada's Jewish community, Rosh Hashana and Yom Kippur services are the hottest tickets in town.
And that's not just metaphorical, because the custom at many synagogues calls for congregants to purchase tickets for services during High Holy Days, which this year begin at sunset Sunday with Rosh Hashana, the Jewish new year, and end on Yom Kippur, the Day of Atonement, which begins at sundown Oct. 11.
The 10-day period is a time of repentance, fasting and becoming right with God and others. And, in part because service attendees include a larger proportion of nonsynagogue members than usual, many synagogues sell tickets to High Holy Days services.
Rabbi Sanford Akselrad of Congregation Ner Tamid notes that there long has been in Judaism "an acknowledgement that to pass on the principles of faith and tradition, to educate rabbis and teachers, and to have a house of worship and all of the institutional life, you need a financial base."
Roughly after World War II — and because High Holy Days services were the most well-attended services of the year — many synagogues realized it would be a good time when additional funds to support their efforts could be raised, Akselrad says.
"Traditionally, synagogues are funded through dues that people pay according to their means, but people who are not part of the synagogue, especially at this time of the year, wanted to attend," he says. "And while no one is turned away based on their inability to pay, synagogues tried to raise funds to subsidize the costs of putting on the (High Holy Days) service and sustain the synagogue throughout the year."
"This developed into a system of selling tickets to raise money," Akselrad adds, noting that it can cost a synagogue as much as $20,000 to mount High Holy Days services.
Although approaches vary, dues-paying synagogue members typically attend High Holy Days services at no charge, while nonmembers will pay anywhere from less than $100 to several hundred dollars for a ticket. And while the ticket system differs from the approach of other denominations — which might pass a collection plate during services, seek pledges or dues from members or expect members to tithe — the common goal is to financially sustain the organization so that it can continue to serve others.
Akselrad suspects that most people understand that. But, he adds, "there are so many who feel that something just magically happens and all the bills are paid and clergy and staff are paid, and they don't really think about the economic side of it."
Rabbi Malcolm Cohen of Temple Sinai says that the High Holy Days ticket system today is just about "universal, at least in Anglo" countries.
Another thing that Cohen suspects is universal: If someone can't afford a ticket, "we don't turn anybody away."
Cohen estimates that about 20 percent of attendees at Temple Sinai's Rosh Hashana and Yom Kippur services aren't members of the congregation and that those guests sometimes will decide later to become full dues-paying members.
At Chabad of Green Valley/Henderson, neither nonmembers nor members are charged to attend High Holy Days services. Rabbi Mendy Harlig says that's a reflection of the Chabad movement's mission of being accessible to all Jewish people, "no matter what their affiliation is, their nonaffiliation, their nonobservance, from all walks of life."
Harlig says some guests are people who, because of financial reasons, can't afford tickets. Others may be only moderately observant Jews who don't want to pay to attend services.
For synagogues, hosting nonmembers at High Holy Days services can be a means of connecting with potential new members. Harlig says it's not uncommon for some who attend Chabad's High Holy Days services to later deepen their commitment by becoming members.
"It's not like it happens right away," he adds. "It's gradual. Someone had a good experience and it takes you two years and you start to get more involved."
Gail Kessler attended her first High Holy Days service at Chabad about 10 years ago. "I was not affiliated with a synagogue," she recalls, but was intrigued by a newspaper ad for Chabad that their services "were free, and you didn't need a ticket."
Kessler says she probably wouldn't have attended if she had had to buy a ticket. But, she adds, that no-charge visit introduced her to what would later become her new congregation.
"Of course, the bottom line for me is just I had great respect for these people," she says. "Their level of observance (was) higher than mine, and I said, 'Wow.' It was just terrific people. Warm. Inviting."
Read more from John Przybys at reviewjournal.com. Contact him at jprzybys@reviewjournal.com and follow @JJPrzybys on Twitter.