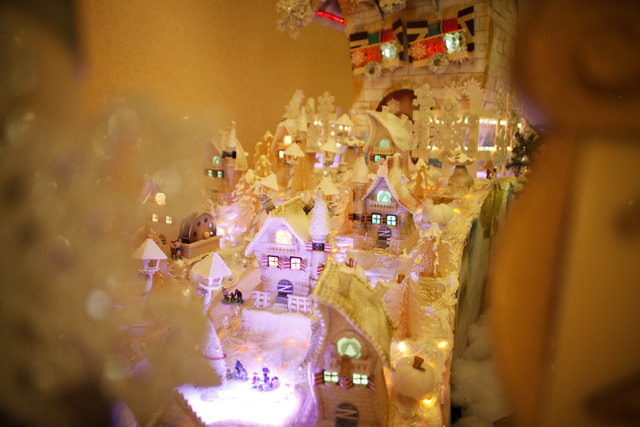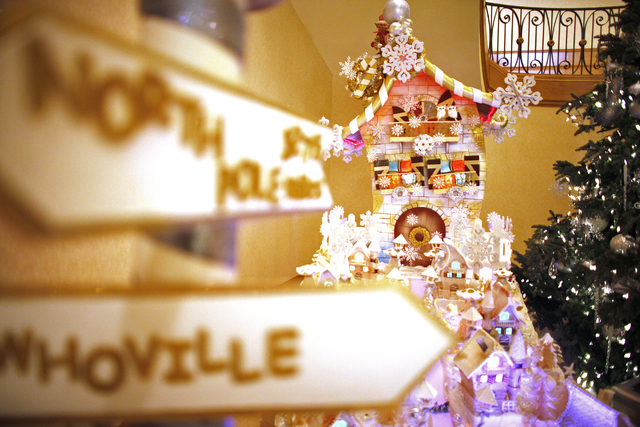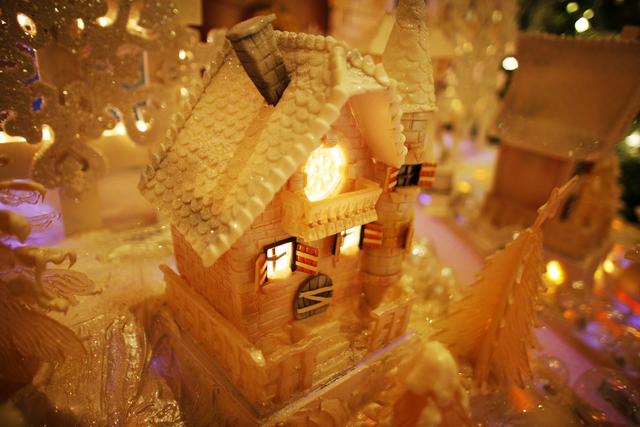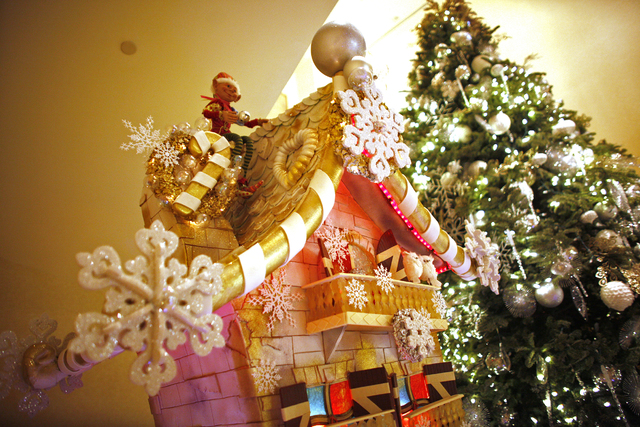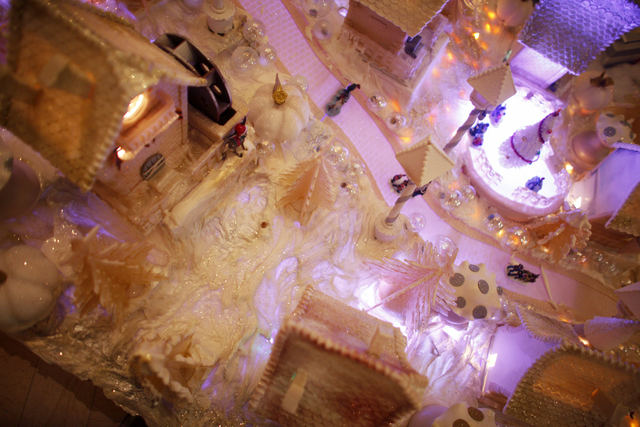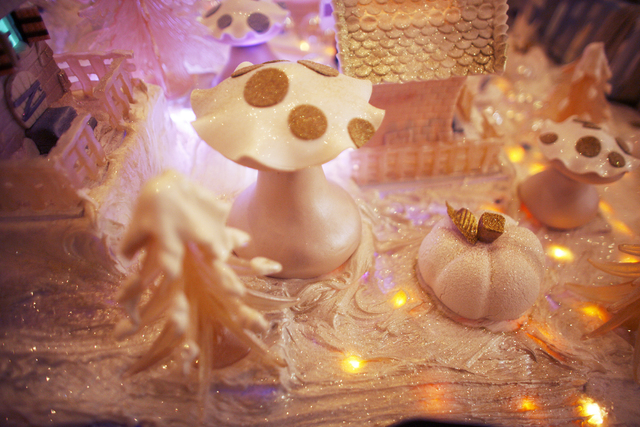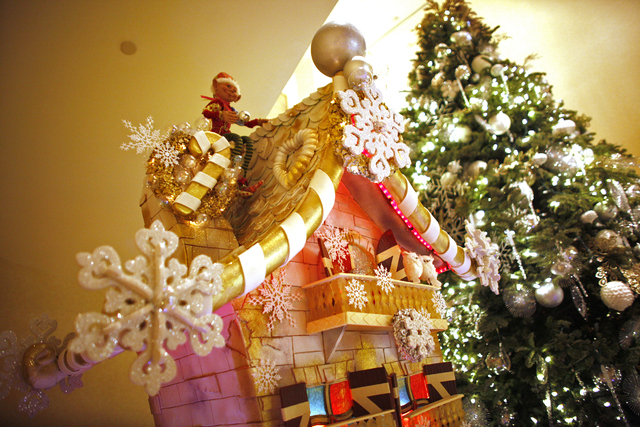 If the tiny gingerbread-and-sweets village at the Four Seasons were real and life-sized, and if its residents could vote, Jean-Luc Daul surely would be its mayor.
Also its architect, city planner, carpenter, town baker, Santa Claus, parade grand marshal and creator-with-a-capital-C. That's because Daul, executive pastry chef at the Four Seasons, for 18 years has overseen the design and construction of the display, which can be found near the grand staircase and Christmas tree in the hotel's lobby until Dec. 26.
This year's version of the display features 10 charming miniature buildings and 53 other items — sugar trees, chocolate lampposts, marzipan mushrooms — made mostly out of gingerbread and gingerbread-flavored ingredients, as well as sugar and other foodstuffs, and arranged in a setting meant to recall, with a mystical touch or two, the Alsace region of France, where Daul grew up and was introduced to the magic of gingerbread.
Not that Daul is stuck in the past. He calls this year's display an example of their evolution of the gingerbread village. While it includes gingerbread and gingerbread-based elements — the large house at the top of the miniature hill uses gingerbread loaves in its construction — the display also includes such touches as chocolate and gingerbread-infused marzipan.
That allows the use of a color palette broader than that afforded by basic brown gingerbread, Daul explains, and allows the display to maintain the tradition of the classic gingerbread village while also giving it a "little more modern" twist.
It's a safe bet, though, that for most Southern Nevadans who incorporate gingerbread construction projects into their holiday routine, tradition is more important than evolution this time of year.
Matthieu Lavallee, executive pastry chef at Aria, suspects that much of the appeal of gingerbread houses — maybe even the key ingredient of any gingerbread recipe — lies in the sentimental pull they have.
Daul says gingerbread probably dates back to the 900s in the Middle East, when nomadic people found that the honey and spices used in creating it helped to preserve bread. Eventually, gingerbread worked its way to Europe, where it became a year-round treat.
According to Daul, gingerbread decorated with fancy icings and personalized touches would be given as gifts to celebrate baptisms and other occasions, and it's that association with gift-giving — along with the rich, pleasantly earthy scent of the spices used in gingerbread's baking — that may have led to its linkage with Christmas.
Another reason for gingerbread's continuing popularity is that it's simple to make but offers bakers wide latitude to make it their own.
"There's literally thousands of variations of gingerbread depending on what region you're in, whether it's the south of France or Nuremberg (Germany) or different parts of Norway and Sweden," Daul says. "They change the spice combination. It may be different shapes. Some add nuts, some add dried fruit."
And, Daul says, European gingerbread bakers often guard their recipes zealously.
Gingerbread's expansion from baked treat to building material came during the 1800s with the popularity of the folk tale "Hansel and Gretel," Daul notes. The Brothers Grimm published an adaptation of the German tale during the early 1800s that featured a witch who lived in an edible house.
"It inspired a lot of bakers to start making houses out of (gingerbread), and houses were given as gifts," Daul says. "They were decorated with sugar and with icing, chocolate or marzipan roofs."
Daul's own Alsace region of France has a strong tradition of gingerbread, he says. "There are many bakers in Alsace, France and other regions that make only gingerbread."
Items made of gingerbread would be found under the Christmas tree. Aunts and uncles would snack on gingerbread when they visited. And when visiting others, gingerbread often would be taken along as a gift.
"It was just part of my growing up, dear to my heart," Daul says.
Daul drew on his own gingerbread-filled past in designing this year's display at the Four Seasons, which positions quaint buildings, lampposts, a skating rink and other features along a pathway leading to a large house.
Built on a skeleton of foam board, Plexiglas and wood, the display includes such touches as a sign made of chocolate, sugar snow and even LED lights glowing behind tiny gelatin windows.
Daul says planning for each year's display begins in June with the selection of a theme. Baking begins in September, when the hotel pastry shop's seven bakers begin crafting its individual pieces.
"We kind of blend it into our regular routine," Daul says. "Then, two days before Thanksgiving, we bring it out and it comes to life in the lobby."
Daul suggests that home bakers take a similar tack by drawing up a design then cutting pieces of foam board to use as patterns for walls, roofs and other features. Then, royal icing can be used to affix gingerbread panels to the foam board.
While most gingerbread houses aren't meant to be edible, the same basic recipe can be used for both pastries and gingerbread houses, Daul says. But Lavallee says many bakers prefer to use a house dough that's more dense and baked longer than dough used to make gingerbread desserts.
Daul says a gingerbread house can be decorated with just about anything, from icing to candies to snowmen made out of marshmallows positioned around it. "You can take kids to the grocery store and they become very creative, especially in the candy aisle," he says.
"It really is not as difficult as people think it is," Daul says. "I know a lot of people get intimidated by it, but when you start to do it, it's really fun."
Read more from John Przybys at reviewjournal.com. Contact him at jprzybys@reviewjournal.com and follow @JJPrzybys on Twitter.
Fun facts from Four Seasons
Here's what went into making this year's Four Seasons holiday gingerbread village:
200 pounds powdered sugar
5 gallons egg whites
2 pounds white chocolate
3 pounds dark chocolate
22 pounds modeling chocolate
91 pounds almond marzipan
60 pounds of icing fondant
9 ounces gold, silver and blue flakes
12 ounces gingerbread powder