Too Hot to Handle (Firefighter)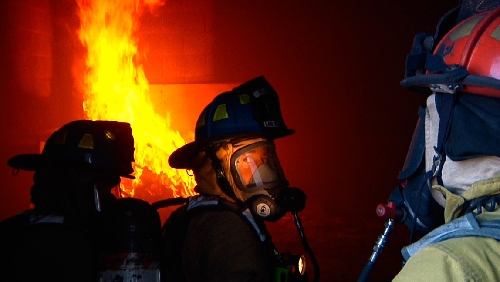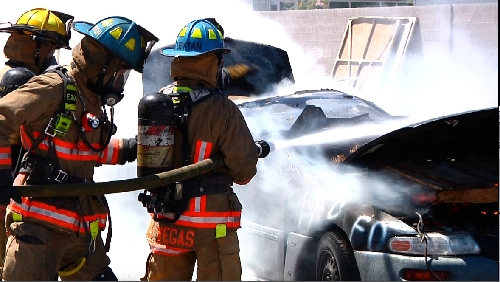 The ceiling is orange and crackling, the air black and scalding, the reporter white and trembling. I've had to put out fires on most of these adventures, but none as literal as this.
"The nozzle, Levitan!" booms my helmet speaker with the voice of firefighter Eric Moon.
It's a training exercise, of course. The Las Vegas Fire Department will never get this desperate for personnel. But it's not the former "Backdraft" ride at Universal Studios, either. A very real fire, fueled by lumber scraps, has hiked the temperature of the department's drill-burn room above that of even August traffic court. (Later, Moon's melted name tag will read, "Ec Moo.")
And my suit is not completely resistant to the 500-degree air; bending my elbow stings because it puts my skin in contact with it.
"Nozzle!" Moon's voice booms again.
It's fairly safe to bet that few firefighters ever graduated by blasting water above a fire and out a window opened for heat ventilation, nearly missing a captain. (Moon, who failed to warn me about the recoil, quickly helps me re-aim and steady the hose.) Then again, few firefighters have ever gone on real calls without 12 months of rigorous training — as well as physical and psychological screening.
For five straight years, I've asked — OK, begged — the city to try this job out for the day. The rejection was always so firm that once, I swear I heard background laughter.
One or two waves of negative publicity about firefighter salaries later, however, and the surest way to make a job look difficult is now sliding down the fire pole and chafing his palms. (Base pay for a city firefighter ranges from $43,277 to $77,602 per year, by the way — more with overtime.)
At 12:22 p.m., the station PA sounds four tones. My karmically conflicted worry about a tragedy-free article is unfounded. A computerized female voice is next. "Fire in a building," it says, followed by an address on St. Andrew's Circle and a string of assigned unit names. One is Fire Station No. 1. That's us. (Fire Station No. 1 was the first in Las Vegas, built in 1906 on Fremont Street and now standing nearby on Casino Center Boulevard.)
Slithering into my pants, jacket and boots is accomplished in the lightning time of 2 minutes, 30 seconds. (Before this impresses you, it's only lightning for me; 45 seconds is the maximum time allowed and my slithering must be completed in a speeding vehicle.) The final touch is my rookie helmet, color-coded bright blue for definitive identification of the charred body.
Three minutes after the call, an engine from the closer Station No. 3 arrives. It establishes a command and provides more detail that our computer displays: "Fire in the attic with smoke showing from the vents, all occupants evacuated."
Attic fires are among the most dangerous for Las Vegas firefighters. The lightweight construction typical of valley houses means that roofs are joined with nails that loosen when heated. Roof failure can occur within minutes.
"No one wants to see a fire in the attic," Moon says.
Unlike most boys who want to be firemen when they grow up, Moon, 29, never grew out of it. He started out at his dad's station in Lake Tahoe, Calif. Now in his eighth year at Station No. 1, he says he loves the job because every day is different.
"You never know what kind of call you're going to go to," he says. "It gives you the opportunity to help people in all kinds of different ways."
The flip side is the obvious physical toll — each year, 105 U.S. firefighters perish in the line of duty, according to the National Institute for Occupational Safety and Health — and the not-so-obvious psychological one.
"Every time someone calls you, there's a good chance they're experiencing the worst day of their lives," says Moon, one of the first paramedics on scene at the Lloyd George U.S. Courthouse shooting in January.
Add to this mix long hours logged in 24 per shift, alternating on and off days. (With overtime, most Station No. 1 firefighters work 70 hours per week, according to Moon, only a small number of which are spent sleeping at the station.)
"It's hard explaining to my wife why I have to go to sleep for five hours when I get home," Moon says, "after I've just been gone for 24 hours."
At 12:27 p.m., we screech up to St. Andrew's Circle. Station No. 3 is cutting two rectangular holes in the roof with chain saws. (These will vent the heat.) Station No. 1 Capt. John Harris forbids me from entering the house until it's cleared of all danger.
Fortunately, one member of Heavy Rescue No. 44 motions for me to help him perform a real task outside the house: determining if it's powered by gas or electricity. Every firefighter has a specific job, and there is a surprising lack of any confusion about it. Heavy Rescue 44's is to check for areas of intensified danger to firefighters. (Gas lines definitely qualify.)
Within two minutes, a determination is made that the house is electric-powered. So we break into the kitchen through a locked sliding door and place fireproof salvage covers over the floors and furniture. And by we, I mean them. I determine, and do, nothing — other than standing clueless and frozen in the backyard. (For some reason, a pipe marked "gas" in giant letters was not present.)
By 12:35 p.m., the flames are out and real firefighters scour the attic for remaining embers. Contrary to Station No. 3's initial report, not all the occupants were evacuated. Two small dogs are found inside after the fire and recovered unharmed.
The official cause of the blaze, which causes $20,000 worth of damage, is "undetermined" — although the fire investigators' eventual ruling states a belief that it "started outside the home" and "ran up a wall into the attic."
Fire Marshall Corey conducts his own investigation. By a side entry, directly underneath a vent, the charred remains of what looks like a Christmas tree stand guiltily beside a half-burned box of wooden matches. With the expertise conferred by hundreds of seconds on the job — and from once torching a rhododendron bush on the side of my parents' Long Island house as an emotionally unstable 10-year-old — I'd have to suspect neighborhood kids.
The rest of my shift's calls are medical, as Moon says most of his station's are. I don't feel comfortable reporting on the details — especially of the one that ends in Moon exiting the Golden Gate Hotel cradling a tiny red body bag.
"Sometimes, there's nothing we can do but provide emotional support," Moon says. "And you just try and not let it get to you."
Eight hours is all I can take before hanging my bright blue firehat up for good. That's only a third of a day, one firefighter points out as I exit the station.
I suppose early pension is out of the question.
See the video at www.lvrj.com/fireandloafing. Fear and Loafing runs the first Sunday of every month in the Living section. Levitan's previous columns are posted at www.fearandloafing.com. If you have a Fear and Loafing idea, e-mail clevitan@reviewjournal.com or call (702) 383-0456.
Watch the video of Corey as a Las Vegas firefighter