Tour of Doody (Hydrotherapist)
November 19, 2007 - 10:00 pm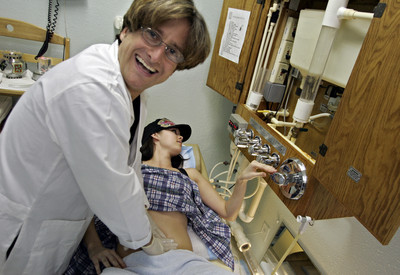 I won't do it in front of my fiancee, yet Healing Waters Institute has convinced me to do it in front of Las Vegas.
To prepare for my day as a colon hydrotherapist, they argued, I need to familiarize myself with the process firsthand.
And, let me tell you, there is no higher degree of familiarity possible in life. During a high colonic, a pinkielike tube (way too pinkielike) flushes your large intestine with water as you negotiate with your lower muscles to ignore a lifetime's worth of shame training. (A new tube is attached to the machine each time.)
After a series of fills and releases, the resulting "impactions" are expelled into a toiletlike sink straddled by your feet, then fed through a drain pipe and out to the sewer. The drain pipe is actually a glass viewing tube shaped exactly like a Habitrail (coincidentally, I hope).
"Can you see the baby's head?" I shout while spread-eagled and pushing.
"Every man who gets on the table says that," replies colon hydrotherapist Tiffany Rowland, who is not amused. "You have no idea what it feels like to push out a baby."
Colon hydrotherapy — currently the rage in alternative medicine — is an ancient form of body cleansing first referenced in a 3,000-year-old Egyptian medical document. (It prescribed water, herbal concoctions and Creedence Clearwater Revival's "Looking Out My Back Door.")
According to Rowland, filling yourself up like a kiddie pool can cure everything from allergies, weight problems and headaches to bad breath, insomnia and depression.
"The colon is the sewer system of our bodies," she said. "If that sewer system gets plugged up, toxins are released into the body. And toxin buildup will slow down the way that your body works."
Most gastroenterologists do not believe the curative claims of colon hydrotherapy. They regard high colonics merely as enemas that are 10 times too expensive. They also caution against unsanitary practitioners. (In the early 1980s, six deaths by parasitic infection were caused by a single colon hydrotherapist.)
"Jackpot!" Rowland shouts as what she calls a "mudslide" swishes through the Habitrail.
"That's old, old fecal matter that's just been fermenting inside of you," she explains, adding that she gets "way too excited" when she sees it.
Incidentally, this is photographer Jeremy Lyverse's first R-J assignment. ("Nice to meet you, too," he says through the space between my shaking legs.) I wonder if he will agree to a second assignment.
The Habitrail reveals none of the swallowed gum or marbles I've read about. And there is no reunion with the long-lost racecar from my family's old Monopoly set. (Frequently, our games were showdowns between the dog, the top hat and my dad's old ski-jacket zipper.)
All I can make out are disappointing clumps of lettuce.
"You need to chew your food better," Rowland advises.
Rowland, closing in on her second year as a colon hydrotherapist, earns about $20 for an hourlong session that costs the client $70.
"It's a very rewarding job," she claims. "This changes people's lives. People come in here who haven't gone for weeks. And they will feel a thousand times better."
A native of Simi Valley, Calif., who relocated when her father purchased Healing Waters five years ago, Rowland says she once wanted to be a registered nurse.
"But then I decided I wanted to help save people's lives naturally," she says, "and this is a natural, good way to help people."
To join the colon-ary union, prospective hydrotherapists must graduate a 100-hour course certified by the International Association for Colon Therapy. (Healing Waters is an accredited institute.)
"You hit anatomy, physiology, health, nutrition — things like that," Rowland said. "It's a pretty intense week."
The association also requires that each student preside over 25 clients. (Until this point, the student is only a semi colon hydrotherapist.)
"Put the jelly on the tip of the tube," Rowland says as I prep for my first client.
That client is Rowland. As difficult as it is to believe, Healing Waters was unable to interest a real client in being photographed and videotaped with a tube up his butt, while being cared for by an incompetent. (And I asked my boss, but he declined. Apparently, I've pained him enough down there.)
Rowland evacuates me from the room so she can insert the tube and evacuate herself. (All four $8,500 Lower Intestine Bottom Bowel Evacuation machines at Healing Waters allow for self-insertion — unlike less-expensive models, according to Rowland. The water flow can be controlled either by the therapist or the client.)
When I return, I find the machine's knobs, tubes and beakers as difficult to digest as improperly chewed lettuce. Frankenstein's monster was brought back to life using less.
"Once you learn it, it's easy," Rowland says.
What follows is a session in which I learn nothing, however (as usual). Rowland merely orders me around like a towel boy at the Bellagio pool.
"Now you can massage my feet for me," she commands.
Reflexology is part of the job, since a point on the bottom of the foot allegedly corresponds to evacuation.
"Flush me, please," Rowland commands as I reach for the knob she points to. (I hate when I forget to flush.)
Suddenly, all is not well in the Habitrail. I whip off my reading glasses, place them in my lab coat and rub my chin.
"I don't know how to tell you this," I say in my best "ER" voice, "but …"
Rowland surveys the situation and cuts me off.
"Oh, the washing machine is on," she says.
That explains the suds. I was going to suggest that Rowland cut down on the Tide smoothies.
"That'll stop in a second," she says.
Someone mentions that I've written about cleaning out sewers, expressing a dog's anal glands and scrubbing portable toilets.
"Are you serious?" Rowland asks about the portable toilets. "That must have been disgusting."
(I am massaging fecal matter out of her abdomen as she says this.)
"At least this doesn't smell," she says.
It's true. There is no odor because air pumps vent all digestive gases out of the building. (This may explain the vacancy next door.)
"I would not do this job if I had to smell or touch it," Rowland continues.
After the treatment is finished, Rowland has me flush bleach through the machine to sterilize it. Once, she tells me, another Healing Waters colon hydrotherapist hopped on before all the bleach was flushed out.
"It burned her really badly," Rowland says. "I felt horrible, but I warned her that it wasn't ready." (Thus, not everybody likes it on the table — even if it does say LIBBE on the label.)
I must admit to feeling 100 percent better after this experience — not necessarily because of my colonic, but because of a realization …
I'm pretty sure there are no more jobs left in this town for me to do that involve crap.
Watch video of Levitan as a colon hydrotherapist at www.reviewjournal.com/columnists/levitan.html. Fear and Loafing runs Mondays in the Living section. Levitan's previous adventures are posted at fearandloafing.com. If you have a Fear and Loafing idea, e-mail clevitan@reviewjournal.com or call (702) 383-0456.
COREY LEVITANFEAR AND LOAFING
Video