10 romantic destinations that aren't Paris
February 10, 2015 - 11:02 pm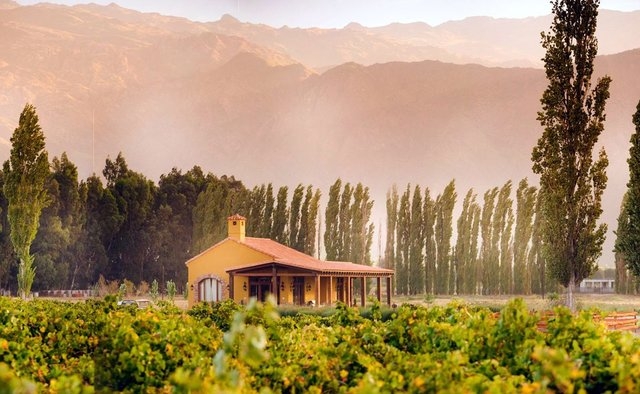 Paris is romantic.
Everybody knows that.
But it doesn't have a trademark on the term, and it's certainly not the only destination out there rousing amorous couples into expressing their love.
With Valentine's Day just around the corner, we've put together a list of 10 little-known spots that are equally dreamy.
Be it a combination of food, wine and a hot tub, a mix of sun, sand and serenity or a pairing of cobblestone streets with colonial facades, each of these destinations presents an alluring backdrop to set the mood for couples.
Udaipur (India)
What's the first place that comes to mind when you hear the word "romance"?
Chances are it isn't India, but the Rajasthan oasis of Udaipur could shatter any preconceived notions about the subcontinent.
Appearing like a mirage on the edge of the Thar Desert, Udaipur is treasure of flamboyant palaces, majestic forts and streets brimming with jewelers and craftsmen.
There are plenty of characters, too.
Men like their mustaches long enough to twirl, women like their saris bright enough to blind and musicians sing their gypsy ballads with enough raw passion to break hearts.
After basking in the Rajput-era opulence along Lake Pichola, it's easy to see why Udaipur is considered one of the most romantic spots in all of Asia.
Waiheke Island (New Zealand)
Auckland may be on the horizon, but laid back Waiheke feels miles away from New Zealand's biggest city with its secluded bush walks, sheltered beaches and emerald, boat-bobbing bays.
Add to the mix two dozen boutique wineries where afternoons can be swirled, sniffed and sipped away, and it's possible to see why an increasing number of vacationers are bypassing Auckland altogether for the 30-minute ferry ride across the Hauraki Gulf to this island paradise.
Waiheke is the kind of place where urban multimillionaires mingle with hippie fishermen, where quirky art galleries elbow for prime real estate next to trendy seafood haunts with city-to-sea views.
Cafayate (Argentina)
Cafayate is a scenic tour de force of dramatic pre-Andean peaks, romantic hilltop estancias and seductive street-side cafes.
It also doubles as Argentina's second wine center after Mendoza.
Whereas Mendoza is the big bold land of Malbec, Cafayate is a region dominated by the aromatic Torrontes, a white wine grape that grows exceptionally well in the cold and windswept Calchaquies Valley.
At this Andean anomaly you can sit with a glass of wine among the vines and stare out at a multicolored mountain-scape of twisted sedimentary strata that looks, at least to tipsy eyes, as if it was crafted by an abstract expressionist.
Hoi An (Vietnam)
Widely regarded as the culinary capital of the Vietnam, Hoi An's signature dishes are seldom seen outside of the region, and owe their complexity to centuries of trade in and out of what was one of Southeast Asia's most important ports.
Take cao lau. This culinary globetrotter is a textural puzzle of thick rice noodles resting in a light broth, topped with pork, mint, basil, peanuts, lettuce, sprouts and a pile of croutons.
For a foodie couple on a tight budget, there are few places in the world that can pack such a culinary punch at such a low price in such an absorbing environment.
Quirimbas Islands (Mozambique)
Move over Seychelles and Mauritius, there's a newcomer to the world of high-end Indian Ocean resorts.
The Quirimbas Islands off the northeastern coast of Mozambique aren't much more than a collection of bone-white dollops of sand jutting out of a turquoise sea, but now that they're dotted with lavish, beachside digs they're fast becoming one of Africa's top getaways for diving, birding or simply lounging.
Much of the 32-island archipelago is protected as part of the Quirimbas National Park, keeping development at bay and the views unadulterated.
If couples are seeking an escape from the crowds — not to mention the trappings of the 21st century – this is the place.
Middleburg, Virginia (United States)
Virginia may be known for its historic battlefields, rolling hills and politically minded Washington commuters, but in recent years the Old Dominion State has grown a reputation for something altogether different: fine wine.
Virginia has blossomed from a place with just 64 wineries at the turn of the 21st century to one with 250 and growing, making it the fifth-largest wine producing state in the United States.
The 18th-century village of Middleburg, one hour west of the nation's capital, lies in the nucleus of this thriving industry and makes an ideal base from which to soak up the area's old world elegance and down-home country charm.
It's the kind of place where fox hunters rub shoulders with equestrians and couples meander from heritage B&Bs along shop-lined streets into a bucolic countryside of white picket fences, undulating vines and barn-chic wineries.
Middleburg is refined without being stuffy, historic without being antiquated and an impossibly romantic getaway little known outside of the Beltway.
Mostar (Bosnia and Herzegovina)
There was nothing romantic about Mostar two decades ago when it was a bombed-out battleground of the Bosnian War.
However, this medieval city has bounced back to its prewar glory thanks to $15 million in UNESCO and World Bank funding and more than a decade of meticulous restoration.
Mostar's revived Old Bridge Area (Stari Most) epitomizes the city's kaleidoscope of cultures and ideas with its pre-Ottoman, Eastern Ottoman, Mediterranean and Western European architectural features.
The bridge itself is something of a symbol of reconciliation and ethnic harmony in the Balkans — not to mention the heart and soul of an enchanting old town known for its cobblestone streets, colorful shops and multi-ethnic restaurants clambering for space along the banks of the turquoise Neretva River.
Mostar's battle scars remain in plain sight, but if the constant stream of lovers on Stari Most is any indication, its history-imbued streets remain undeniably alluring.
Peter Island (British Virgin Islands)
Who doesn't dream about having their own private island with crystalline waters and sugary crescents of shady palm-lined sand?
That, in essence, is what's on offer at Peter Island, a private resort and spa within the paradisaical puzzle that is the British Virgin Islands.
With one marina, two recreation areas, three room types, four dining options, five beaches and innumerable opportunities for sailing, snorkeling or scuba diving, you can easily do a little bit of everything or a whole lot of nothing on this 1,800-acre tropical hideaway.
For indulgence, quietude and exclusivity, it's hard to find a more majestic Eden.
Vernazza (Italy)
Picture a quintessential Mediterranean harbor town of cobblestone streets and cliff-clinging casas, encase it in terraced olive groves and plop a medieval castle on top of it all and you can begin to envision Vernazza, a pint-sized gem of the Italian Riviera where the diet — wine, pesto, focaccia, antipasto — is as agreeable as the seaside views.
Vernazza is but one of five fishing villages collectively known as Cinque Terre, a UNESCO World Heritage Site dating to the 11th century.
The Sentiero Azzurro (blue trail) links each of these car-free havens along a rugged coastal path that includes a famous stretch known as Via dell' Amore (Lovers Lane), located between the postcard-perfect villages of Riomaggiore and Manarola.
This is the place to pack a picnic lunch, take a hike through the hill-hugging vineyards and let the landscape set the mood.
Galle (Sri Lanka)
Tropical white-sand beaches? Check.
Streets imbued with history? Check.
Fine art, inspiring cuisine and luxurious lodgings at bargain basement prices? Check, check and check.
In Galle, crumbling Dutch-colonial buildings house fusion restaurants and fragrant spice shops fight for tourist dollars alongside breezy galleries of ethnic-inspired art.
Located in the heart of a perfectly preserved hexagonal stone fort and within eyeshot of a serene stretch of sand, Sri Lanka's whimsical southern charmer ticks all the boxes on romantic travel checklists.