30 of the best hotel bars in the world — including 1 Vegas spot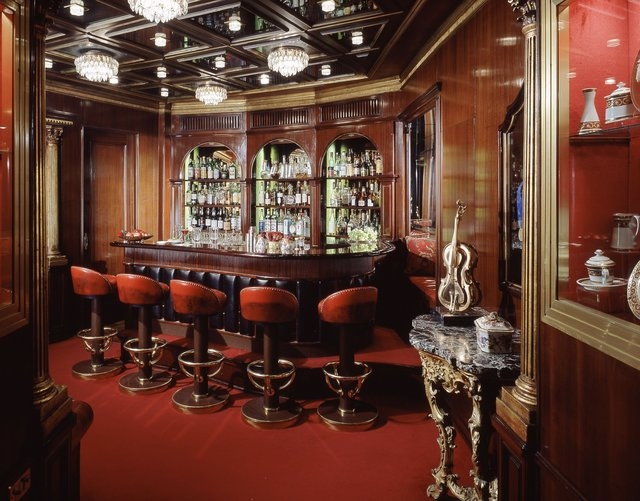 Looking for phenomenal views?
A good drink in a classy space with a hip but low-key vibe?
While iconic greats continue to prove that sometimes it's worth revisiting the classics, a new wave of incredible hotel bars has crested in recent years.
Whether old or new, strong cocktails, glamorous settings and beautiful scenery converge at these standout drinkeries located inside top hotels around the world.
Connaught Bar, The Connaught (London)
The Connaught Hotel's signature bar is a triple threat: it's got killer cocktails, a prime London address and is an architectural marvel.
With soaring mirrored ceilings, platinum silver walls and marble floors, the bar is upscale, without being uptight.
Although a recent revamp brought a vast extension to the space, its drinks remain unchanged and as fine as ever.
What to drink: The Martinez, the grandfather of the martini, which includes a blend of gin, vermouth, maraschino, orange and bitters.
The Bar, The Merchant Hotel (Belfast, Northern Ireland)
With its Baccarat chandeliers, antique fireplace, damask walls and Chesterfield armchairs, this Victorian-themed bar is one undoubtedly classy establishment.
Top shelf bottles are offered alongside champagne cocktails and staples like the sherry cobbler.
A special section of the menu is dedicated to classics like the sidecar and sazerac.
Renowned mixologists and sommeliers make the bar more than deserving of its countless awards and accolades.
What to drink: The Fog Cutter, a potent blend of cognac, rum, gin, sherry and citrus juices.
New York Bar, Park Hyatt (Tokyo)
Though famous for its "Lost in Translation" cameo, the New York Bar has more to offer than silver screen appeal.
Located on the Park Hyatt's 52nd floor, it has breathtaking views over Shinjuku, with nightly jazz and a sophisticated yet cozy ambiance.
The bar has a wine list of biblical proportions and an equally vast selection of local and imported liqueurs.
Cocktails are inventive — the Radio City is a blend of vodka, Earl Grey and pink pepper syrup.
What to drink: A single malt Suntory Yamazaki, on the rocks.
Chandelier Bar, Cosmopolitan Las Vegas
It doesn't get any more Vegas than this — the bar is built to appear as a giant crystal chandelier, with each of its three individual "tiers" a glittering visual spectacle.
On tier one, there's a DJ booth and dance floor.
On tier two, there's a cocktail room serving artisanal pours.
On the third tier, an exclusive lounge provides intimacy and privacy.
Naturally, each tier has its own separate selection of cocktails, crafted specifically by a resident mixologist (the excellent Mariena Mercer as of this writing).
What to drink: The Infinite Playlist, a modern twist on the old fashioned.
Sky Bar, Lebua at State Tower (Bangkok)
Located on the rooftop on the 63rd floor of Bangkok's Lebua at State Tower, there's no better view in Bangkok than at Sky Bar.
Its ultramodern deck — made even more famous by its appearance in "Hangover II" — offers giddying views of the city skyline and Chao Phraya river.
Its centerpiece is a circular, glowing neon bar that serves potent but pricey drinks.
You can easily find cheaper drinks a block away — but they won't come with this view.
What to drink: The Hangovertini, a cocktail created for the cast of "Hangover II," featuring whiskey, vermouth, green tea liquor, apple juice, honey and Martini Rosso.
Blu Bar on 36, Shangri-La Hotel in The Rocks (Sydney)
Set on the 36th floor of the posh Shangri-La, Blu Bar offers striking panoramas of Darling Harbour, Sydney Harbour Bridge and the Opera House.
A marble hallway entrance opens to two distinct chambers: a fluorescent blue bar and a lounge. The latter features minimalist decor, plush seating, dim lighting and floor-to-ceiling glass windows.
Its drinks menu lists more than 35 specialty cocktails created especially for Blu by a team of world-champion mixologists.
There's an impressive selection of Australian craft beers and wines.
What to drink: The Harbourside Rose, a refreshing blend of gin, rose syrup, grapefruit, lychee and egg white.
Caviar Bar, Grand Hotel Europe (St. Petersburg, Russia)
The Caviar Bar is an institution in Russia: its caviar menu is epic, with a vodka selection to match, overseen by St. Petersburg's only vodka sommelier.
Premium champagne is sold by the glass.
Even those without a taste for caviar will find the establishment impressive.
The space recalls the opulence of the tsars with its crystal chandeliers, marble walls and banquettes.
What to drink: Sparkling Russian champagne.
Rock Bar, Ayana Resort & Spa (Bali, Indonesia)
Rock Bar is often called Bali's best bar, and for good reason.
Guests must ride a special cable car down a dramatic cliff face to arrive at this brilliantly engineered bar, perched 46 feet above the Indian Ocean.
Upon arrival, bartenders pour creative cocktails set to beats spun from a DJ booth carved into the stone.
The minimalistic space, designed by Yasuhiro Koichi of Japan's Design Studio SPIN, is arguably the best spot to watch the sunset in Bali.
What to drink: The Blood Diamond, a blend of rum, white beetroot, blood orange and cranberry sauce.
Icebar by Icehotel, Jukkasjarvi (Jukkasjarvi, Sweden)
Though established in 1994, Jukkasjarvi's Icebar still remains a novelty and a great place.
As its name suggests, everything in the bar is made of ice, from the furniture to the cocktail glasses.
The bar was recently re-sculpted to appear as if an imaginary champagne bottle had exploded and splashed bubbly across all four walls.
While the Icebar now has popular outposts in Stockholm, Oslo and London, the Jukkasjarvi version remains the most impressive and authentic.
What to drink: Vodka shot.
Bemelmans Bar, Carlyle Hotel (New York)
Dark and dapper, Bemelmans is arguably the city's most posh nightspot — and has been since the 1930s.
No detail has been left un-fancified: white-jacketed waiters, nickel-trimmed glass tables, chocolate-brown leather banquettes and a 24-karat gold leaf-covered ceiling.
The most interesting aspect of Bemelmans may be the wall art by Ludwig Bemelmans, the creator of the Madeline books and the bar's namesake.
What to drink: The Old Cuban, a mojito topped with champagne.
The Roof, ME Madrid (Madrid)
Carved into a broken stone wall, decked out in leather and metal and illuminated by purple mood lighting, this bar feels sort of Vegas — but with sweeping views over Spain's capital.
Cocktails are strong and spendy — most guests opt for bottle service, which starts at €150 (cover charge is an additional €20).
Despite its trendy crowd, the vibe is low-key — there's no dance floor here, just a sprawling patio space for socializing and taking in the view.
What to drink: A Cosmopolitan.
Sky Yard, Drake Hotel (Toronto)
Sky Yard is so on-trend it can barely keep up with itself: its theme, decor, art installations, music and drink menu change every few months.
Its current most-requested cocktail is the the Salted Caramel Flip, a blend of rum, Calvados, salted caramel and egg.
In summer, the garden-like space, lined with booths and daybeds, hosts indie film screenings, sing-alongs, art shows, clothing sales and bands.
What to drink: Ask the bartender.
Level 8, Hyatt Regency Dar es Salaam, The Kilimanjaro (Dar es Salaam, Tanzania)
With sweeping views over the port of Dar es Salaam, the Hyatt Regency's slick Level 8 draws the after-work crowd and international tourists in equal measure.
Being the city's only rooftop bar, Level 8 is the ideal spot to watch the sun set over the Indian Ocean.
Late at night, the space transforms into a cosmopolitan lounge, with live jazz and an international DJ every Saturday night.
What to drink: A Bellini.
M Bar, Mandarin Oriental (Hong Kong)
Located on the 25th floor of Hong Kong's Mandarin Oriental, M Bar is home to the best views in the city.
There are M Bars in Boston and Miami, but its Hong Kong outpost is especially chic, with a lotus-shaped bar, charcoal velvet seating and timber lattice ceiling.
Only in Hong Kong does the M Bar offer delicious dim sum from the Michelin-starred Man Wah restaurant next door.
What to drink: The signature Hong Kong Legend, a blend of vodka, lychee, lime and cassia wine.
The Library Bar, Central Hotel (Dublin)
Behind the lobby of the Central Hotel in Dublin, the Library Bar feels like a secret hideaway.
Inside you'll find comfy, worn couches, antique, overstuffed bookshelves and an atmosphere so hushed and intimate you'll want to whisper your drink order.
In winter, a lit fireplace makes it the coziest bar in town — and the best spot for a hot toddy.
What to drink: An old fashioned.
Blue Bar, Taj Palace (New Delhi)
Built on the perimeter of the Taj Palace, directly facing its quiet, sprawling gardens, Blue Bar is tranquil and hidden, yet still unmistakably hip.
Shaded by giant bonsai trees, its timber al fresco deck leads into a stylish, Bohemian-inspired space with metallic black carpets and colorful furniture.
The bar's formidable drink menu is a mix of crowd-pleasing staples and offbeat creations like the Khe San, made with herb-infused vodka and soy sauce.
What to drink: Mum's Toddy, a mix of Cognac, bitters, lemon, ginger, honey and cloves.
Elephant Bar, NoMad Hotel (New York)
Decked out in dark mahogany and leather, with a speakeasy feel, the Elephant Bar is one of the most handsome bars in New York.
Award-winning mixologist Leo Robitschek expertly crafts drinks behind the elegant, 24-foot bar.
The cocktail list changes seasonally but staples like the Manhattan are mainstays.
The bar pays homage to New York's many microbrews with a hearty selection of local ales, including a custom beer created for the bar by Brooklyn Brewery.
What to drink: Satan's Circus, a blend of rye, chili-infused Aperol, cherry liqeuer and lemon.
Le Bar, Four Seasons Hotel George V (Paris)
Though it's simply named Le Bar, there's nothing simple about this posh lounge in Paris' Four Seasons George V.
With its dramatic chandeliers, mahogany walls and red velvet couches, Le Bar's grandeur is reminiscent of a bygone era.
Cocktails are a mix of after-dinner classics and fresh, innovative drinks like rum mixed with grapefruit, grape juice and timut peppers.
What to drink: The signature George Fizz, made with fresh strawberries, raspberries, guava juice and champagne.
House Without a Key, Halekulani Hotel (Honolulu)
Though it's located on Waikiki Beach, House Without a Key isn't a typical beach bar.
Its ambiance is tranquil; every night, guests enjoy live ukulele music beneath the gently swaying branches of a sprawling kiawe tree.
Drinks are on the classic side: mai tais and blue Hawaiians, but extra-strong, expertly crafted and beautifully garnished.
The bar was immortalized by the Charlie Chan mystery, "The House Without a Key," written in 1925 by Earl Derr Biggers during his time at the Halekulani.
What to drink: The signature mai tai.
O2 Lounge, The Ritz-Carlton, Moscow
This award-winning bar, with a fresh redesign beneath its signature glass-and-steel encasement, oozes cool.
It offers more than 400 varieties of vodka overseen by an onsite vodka sommelier, a handful of Russian-inspired cocktails (with names like Zhivago and Byzantine Gold) and an eclectic mix of Peruvian and Japanese bar bites.
As if that weren't enough of a draw, the bar is located on the top floor of the Ritz-Carlton Moscow and has spectacular views over Red Square, the Kremlin, Spasskaya tower and the Cathedral of Christ the Savior.
What to drink: The Coronation Imperiale, the bar's twist on the Black Russian.
Nalu Kai Bar, St. Regis Princeville Resort (Kauai, Hawaii)
Quite possibly the only true beach bar on Kauai's north shore and one of the best in Hawaii, Nalu Kai pairs barefoot appeal with strong drinks and views over Hanalei Bay, Pu'u Poa Beach and Bali Hai.
Though the bar is part of the St. Regis Princeville Resort, it's more minimalist than posh.
Cocktails are served with great flourish and made with the fresh juice of local fruit like lilikoi and lychee.
What to drink: The Margarita El Fresco, infused with jalapeno and cilantro.
Red2One, W Santiago (Santiago, Chile)
Co-designed by New York's Tony Chi, you could easily be fooled into thinking this sleek rooftop bar is in midtown Manhattan — if it weren't for the views over the snow-capped Andes.
The entire space puts a modern twist on traditional Chilean decor, fusing earthy and neutral tones with bright pops of red and glossy silver tables.
Throw in beautiful cocktails and A-list clientele, and you have the most exclusive bar in the city.
What to drink: A virgin strawberry mojito, allegedly Beyonce and Jay-Z's drink of choice when visiting the bar.
Hassler Bar, Hotel Hassler Roma (Rome)
Princess Diana is said to have loved this bar with gilded mirrors, gold pillars and curved leather banquettes.
Located behind the hotel's swish Salone Eva, Hassler Bar feels as if it were made for secret rendezvous, with a seductive cocktail menu to match.
What to drink: Its signature Veruschka, a mix of pomegranate juice and sparkling Italian wine, said to be Princess Diana's favorite.
The Rooftop Bar, The Standard (Los Angeles)
With its bird's-eye view over Los Angeles, this 1,220-square-foot retro-inspired bar is one of the trendiest bars in the city.
The sprawling space features an infinity pool, outdoor sofas, topiaries, waterbeds, pod-shaped cabanas and movies projected onto the walls of neighboring buildings.
What to drink: A Cosmopolitan.
Sazerac Bar, Roosevelt Hotel (New Orleans)
This swank, historic hotel bar is worth visiting for the scenery alone.
Famous Paul Ninas murals flank the curvaceous walnut-paneled room, furnished with elegant bar stools and plush banquettes.
Classic drinks like the Ramos gin fizz, negroni and old fashioned are served by white-coated wait staff.
What to drink: The bar's namesake cocktail — and New Orleans' official drink — the Sazerac.
The Bar, Four Seasons Hotel Gresham Palace (Budapest, Hungary)
Spilling into the hotel's Pava Udvar (Peacock Passage), built beneath a graceful glass cupola, this bar is worth the visit for the ambiance alone.
Every evening, guests are treated to live piano music as martinis and smart cocktails are served in ornately patterned glassware.
The regular clientele skews older and moneyed.
What to drink: A martini.
Lantern, Fullerton Bay Hotel (Singapore)
On the fifth floor of the Fullerton Bay Hotel, this open-air bar features panoramic views over the Marina Bay waterfront and Singapore skyline.
The bar itself is made of bronze and shaped like a lantern. It overlooks an infinity pool and several skyline-facing whirlpool tubs.
The drink menu is an eclectic mix of vintage and modern Caribbean-inspired cocktails.
There's also a large selection of wine and champagne.
The bar bites might be some of the world's best: Wagyu beef burgers and hand-rolled duck nori spring rolls.
What to drink: A negroni, aged in an oak barrel for 45 days.
Lobby Bar, Alvear Palace Hotel (Buenos Aires, Argentina)
There's no more elegant place for a drink in Buenos Aires than Alvear Palace's iconic Lobby Bar, where businessmen and celebrities have socialized since 1932.
The wood-paneled bar is opulent, framed by marble walls and tall windows draped with brocade curtains, built beneath a crystal chandelier — the entire space an homage to La Belle Epoque.
Cocktails are traditional and excellent, served alongside playful bar fare like Pringles and burgers on gold-lined plates.
What to drink: A martini.
Champagne Room, The Connaught (London)
The Connaught has a monopoly on excellent hotel bars in London: its signature Connaught Bar is iconic, and its newly opened Champagne Room is a modern classic.
Accessed via a velvet curtain, the bar is illuminated by an overhead skylight and has lustrous brass, leather accents and limestone floors.
Drinks — including an impressive collection of champagnes, 40 rare vintage wines and premium spirits, some distilled exclusively for the Connaught — are served in custom crystal Baccarat glasses.
What to drink: Dom Ruinart champagne.
Uptown Bar, Jumeirah Beach Hotel (Dubai, UAE)
It may be a newcomer to the Dubai nightlife scene, but Uptown's unobstructed views of Dubai's skyline and the Burj Al Arab make it the hottest spot in the city.
Unlike most Dubai bars, it feels effortlessly stylish and cozy, with cushioned wicker sofas, plush pillows and low tables lit by pillar candles.
Every night, in-house mixologists host a cocktail club showcasing new items from its cocktail menu.
On weekends, champagne is poured at happy hour prices.
What to drink: The Berry Cassis, a blend of vodka, creme de cassis and raspberries, topped with champagne.