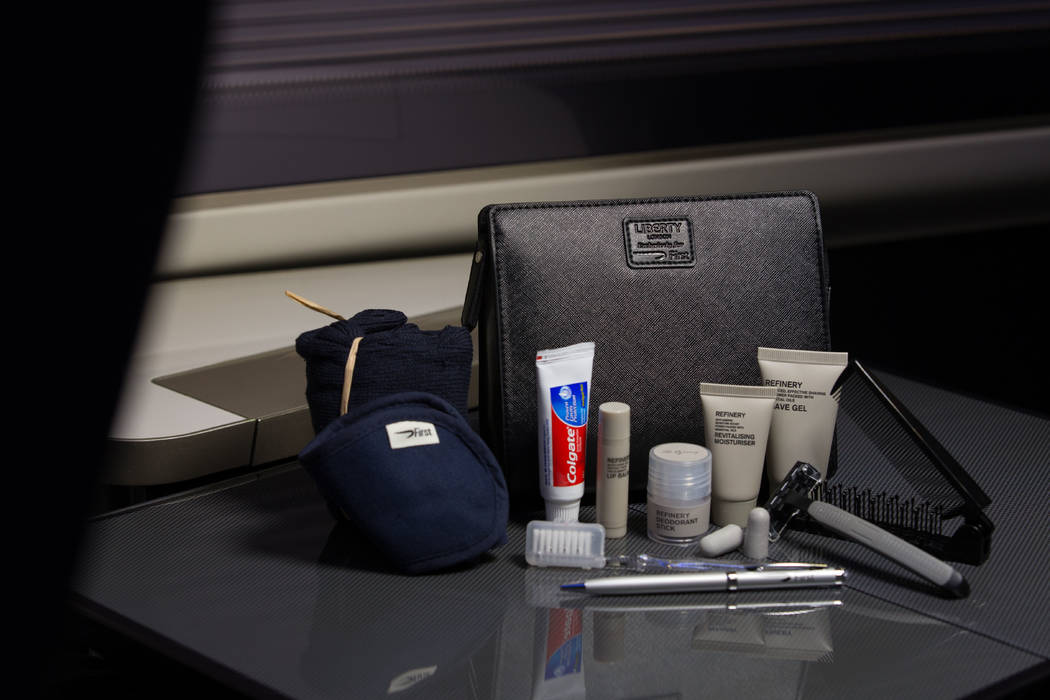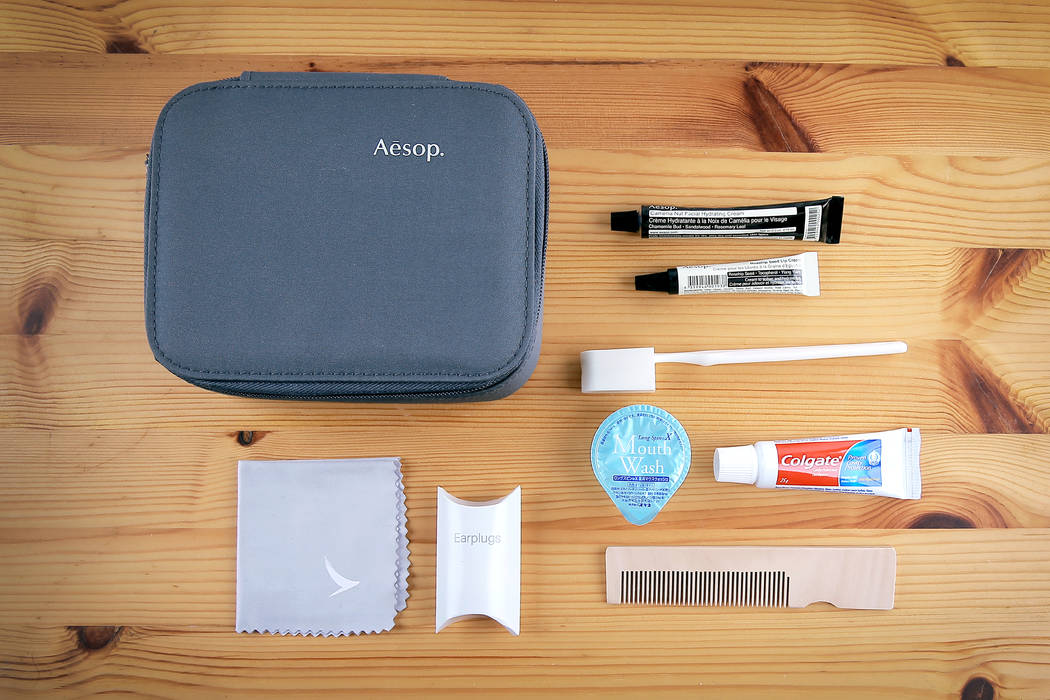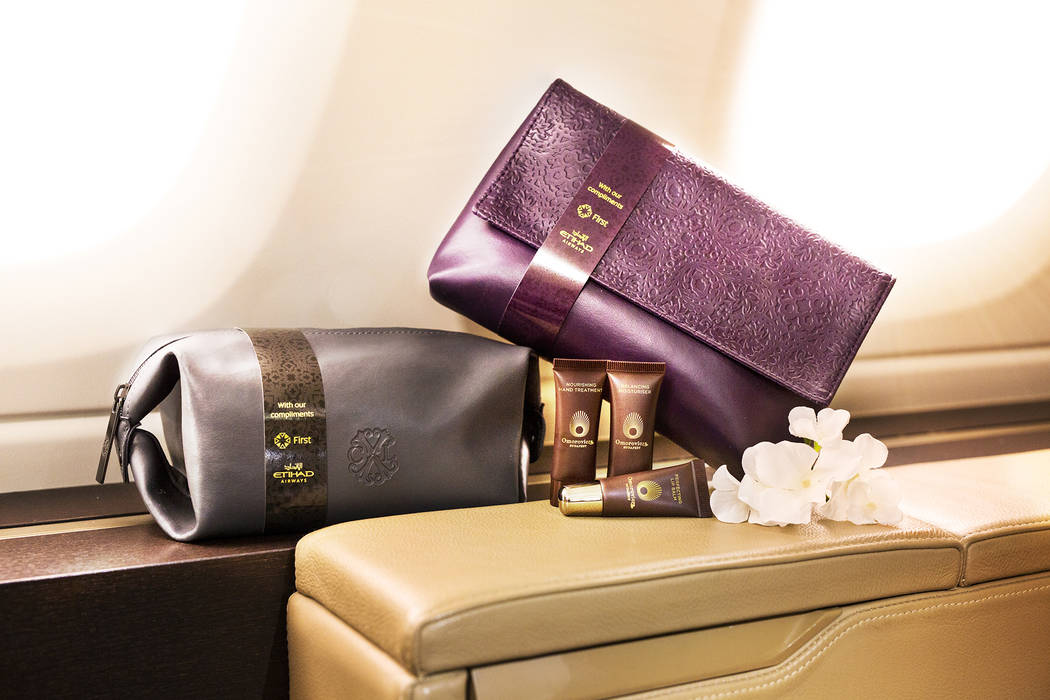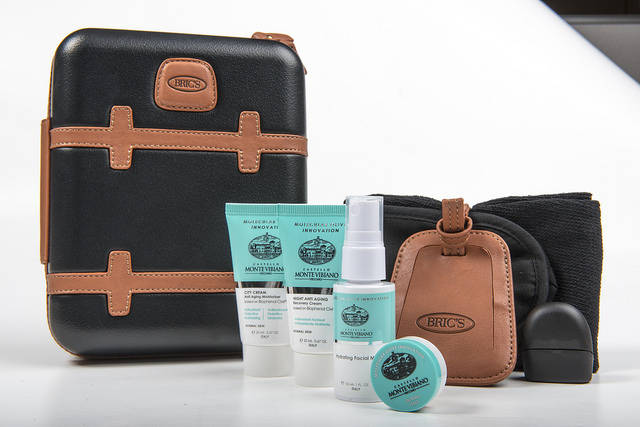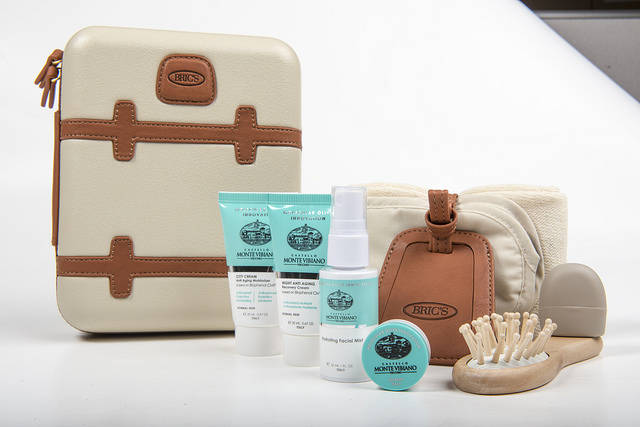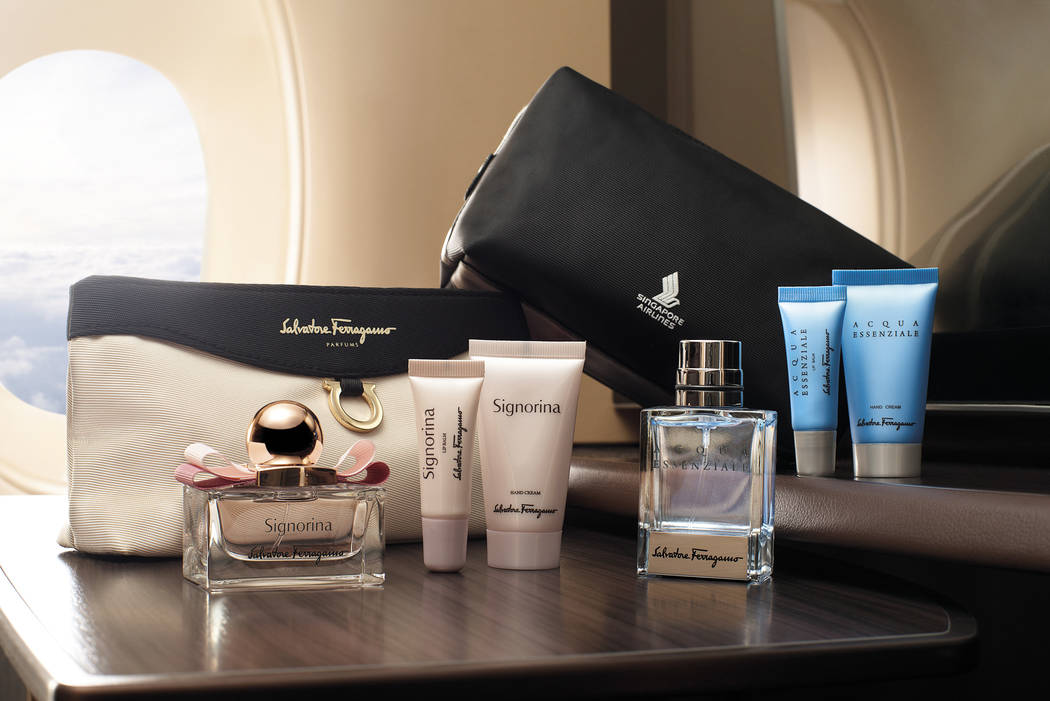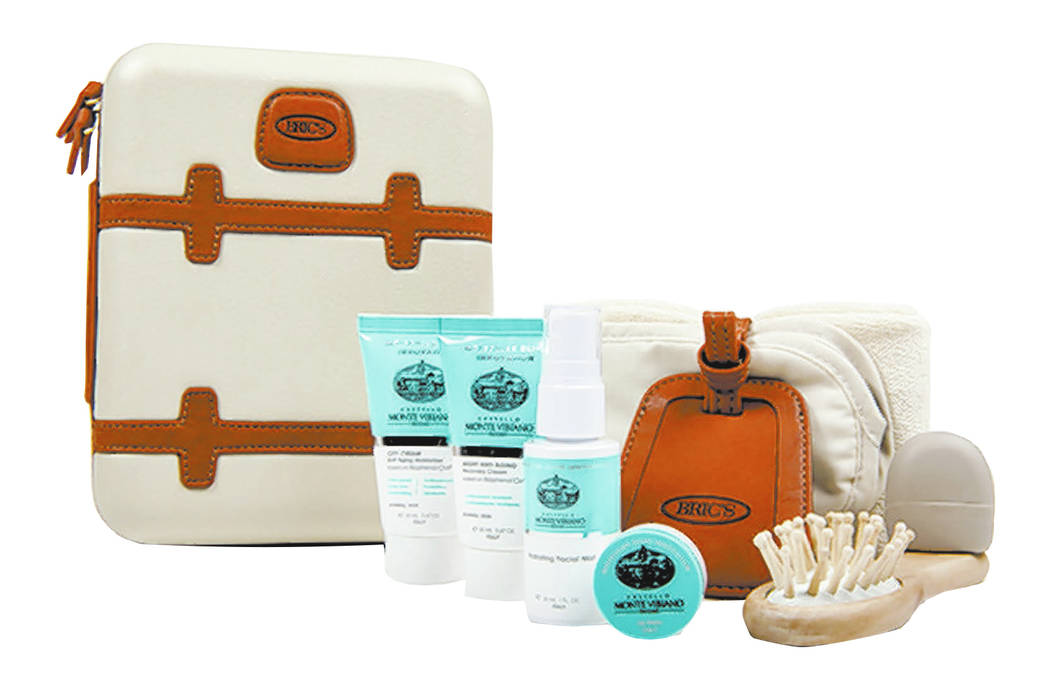 The popularity of fashion-forward collaborations is sky high, evidenced by the increasing number of trans-Atlantic carriers upgrading first-class amenities offerings with cases created by A-list designers and filled with luxury beauty and grooming products. Here's a look at what you'll find on flights arriving and departing from McCarran International Airport — from A to V (American Airlines to Virgin Atlantic).
American Airlines
American Airlines collaborated with Cole Haan to create handsomely patterned, "vegan" (nonleather) pouches filled with hand, face and lip moisturizers from 3LAB. As a bonus, they can be used (and reused) as chic cases for smaller tablets and e-readers.
British Airways
One iconic English brand has partnered with another: British Airways and Liberty London (est. 1875) have made the poshest cabin even, well, posher. The debut collection features the "Christelle"-print toiletries pouch (for women) and the "Felix Raison"-print toiletries pouch (for men). Because everyone knows multi-color Liberty London patterns are the cure for the transatlantic blues.
Qatar
BRIC'S has drawn from its well-known Bellagio collection to provide an exclusive amenities case for the airline.Inside, there's a BRIC'S bag tag and grooming products from Castello Monte Vibiano Vecchio, including: anti-aging moisturizer, face mist and night cream. Because, who wants their skin to match their leather accessories?
Singapore Airlines
Singapore Airlines boasts a collection of Salvatore Ferragamo "clutches" decorated with the company's signature horseshoe-inspired closure — which means that these babies are molt0 bella. Ferragamo amenities include Signorina products for women and Acqua Essenziale products for men.
Virgin Atlantic
Herschel, the Canadian brand with a retro aesthetic, designed Virgin Atlantic's "Upper Class" pouches — packed with products from RITUALS. An aromatherapy experience from de Mamiel is also included: "Enliven" (for day flights) is a blend of bergamot, sweet orange and Ylang Ylang, and "High Altitude" (for night flights) is a blend of fragonia, eucalyptus and lavender.
And if you're lucky enough catch a connecting flight on one of these airlines …
Cathay Pacific Airways
This Hong Kong-based carrier collaborated with Aesop, the Australian brand of apothecary-esque products, to create "stackable" cases for first-class customers on two-way routes. These come filled with Aesop's Aromatique Hand Balm (for women) and Camellia Nut Facial Hydrating Cream and Rosehip Seed Lip Cream (for men).
Emirates
This Dubai-based carrier chose esteemed Italian fashion house Bulgari to create an assortment of eight bags featuring the line's fragrances and skin care products. The premium pajamas with moisturizing "HydraActive Microcapsule Technology" have also been very popular.
Etihad Airways
Etihad Airways called the team at Christian Lacroix in Paris to fashion its elegantly embossed metallic pouches. Tucked inside are select products from Budapest-based Omorovicza, including a gel-cream moisturizer, lip balm and hand cream.