Arizona state park preserves frontier-era fort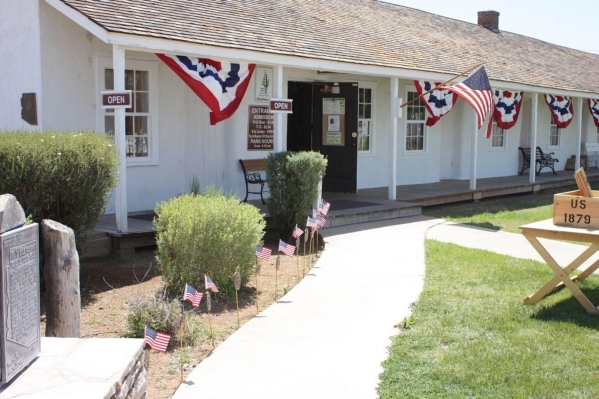 Fort Verde State Historical Park in Arizona preserves remnants of frontier history during turbulent times of the late 1800s.
The fort was a critical site during the settling of Arizona Territory from 1865 through the 1880s. It is recognized as the best remaining example of Arizona forts from the Indian Wars era. Open as a day-use area all year, this small gem among Arizona's state parks provides glimpses of life on a frontier outpost for soldiers, military families, Indian scouts and settlers.
Fort Verde is located near the Verde River in scenic central Arizona about 285 miles from Las Vegas. Follow U.S. Highway 93 from Las Vegas into Arizona. In Kingman, get on Interstate 40 and follow it east to state Route 89, the road to Prescott. Fort Verde sits at the edge of the town of Camp Verde about 40 miles east of historic Prescott, frontier Arizona's capital during territorial times.
Fort Verde State Historical Park is open from 9 a.m. to 5 p.m. daily. Visitors pay an entrance fee of $5 for adults and $2 for juniors. Children younger than 6 are admitted free. Working in partnership with the state park, the nearby town of Camp Verde provides support and volunteers for on-site personnel and special programs, such as historical re-enactments during annual events in April and October.
Visitors are free to explore the 11-acre park. Facilities include an eight-site picnic area, restrooms and parking for cars and RVs. Several original buildings from frontier days still stand at Fort Verde.
The outpost's headquarters building serves as the park visitor center with a gift and book shop. This building houses museum exhibits outlining the fort's history. From this site, a self-guided tour follows a walkway along one side of the original parade ground to three restored buildings furnished in 1880s style. Once part of Officers' Row, the commander's residence, bachelor officers' quarters and medical facilities and housing for doctors and surgeons are full of relics, implements and equipment of the era.
When Arizona Territory was created in 1864, pioneer settlers began to move into territory that historically was home to Native American tribal groups, including the Tonto Apaches and the Yavapais. Hostile clashes quickly developed into violence with raids and retaliations and dangerous conditions spreading throughout the region. The settlers were desperate for military intervention.
Federal response included a string of forts manned by infantry and cavalry. Fort Verde started as a tent camp occupied by Arizona volunteers in 1865. Regular troops relieved them in 1866.
At first called Camp Lincoln, the post was located in a low area where malaria plagued the soldiers for several years. It was renamed Camp Verde in 1868. In 1871, the army moved the outpost to higher, healthier ground about a mile away where the fort now stands. Construction completed in 1873 installed 22 buildings around a rectangular parade ground.
As hostilities increased, Fort Verde became a strategic center for Gen. George Crook as he enforced the government's policies protecting settlers and subduing and relocating native people onto reservations.
The structures served the officers and men of the units that included the famous black recruits known as the "Buffalo Soldiers." The fort was also a center for the native scouts recruited from area tribes and brought together under Al Sieber, well-known head of scouts.
The post was active for 20 years. The last major fight of the war with the northern Apaches occurred in 1882 at Big Dry Wash just 37 miles east of Fort Verde, when 50 renegades were killed or subdued.
The military left in 1891. The government sold the post at auction in 1899, when many of the buildings were torn down for construction materials.
The town of Camp Verde grew up in an agricultural area protected by the fort during perilous times. The town and state park celebrate Fort Verde Days annually in October. Set for Oct. 9 to 11, the event will feature a parade, special activities, living history presentations and military drills.