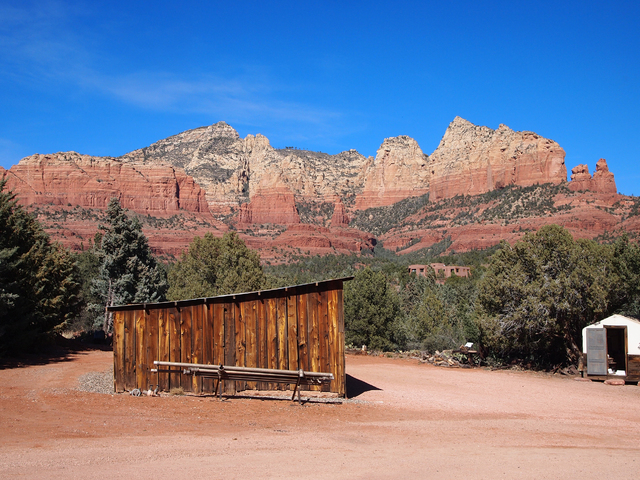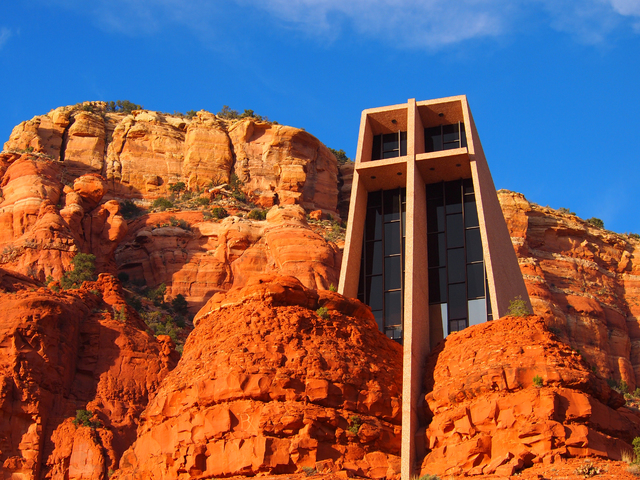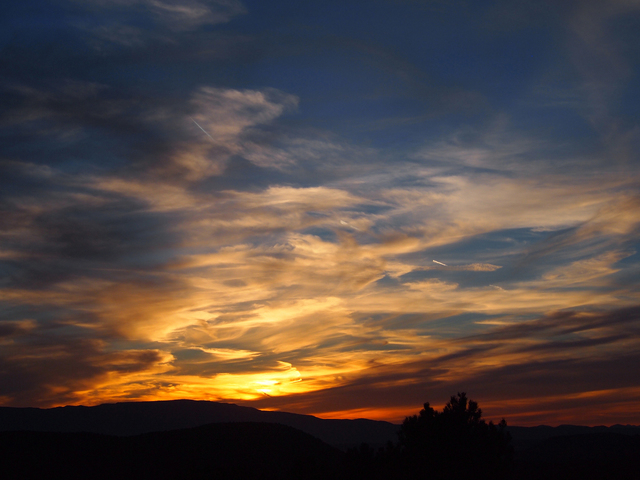 Many couples head to Sedona for romance, but we opted for a family getaway during our recent visit to this charming city in Arizona's high desert.
We made this choice even though we planned our trip for a holiday weekend that was bookended by Valentine's Day and Presidents Day, and even though my parents had offered to stay home and watch the kids.
Ultimately, we decided to bring along not only our daughters, ages 8 and 11, but also my parents.
Based on our prior experiences, we knew that Sedona had plenty to offer all of us. An estimated 3 million people visit the city and its distinctive red rock formations each year for outdoor recreation, spiritual enlightenment, artistic enjoyment and, yes, romance.
Our journey began on Saturday morning. We took U.S. Highway 93 south from Boulder City to Kingman, Ariz., then traveled east on Interstate 40 to Flagstaff, where we missed the turnoff to Sedona.
As we approached Flagstaff, we didn't see any signs for Sedona. We should have taken Interstate 17 south toward Phoenix for 2.6 miles before catching state Route 89A, which leads travelers through Oak Creek Canyon and into Sedona.
We had one goal in mind as we made our 260-mile trek from the Las Vegas Valley: make it to Elote Cafe in time for dinner. The popular Mexican restaurant is closed Sundays and Mondays, so we had only one shot on this trip.
The one-hour time difference between Nevada and Arizona didn't help, nor did the heavy holiday traffic that backed up as we neared Sedona's first stoplight. (Arizona doesn't observe daylight saving time, so clocks in the two states are currently the same.)
By the time we checked in at the Villas at Poco Diablo, where we paid a total of $351 per suite for a two-night stay, and reached the nearby restaurant, it was 7:10 p.m.
We had been warned that would-be diners start lining up well before the restaurant's 5 p.m. opening time, so we knew it was a gamble. We could see people filling the ramp that leads to the second-story restaurant and
overflowing onto the balcony that overlooks the pool of the King's Ransom Hotel and Inn.
Elote Cafe, owned by chef Jeff Smedstad, does not accept reservations.
Our estimated wait time, we soon learned, was one hour and 45 minutes. The friendly hostess told us we could enjoy a beverage and free popcorn while we waited, or leave and return before 9 p.m.
We chose the latter option, although we knew that would be much too late for the kids. We went to Natural Grocers to purchase some food that they could heat up in the microwave back at our villa, which had a kitchenette.
My mom, who had eaten at Elote before, offered to stay with the girls while the rest of us dined out.
When we arrived back at the restaurant, we let the hostess know that our party had dwindled from six to three. I took advantage of the remaining time to try a cucumber lime margarita ($8.50) and munch on the seasoned popcorn.
We were finally seated at 9:15 p.m., and I can honestly say that both the food and service were worth the wait.
"Elote" means corn on the cob in Spanish. If you visit, don't miss the signature elote appetizer, described as "fire-roasted corn with spicy mayo, lime and cotija cheese." It's $7.50 and delicious.
Entrees range from $18 to $28. A kids menu also offers $6 meals for those 12 and younger.
On Sunday we decided to approach Sedona like first-time visitors. We headed to uptown Sedona, with its bustling shops and restaurants, and purchased tickets for an 85-minute ride on the Red Rock Magic Trolley.
They offered us a discount off the advertised price, and we paid $20 for each adult and $10 for each child to take the "Bell Rock Tour."
Our guide, who has lived in Sedona for 45 years, shared plenty of corny jokes along the way to help teach us about his community. ("You know all those retired people who live in Sun City? Their grandparents live here!")
We learned that Sedona has a population of about 10,000 and sits at an elevation of 4,500 feet.
As we rode through Jordan Historical Park and passed the Sedona Heritage Museum, we took note and made plans to return.
During a stop at the U.S. Forest Service visitor center just south of the Village of Oak Creek, we took a few pictures and used the restroom before our guide hurried us along: "Remember, this is kind of a get-your-bearings tour."
Our next stop was at Bell Rock Vista, where we snapped a few more photos before boarding our 1977 trolley for the ride back uptown.
Although the temperatures were in the 70s during our stay, our guide warned us that Sedona gets hot in the summer. "But we're not as hot as Phoenix," he added.
After our trolley ride, we headed up to the Chapel of the Holy Cross, an iconic Sedona landmark completed in 1956.
We had been told that the Catholic chapel sits on one of Sedona's "vortex" sites, which are popular tourist attractions.
According to an article on the visitsedona.com website, "Vortex sites are enhanced energy locations that facilitate prayer, meditation, mind/body healing, and exploring your relationship with your soul and the divine."
Although we enjoyed the beautiful view from the chapel's cliffside perch, we were disappointed that we had to descend from the site when it closed at 5 p.m. An Internet search had incorrectly informed us that the chapel provided visitors a prime location for sunset photos.
We quickly regrouped and headed to Airport Mesa, which offers panoramic views of the area. Many photographers had already staked a spot at the location before we arrived.
While the high clouds made for nice sunset photos that evening, they prevented the setting sun from illuminating the colorful landscape for those who had their cameras pointed in that direction.
On Monday we decided to explore Sedona's spiritual side. Though I'm a skeptic about such things, I decided to stop in at Sacred Light of Sedona. It has a sign out front advertising psychics, massage, aura photos, crystals and something called "energy balancing."
We were greeted by Jessica, the founder of Sacred Light. I was curious about aura photos, which are featured at numerous New Age businesses in the community, and asked Jessica to explain.
"This is a picture of your energy field," she said. "And so, we all emit energy, and every energy has its color. … So, we are taking a photo of that. And then for $35 you're also getting a one-page report on what your chakras are doing."
Jessica said the $40 package includes a six-page report. "Even though I'm gonna explain everything to you, sometimes you forget," she explained.
She said the next package, for $55, comes with a 23-page report — "more than enough information for you to sit with for a couple days."
Jessica offered a $5 discount off any package if more than one person had an aura photo taken. My mom and I both decided to give it a try, choosing the photo with the six-page report.
While my daughters perused the colorful stones sold on the premises, I followed Jessica to her office and sat in a chair facing the camera on her laptop. She instructed me to put the fingers of my left hand over rows of sensors on some type of biofeedback device, then snapped my photo.
The image of my face on the computer screen was surrounded by a yellow-orange "aura," which apparently means I'm creative, easygoing, intellectual, philosophical and optimistic.
"You seem to have lots of energy right now," my report stated. "Your current bio data and aura indicate that your vitality is high and that you have strong and powerful energy available to achieve whatever you desire."
I liked the sound of that and headed out, with my report in hand, to put my abundant energy to use. We still had a couple of more sights to see before starting our drive home.
For those who wonder how often aura photos are offered in Sedona, our trolley tour guide had an answer for that: "Every aura on the aura."
Ba-dum-bum.
From there we drove to the Sedona Heritage Museum, which is housed in the former orchard and home of Walter and Ruth Jordan. Each of the adults paid $5 for a self-guided tour, and admission was free for the kids.
The museum focuses on the pioneers of the Sedona area, starting with the earliest settlers in the 1870s. A movie room highlights the many Westerns filmed in the area from the 1920s through the 1950s.
Our girls kept themselves occupied with the museum's scavenger hunt. We caught up with them in the fruit packing shed, built by Walter Jordan in 1946, where a children's area gave them the chance to don cowboy clothing and pose for pictures atop a saddle.
After visiting the museum, we had just enough time left to stop by one of Sedona's many art galleries. We chose Exposures International Gallery of Fine Art, billed as one of the largest fine art galleries in the world.
Art at the gallery came in a wide variety of styles and prices.
As we loaded up the minivan and began our journey home, we had just one regret: Our hiking boots, still packed in our suitcases, never had the chance to venture out onto Sedona's red dirt. That activity would have to wait for our next trip.
Contact reporter Carri Geer Thevenot at cgeer@reviewjournal.com or 702-384-8710. Follow @CarriGeer on Twitter.