Experience Fire and Ice at Cave Lake
December 26, 2015 - 11:44 am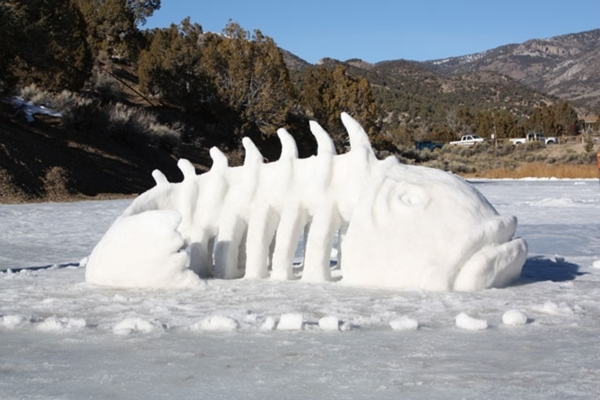 Winter sports enthusiasts figure to be keeping an eye on the weather this season at Cave Lake State Park near Ely after the disappointment of last winter.
In a normal year, the 32-acre lake in the popular park freezes enough to allow ice fishing, skating, games and the annual Fire and Ice Festival, which had to be canceled last January. A succession of storms this month and the promise of precipitation from El Nino conditions may deliver a good winter this time around at Cave Lake State Park.
Cave Lake is 15 miles from Ely, about 250 miles from Las Vegas, by way of the Sunnyside Cutoff, or 272 miles following U.S. Highway 93. It lies off U.S. 93 eight miles south of Ely. Turn east on state Route 486, the Success Summit Road, and drive seven miles to the park, which is located in a canyon along a lively creek surrounded by woodlands of pinyon and juniper. A recent transfer of land from the adjacent Humboldt National Forest added nearly 3,000 wooded acres to the park, nearly tripling its size.
Snow in the park draws sledders, snowshoers, cross-country skiers and snowmobilers. Park visitors with snowmobiles can unload there to use park side roads open for their use or to access national forest roads and trails for further adventures. One of the park's two campgrounds usually remains open on a first-come basis in winter. Group areas may be reserved. Campers must bring water and firewood and take camp refuse home for disposal.
Park fees apply all year. A $7 entrance fee is charged per vehicle, discounted $2 for Nevada residents. Use of individual campsites costs $17 per night. Group sites cost $15. Boaters pay a $9 daily fee. Campers with boats pay a money-saving $19 combination fee. For year-round fishing, anglers must have a Nevada license and trout stamp for the stocked rainbows and native German browns. In summer, crawdads are plentiful and tasty.
During the Fire and Ice Festival, set for Jan. 15 to 17, imaginative shapes sculpted of snow and ice emerge at the lake. While creative sculpting teams labor, spectators enjoy entertainment, food, games, ice fishing, ice skating and the camaraderie around blazing bonfires.
Many will head into Ely on Saturday to board the historic Nevada Northern Railroad's last train of the season, the Fireworks Express. The vintage train leaves the East Ely Depot at 4:30 p.m. Fireworks will light up the dark skies along the train's route at 6:15 p.m. Reserve your seats soon. The Nevada Northern will start its new season in mid-April.
Interested sculptors or teams must register for the Fire and Ice Festival and pay an entry fee. The frosty creations must be carved on-site of 100 percent ice and snow, no understructure and no coloration allowed. They must be at least 6 feet high or wide, but not more than 12 feet. The sculptures must be finished by 3:30 p.m. Sunday, when the judging will take place. At 6 p.m., the winning sculpture's team will be awarded $1,000, with $500 for second place and $250 for third place. The festival concludes with fireworks on the lake after the awards.
The local Rotary Club sponsors a high-stakes contest for anglers at Cave Lake State Park on Jan. 30, from 8 a.m. to 3 p.m. Register soon for the Rotary Ice Fishing Derby, which awards a $5,000 grand prize. To find out more about special events at Cave Lake State Park, visit websites for sponsoring agencies or organizations, as well as Nevada State Parks at parks.nv.gov.
Keep Cave Lake in mind for recreation during the rest of the year, as well. The park straddles the main access road into some of Nevada's most scenic backcountry. Opportunities abound for camping, hiking, fishing, hunting, photography, birding, wildlife watching and enjoying summer wildflowers and autumn color.
— Margo Bartlett Pesek's Trip of the Week column appears on Sundays.