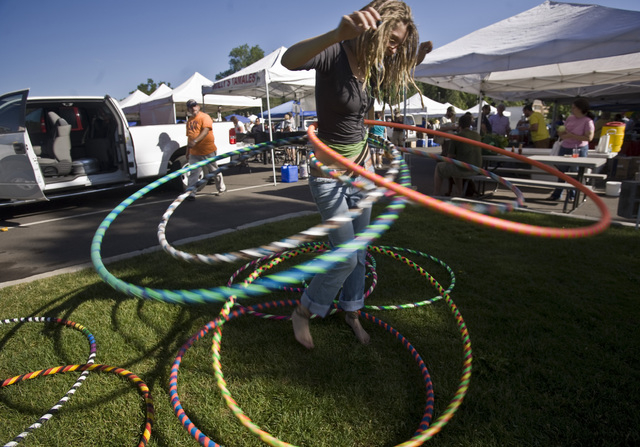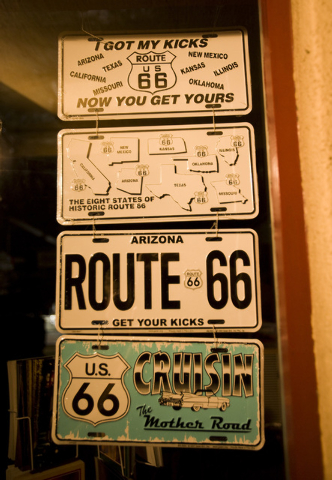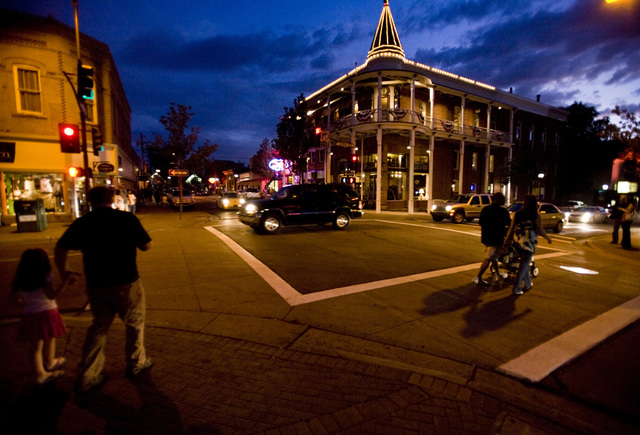 Everyone knows Flagstaff as the gateway to the Grand Canyon.
But what if you went to the gateway and no farther?
Roughly 250 miles southeast of Las Vegas — four hours, mostly by freeway — Flagstaff offers a cool alternative to summer in Southern Nevada. For a city of just 70,000, the famed gateway is itself an attractive destination with more than enough to see, do, eat and drink on any weekend in any season.
Starting in late August, when 26,000 Northern Arizona University students come back to class, most Flagstaff weekends are busy with events ranging from the Pickin' in the Pines Bluegrass and Acoustic Music Festival at Fort Tuthill Park from Sept. 12 to 14 to the Flagstaff Festival of Science, set for Sept. 19 to 28 and now in its 25th year. (For a comprehensive list of events, visit www.flagstaff365.com).
Later in the year, Flagstaff is a skier's destination, with the Arizona Snowbowl just 14 miles out of town offering 777 skiable acres from mid-December to mid-April.
Year-round, there's that "gateway" thing. Just 80 miles from the South Rim of the Grand Canyon, Flagstaff is a natural stop for tourists on their way to that natural wonder or to any one of seven national parks and monuments in the region. The town also straddles the path of Historic Route 66, reincarnated as Interstate 40, where the iconic east-west route intersects with Interstate 17 to Phoenix and points south.
All that makes for a town where artsy academe mingles comfortably with a healthy tourist economy, spinning off a small city with ample lodging, quality restaurants and a laid-back ambience to comfort anyone in need of a break from the heat, dust and frenetic pace of summer in Sin City.
Let's start with weather. On a recent July weekend when Las Vegas baked in 106-degree heat, it was 20 degrees cooler in Flagstaff. That alone is worth the drive.
Then, there's a forest out there. Flagstaff proudly places itself in the middle of the world's largest ponderosa pine forest. Everything is greener at 7,000 feet.
And there's the city itself. Permanently settled as a railroad town in 1881, Flagstaff retains much of its
historic central city, a charming dozen or so blocks of well-preserved Victorian-era, Tudor revival and neoclassical buildings north of the Union Pacific railroad tracks that cut through the center of town, complemented by more utilitarian industrial buildings on the other side of the tracks that have been converted as galleries, restaurants and brew pubs.
Flagstaff style is laid-back and comfortable in its skin. Think Santa Fe without the trust-fund overindulgence.
Downtown tends to sleep in. An excellent al fresco breakfast at the historic Weatherford Hotel — try the Navajo taco served with two eggs and beans or Sam's Special Posole, New Mexican hominy and green chili pork stew — won't be interrupted by traffic on the nearby street. Most shops and galleries open midmorning, with some posting hours of "around ten-ish," and many staying open until 10 p.m. or later. While restaurant prices are comparable to Las Vegas local scale, the many antique shops, retail goods and outdoor gear peddlers tend to price at a premium for the tourist trade.
The people are friendly, and well-behaved dogs are welcome virtually everywhere, with many shopkeepers putting out water dishes for use by their own house pups and for visitors. Most hotels and motels also welcome pets, though many charge $15 to $30 extra per night.
After dark, Flagstaff offers ample dining and live music. The dress code is no code at all — everything from cargo shorts and flip-flops one recent Saturday night to at least one silver lame cutaway dress that would have made a dayclub bartender blush. Brix Casual Fine Dining and Wine Bar, on the northern end of downtown, is the leader of the culinary pack, offering American cuisine with a Southwestern flavor. Plan to spend $50 or more per diner, excluding wine, and plan ahead. Brix is usually booked solid on weekends.
A delightful alternative is Criollo Latin Kitchen, a Latin-fusion restaurant that doesn't take reservations. Try the mojo marinated pork tenderloin, bison meatloaf or shrimp tacos for a treat. Owned by the same company as Brix, Criollo is also part of the slow-food movement and obtains most ingredients fresh from local farms. Unlike Brix, you can eat well for about $20 per plate.
In the mood for Thai, Indian, Italian, Greek or Mexican? Sure. There's plenty to choose from.
Live music offerings are a bit more modest, at least in the summer. The bar at the Weatherford hosts bands and dancing, but most of the offerings tend toward the dive bar-loud-hipster end of the spectrum, led by the Green Room. Rumors of bluesy jazz at Charly's Pub &Grille after 10 p.m. proved untrue, at least on the last Saturday in July. The 650-seat Orpheum Theater often books national artists on tour. Built in 1911, the classic performing arts center also shows art films and features a full bar and 200-seat lounge. Check the schedule, though. Summer appears to be a slack time for the venue.
For the outdoors inclined, Flagstaff itself offers a 50-mile urban trail system for hiking and biking. Arizona Snowbowl runs its ski lifts Fridays through Sundays during the summer, taking hikers up Humphrey's Peak, which at 12,633 feet is the highest spot in Arizona and the king of the San Francisco Peaks. The ride costs $15 for adults, $10 for seniors and those younger than 12. Free for those 70 and older.
Easier on the feet is The Arboretum at Flagstaff, where a 45-minute docent introduction to some of the 2,500 species of plants is included in the $8.50 ticket, as is an entertaining and educational 25-minute raptor show featuring trained hawks and owls.
But indoor Flagstaff is equally interesting.
Just three miles north of downtown, the Museum of Northern Arizona offers a world-class presentation of the anthropology, biology, geology and fine art of the four-state Colorado Plateau — a swath of history starting with dinosaurs and ending with modern Hopi, Zuni and Navajo artwork, all at $10 for adults, $9 for seniors and $6 for Native Americans and for youth ages 10 to 17. An hourlong guided tour is included in the admission and well worth the effort.
Another stop for the thoughtful is the Lowell Observatory, on Mars Hill just west of downtown. Founded in 1894, Lowell is a working research facility where astronomers first became aware of Pluto and gathered the first evidence of the expanding universe, also known as the Big Bang. Day and nighttime hours and programs vary by season, but include a high-quality visitor center with informational lectures on Mars and other bits of the universe, guided tours of the telescope used to discover Pluto and, weather permitting, a direct look at the sun through a special telescope. Day and evening programs run $12 for adults, $11 for seniors and college students, $6 for children 5 to 17.
Start your Sunday morning with breakfast at the Downtown Diner. Heck, start any part of any day there. It always serves breakfast. The smoked trout-and-Swiss cheese omelet stands out on a menu where most meals run $10 or less.
And be sure to visit the Sunday morning farmers market on the lawn between City Hall and historic Route 66. Small but unusually eclectic, the market is true to its roots, with most booths operated by farmers from the region who offer everything from fresh produce to pickled beans, chili peppers roasted on the spot, and fresh duck eggs at $7 apiece. Be sure to take a leash, but don't hold back.
IF YOU GO
Location: Flagstaff, Ariz., about 250 miles southeast of Las Vegas, or about four hours over uncommonly rough Arizona highways. Just 80 miles from the Grand Canyon, the town is a convenient jumping-off spot to seven other national parks and monuments and the iconic town of Sedona.
Directions: Take U.S. Highway 93 south toward Boulder City, where you'll bear left to continue toward Kingman. In Kingman, take Interstate 40 east toward Flagstaff and Phoenix. Take exit 195 onto northbound Arizona Route 89A (Historic Route 66) into downtown Flagstaff. Excellent tourist maps are available at the Flagstaff Visitor Center, 1 E. Route 66, in the historic train station.
Lodging: Plentiful, though on busy festival weekends or when the Northern Arizona University Lumberjacks are playing in the fall, you should book early. Flagstaff offers a wide range of bed-and-breakfast opportunities, upscale hotels and budget accommodations. A midrange room can run $120 or more per night during the summer, though, and most places charge $15 to $30 per pet per night extra. Tent and RV camping in and near the city is also plentiful.
Dining: Unusual variety and quality for a small city. Virtually all popular cuisines are represented. Prices range from $50 a plate for fine dining to fast food.
Sunset Crater Volcano National Monument: 12 miles out of town on state Route 89. Offers a visitor's center that explains the geological forces that formed the Colorado Plateau and the crater.
Walnut Canyon National Monument: 800-year-old cliff dwellings and pueblos 10 miles east of Flagstaff on I-40. Offers both a strenuous, 1-mile trail into the canyon to see the cliff dwellings and an easier above-the-rim trail with overlooks and a pit-house.
Bearizona Wildlife Park: In Williams, about 30 miles east of Flagstaff on I-40. Drive-through tours of a wildlife park featuring bears, bison, wolves and other animals.
Grand Canyon Railway: Vintage steam and diesel trains make a 130-mile round-trip daily from Williams to the South Rim of the Grand Canyon.
Meteor Crater: At 2.4 miles around, the 550-foot-deep crater shows what happens when a meteor the size of a jumbo jet impacts with Earth. Fortunately, it happened 50,000 years ago. Go 35 miles east of Flagstaff on I-40.