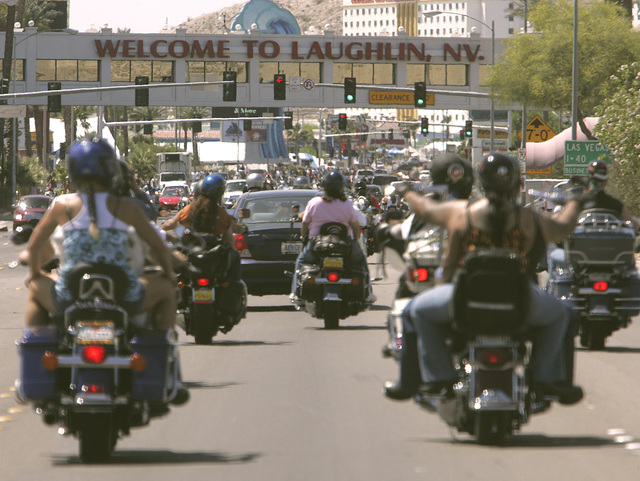 For those seeking a getaway, spring brings festivals and many opportunities to enjoy nature.
Saturday, Virginia City: Easter Bonnet and Pet Parade. Dress yourself, along with your pet, in your favorite Easter outfit and win prizes in a multitude of categories, including best children's entry, best group and best pet entry. Virginia City Beef Jerky Co. 775-220-7072. www.visitvirginiacitynv.com.
Saturday-April 5, Brian Head, Utah: Brian Head Resort Easter Carnival. Activities for the entire family, including pond skimming, bike slalom, snow shovel race, bikini slalom, Easter egg hunt and face painting. 866-930-1010. www.brianhead.com.
April 8-12, Logandale: Clark County Fair and Rodeo. The annual event features day and evening rodeo events with more than 500 participants. Exhibits, entertainment and livestock show. 888-876-3247. www.ccfair.com.
April 11-12, Lake Havasu City, Ariz.: Lake Havasu Chili Cookoff. Chili and salsa chefs compete in this event sanctioned by the International Chili Society. Samplers are needed to determine the People's Choice award winner. Lake Havasu State Park. 928-566-1336. www.golakehavasu.com.
April 11, Zion National Park, Utah: Zion Geology. This workshop will focus on the continual geologic processes in the park. Enjoy short hikes and trailside lectures learning how the power of water has shaped this majestic park. Reservations needed. Zion Canyon Field Institute. 435-772-3264. www.zionpark.org.
April 16, Zion National Park, Utah: Thursday Trek. Join a naturalist and learn about the geology, flora, fauna and cultural history of Zion. Reservations needed. Zion Canyon Field Institute. 800-635-3959. www.zionpark.org.
April 17-19, Death Valley National Park, Calif.: The Spring Fling Golf Tournament. All skill levels can play and compete at the world's lowest golf course. Furnace Creek Resort. 760-786-2345. www.furnacecreekresort.com.
April 17, Zion National Park, Utah: Zion through the Lens. Learn about the park and photography with professional photographer and Institute director Michael Plyler. Topics to be covered include controlling depth of field, exposure, contrast control and appropriate use of filters. Reservations needed. Zion Canyon Field Institute. 435-772-3264. www.zionpark.org.
April 18, Lake Havasu, Ariz.: Another Dam Race: A Paddling Event. Paddlers race a 9-mile out-and-back course around the island of Lake Havasu. Watercraft include six-man outriggers, kayaks and stand-up paddle boards. Nautical Beachfront Resort. 928-505-8669. www.ihcinteragency.org.
April 18, St. George, Utah: Dixie Power Kite Festival. This family-oriented day welcomes everyone to fly a kite and support education through reading. Entertainment and book fair. Sun River St. George Golf Course. www.dixiepowerkitefestival.com.
April 18, Springdale, Utah: Zion Canyon 11th annual Earth Day Celebration. Demonstrations about solar energy, native plants, solar ovens and sustainable products. Children's activities, live entertainment, art and food vendors. 435-772-3952. www.springdaletown.com.
April 18, Zion National Park, Utah: Zion's Low Desert Wildflowers. Learn about the Mohave flora in the southwest region of the park's Coal Pits Wash and Petrified Forest areas. Reservations needed. Zion Canyon Field Institute. 435-772-3264. www.zionpark.org.
April 22-26, Laughlin: 33rd annual Laughlin River Run. More than 50,000 bikers descend on this Colorado River town each year for entertainment, poker runs and competitions. Visit the booths of thousands of vendors set up throughout the area. 949-502-3434. www.laughlinriverrun.com.
April 23-25, Reno: Reno Jazz Festival. This event features competitions, clinics and more than 300 performances by amateurs and professionals alike. University of Nevada, Reno campus. 775-784-4046. www.visitreno.com.
April 24-26, Prescott, Ariz.: The Whiskey Off-Road. Mountain bikers from all skill levels compete in this three-day celebration. The race starts on the pavement and then climbs into the Prescott National Forest on fast single track and fire roads. Vendors, live entertainment and giveaways. 520-623-1584. www.visit-prescott.com.
April 25, Eureka: This evening dinner theater will feature the Silver State Players, who will perform "Steel Magnolias." Eureka Opera House. 775-237-6006. www.co.eureka.nv.us
April 30-May 3, Genoa: Genoa Cowboy Poetry and Music Festival. This event features well-known entertainers, including Richard Elloyan, Steve Wade, Mike Beck, The Western Flyers and Larry Maurice. 775-782-8696. www.cowboypoetrygenoa.com.
April 30 through May 3, Reno: Reno Ukulele Festival. The 6th annual Reno Ukulele Festival includes workshops, concerts, instruction and vendor area. Headliners include Peter Luongo, Lil Rev, Ralph Shaw and Ukulollo. Ascauga's Nugget. 775-356-3300. www.playuke.net.