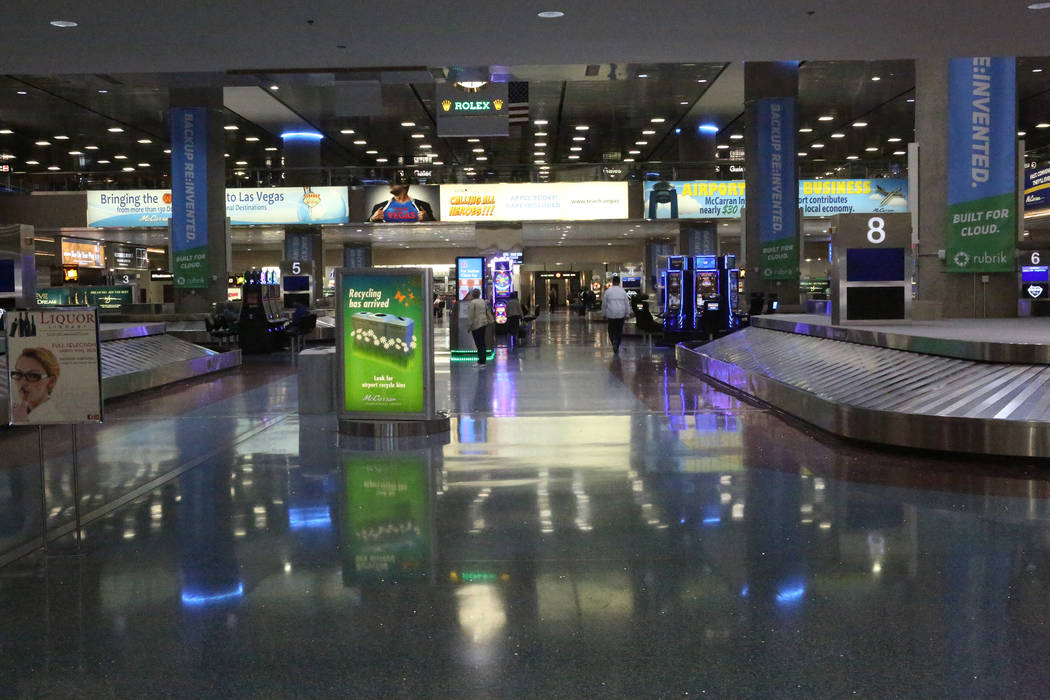 Mike Kissell — along with wife, daughter and son — made the long pilgrimage from Plymouth to celebrate Thanksgiving in Las Vegas.
Plymouth, Minnesota, that is.
"We're going to see all of the sights because they've never been here before," Kissell said Wednesday morning while walking with his family through the baggage claim area of McCarran International Airport.
The Kissells are among roughly 317,000 travelers expected to get a taste of Sin City's trimmings during the five-day holiday weekend that began Wednesday, a slim 0.3 percent decline from last Thanksgiving, according to the Las Vegas Convention and Visitors Authority.
Even with the small drop, AAA's national forecast lists Las Vegas as the No. 5 vacation destination for Thanksgiving.
"It seems like a nice thing to do because I don't have to cook, there's fabulous food, good shows and good weather," Kim Saito of Redding, California, said while waiting for her luggage at the airport with her husband, Derri Saito.
Out-of-town visitors are expected to spend about $244.7 million on food, hotels and gambling during Thanksgiving weekend. Of the 148,532 total available hotel rooms in the region, 94 percent will be occupied for the weekend, the authority said.
Nationally, AAA forecasts more than 50.9 million people will journey 50 miles or more this weekend, representing a 3.3 percent increase from last year and the highest Thanksgiving travel volume since 2005.
Roughly 60 percent of the visitors coming into Las Vegas will travel by car, with the busiest areas expected to be Interstate 15 and the Strip, according to the Nevada Department of Transportation.
About 602,000 airline passengers are expected to pass through McCarran International through Sunday, which was roughly the same number as last year, airport spokeswoman Christine Crews said.
Roughly 3,300 airline passengers were screened at one security checkpoint located near the A and B Gates from 5 to 8 a.m. Wednesday — a significant increase compared with about 700 travelers who pass through the area on a typical weekday, a Transportation Security Administration official said.
Wait times for security lasted 19 minutes at the busiest point Wednesday morning at McCarran, which prides itself on processing passengers within five minutes.
"We're so used to high-volume service from major events, concerts and conventions that today isn't too much of a challenge for us," Crews said.
Contact Art Marroquin at amarroquin@reviewjournal.com or 702-383-0336. Find @AMarroquin_LV on Twitter.
Thanksgiving at the airport
Officials at McCarran International advised travelers to get an early start on their trips during the holiday weekend, no matter which airport they travel from. Some other tip to know before you go:
■ Although Terminal 1 still had parking spaces available as of Wednesday afternoon, the garage tends to reach capacity during holiday weekend. Prepare to be redirected to other parking areas, or use taxicabs and ride-hailing services when possible.
■ McCarran's Cell Phone Lot, located at the south end of the airport's Economy Lot off Kitty Hawk Way, set aside more than 100 parking spots where motorists can wait for a call or text from arriving passengers waiting at the arrivals curbs. The free lot is open from 6 a.m. to 1 a.m. daily.
■ Know the luggage charges, policies and weight limitations for your airline so that you aren't surprised by last-minute fees.
■ Know the location of your airline's ticketing counter, security checkpoints, flight times and other information at the airport's newly redesigned website, mccarran.com.