McCarran opens cellphone parking lot for passenger pick-up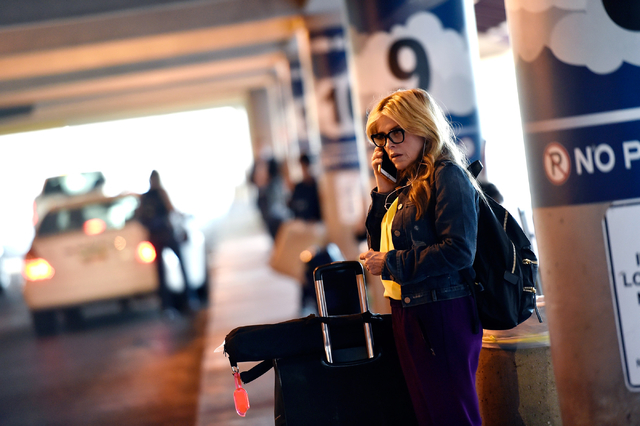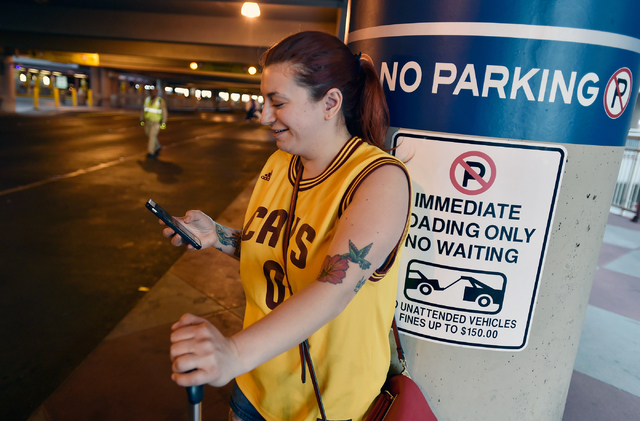 McCarran International Airport has quietly opened a cellphone parking lot, an area at which people picking up passengers can wait free until those passengers get to the arrivals curb.
The lot is located on the south end of the airport's Economy Lot and is accessible off Kitty Hawk Way. Signs are being installed to guide motorists to the lot, and some have already been placed.
McCarran officials said Monday that the airport had a "soft opening" last week for the lot to work out details of signage, lighting and security cameras before promoting its availability.
The 115-space facility is called a "cellphone lot" because motorists can park there while they await a call from an arriving passenger to arrange a pickup at the arrivals curb.
Several airports, including Denver, Phoenix Sky Harbor and Reno-Tahoe International have had cellphone lots in place for years, but former Clark County Director of Aviation Randall Walker felt a lot for McCarran was unnecessary.
When Rosemary Vassiliadis took over the position in 2013, she reconsidered the need for a lot.
After discussing the pros and cons of a lot with executives of other airports, Vassiliadis reviewed finding the best location for a lot to serve both Terminal 1 and Terminal 3.
"We had been receiving a number of inquiries about it for a long time," Chris Jones, McCarran's chief marketing officer, said Monday.
"After reviewing it and looking at all the details, we decided to go ahead with it," he said.
There are no estimates on the cost of establishing the lot, but Jones said expenses are minimal because the pavement was already in place since a portion of the economy lot was taken to establish the cellphone zone. Airport workers were only required to relocate a fence and install a few signs, lights and security cameras to set up the lot.
The lot is open daily from 6 a.m. to 1 a.m. Unattended vehicles are not allowed and the lot also is off-limits to commercial vehicles and ride-hailing vehicles. Violators of those rules can be cited by airport personnel.
One of the reasons Walker balked in allowing a cellphone lot was because of the expected drop in parking revenue from motorists who use short-term parking to wait for their arrivals. McCarran allowed people to park for free in short-term parking for the first 15 minutes in the lot, but many motorists weren't aware of that or didn't know how to get free passage.
Jones said the airport did not conduct an analysis of how much parking revenue would be lost with the cellphone lot in place.
But airport officials are expected to crack down on illegal shoulder parking at the arrivals curb and last week, the Clark County Commission approved an ordinance increasing fines for illegal motorist activity at the airport.
Contact Richard N. Velotta at rvelotta@reviewjournal.com or 702-477-3893. Find him on Twitter: @RickVelotta