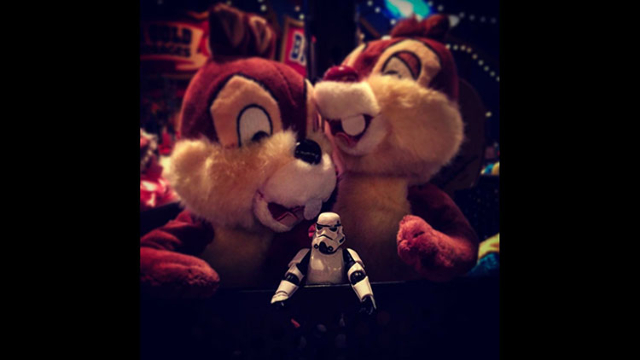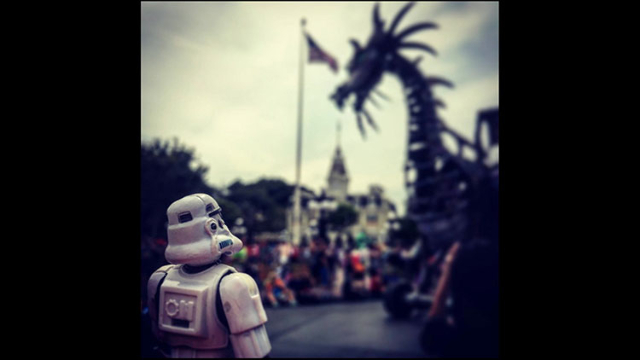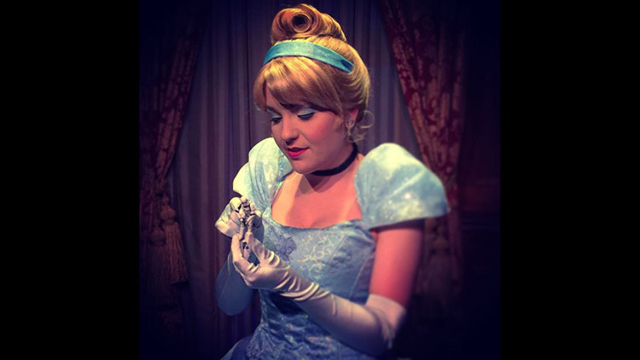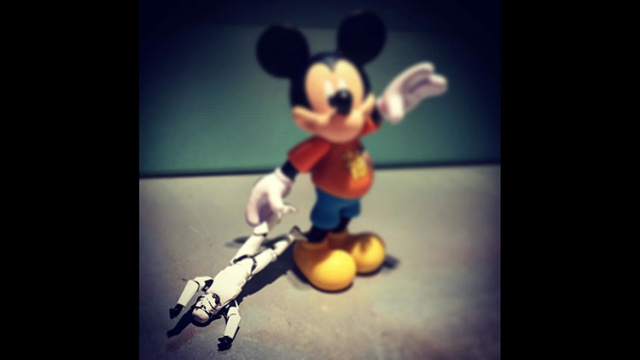 Cinderella, standing tall and regal in an ice-blue ball gown entirely out of place in the 90-degree Florida heat, turns the stormtrooper toy over in her hand.
"But where are his fairy wings?" she asks, expecting the figure she's holding to be a friend of Tinker Bell's.
No matter. She holds the "Star Wars" character delicately between her fingers and breaks into the sugary-sweet smile that only a Disney princess can get away with.
Say cheese!
Sal Syed snaps the picture on his cellphone with a satisfying "click" and turns to his girlfriend, Devyn Hensel, who's already got a caption in mind to post with their newest picture.
Syed and Hensel operate the Instagram series "stormie_at_wdw," which premiered just over a month ago. It follows a toy "Star Wars" stormtrooper's escapades as he discovers the world of Disney for the first time.
In the movie franchise, stormtroopers are the evil army that reports to the villainous Darth Vader. But in the photo series, Syed and Hensel wanted to add a playful touch. The backstory: He is "on a mission to investigate Walt Disney World for ultimate Imperial takeover."
The idea started with 25-year-old Hensel, a Walt Disney World travel agent who's worked for the company for three years. Her cubicle is decorated with toys from various Disney movies (Disney acquired Lucasfilm, the company behind "Star Wars," in 2012), and while playing with the stormtrooper one day, she noticed that his arms, legs and neck moved in ways that seemed almost human.
"I felt like he had a personality," Hensel said.
One day at work, she made the toy soldier Moonwalk across her cluttered desk. Her co-workers were instantly entertained, which got her thinking about other fun ways to play with the figurine. Then, while on a trip to the park with Syed, 30, she pitched the idea of an Instagram series featuring the trooper. Syed, who had spent the first 10 years of his life in India and had only seen the "Star Wars" movies for the first time this year, loved the idea.
"Stormie" has collected more than 1,000 followers on Instagram. All of the pictures are either Disney- or "Star Wars"-related, and true fans will appreciate the hidden meaning behind some of the snapshots, like Stormie flirting with the idea of drinking a "Beverly." (An inside joke for die-hard Disney fans, the "Beverly" is a supposedly foul-tasting drink that people encourage their friends to try while visiting the theme park.)
Could Hensel get in trouble with her employer for snapping the pics?
"Anyone is allowed to take photos at Disney," she explained. "Even the photographers there will use your camera. It's encouraged."
So off they go on their daily flights of fantasy.
"The storyline is the most important thing for us," Syed said. "It's a very fluid story, and in addition to all of the pictures being a little dark themselves in the way they are composed, the captions which Devyn comes up with are just awesome and add to the story so much."
Hensel said she usually has captions in mind when they take the pictures. But before the pair post anything to Instagram, they go through several iterations of the picture and caption.
"We think about this position of his head, and sometimes I'll take a photo and say, 'Wait a minute, he doesn't look like he's smirking!' " exclaimed Hensel … despite the fact that the stormtrooper wears a mask that doesn't allow for any expression on his face at all.
Still, she'll swiftly move into the frame to tilt his head more to the right or adjust the angle of his bent elbow before jumping out in time for Syed to take the picture with his iPhone 6 Plus.
"Sometimes I see these accounts (like ours), and you think, 'Do you really think they thought about it this much?' but we really do," she added. "We really think about it a lot, and that's why it's so gratifying."
Syed and Hensel hope that their pictures bring people together from different backgrounds — and in some ways, they already have. One picture that features the stormtrooper outside the castle at the Magic Kingdom incorporates the Internet meme "Straight Outta Compton." But instead of "Compton," the snapshot says "Straight Outta Deathstar," and according to Syed, they're reaching fans who have never shown interest in Disney or "Star Wars." The couple also aims to make the account family-friendly and regularly deletes any profanity posted in the comments section.
For them, though, it's all about enjoying the moment and experiencing the park in a new way by posting one new picture about 5 p.m. ET each day.
"That's part of the magic behind Stormie," Hensel said. "I like the illusion that he's there in the park every day."