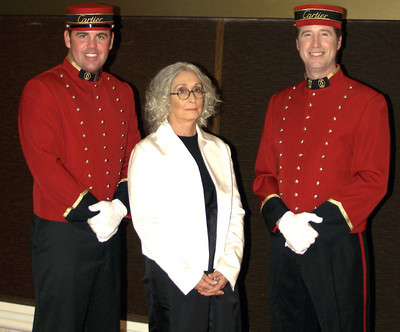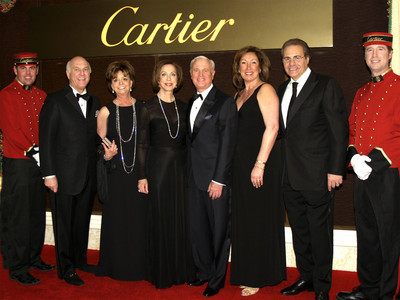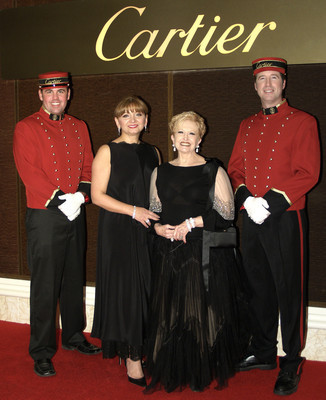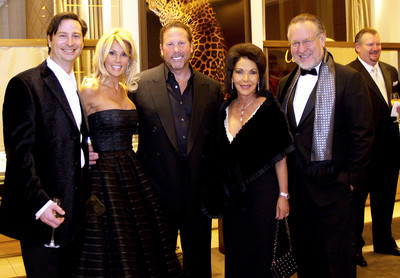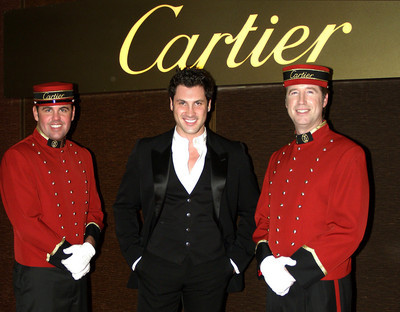 The Nevada Ballet Theatre honored dance legend Twyla Tharp as Woman of the Year at the 2008 Black & White Ball on Saturday at Wynn Las Vegas' Latour Ballroom.
The event is a formal affair to benefit the Nevada Ballet Theatre. Dancers for the 40-member company have been recruited from around the world and include artists with international performing experience.
Award recipient Tharp has choreographed more than 135 dances, five Hollywood movies, directed and choreographed three Broadway shows, written two books and received a Tony Award, two Emmy awards, 17 honorary doctorates and numerous other awards.
The extraordinary gala, chaired by Gillian Wynn Early, began with a Cartier VIP reception inside Wynn Las Vegas at the Cartier store. Guests were greeted by Cartier manager Mariam Afshai and Nevada Ballet Theatre's co-founder Nancy Houssels.
Champagne and canapes were passed to guests Kim and George Duckworth, Vicki and Frank Fertitta Jr., Sandee and Tito Tiberti, Judy and Robert Silverman, Marie Claire and Rino Armeni, Richard Cloobeck, Chantal and Stephen Cloobeck, and Madeleine and Don Andress.
Kathy and Ed Rogich, Maksim Chmerkovskiy, Melinda and Bob Brown, Toni and Victor Chaltiel, Vera Goulet, Wendy and Richard Plaster, Kevyn and Daniel Friedman, Peter Early, Sharon Jenkins, Leigh Zimmerman and Domenick Allen, Linda Lee, Kell Houssels, Rokh Afhai and Beth Barbre, executive director of Nevada Ballet Theatre, also attended.
The Joey Singer Trio played Frank Sinatra selections during dinner and the event's hosted cocktail reception that began a half-hour later than the Cartier Party.
Seen socializing among the black-tie crowd were dinner committee members Jewel Brooks, Tamara and Jay Kornmayer, Parvin and Ted Jacobs, Dee and Fred Berkley, Heather and Jim Murren, Melissa and Clark Warren, Francine and Terry Graves, Carolyn Sparks, Irais and Bob Kolesar, Jan Jones and Elaine and Steve Wynn.
The ballroom was completely covered in flowing white material, the dining tables were covered in black linens and the chairs were black lacquer. Centerpieces were a large square of white rosebuds, hydrangeas, tulips and black lilies surrounding three white pillar candles. The event's sponsors were Cartier and Wells Fargo.
Gillian Wynn Early welcomed all and gave a brief introduction of Tharp as she entered the room. Seen enjoying the gourmet dinner and selected wines by Southern Wine & Spirits were Keith Boman, Peg Crockett, Marybel Batjer, John Mangan, Mari and Thom Landers, Jack Libby, Norma and Dick Land, Karen Johnston and Steve Hampton, Paige Flemming, and Ted Rodriguez, Barbara and Bruce Woollen, Judy Bryer, Selma and Troy Bartlett, Sandra and Jim Frank, Stephanie Stallworth and daughter, Savannah, and Karen Kinney and daughter, Krystina.
Auctioneer Christian Kolberg conducted the live auction for seven high-end packages, including tickets to TV's "Dancing with the Stars" with ballroom dance star Chmerkovskiy. The package sold twice for $40,000 each and Stephen Cloobeck was one of the lucky winners. A Divine Evening with Bette Midler package went for $10,000. A private movie box at Red Rock Resort's cinemas for one year went for the bid of $16,000. The Los Angeles Lakers package brought in $10,000, and a Night of Illusions with Criss Angel, Cirque du Soleil and dinner at Luxor's Company American Bistro for four went for the bid of $10,000.
A VIP's Magical Day at Disneyland with private jet transportation was purchased by Steve Wynn for his granddaughters for $22,000. Eight luxurious days aboard ResidenSea's The World, which has 165 private residences sailing to ports all over the world, was purchased for $12,500.
Leigh Zimmerman (star of "The Producers") introduced a video of Academy of Nevada Ballet Theatre essay winners Sarah Hackwith, 17; Rusne Kuzmickas, 15; and Summer Reece 16. The Nevada Ballet Theatre dancers performed three excerpts from the show titled "Nine Sinatra Songs," choreographed by Tharp.
Tharp founded Twyla Tharp Dance in 1965. She has also choreographed for the American Ballet Theatre, the Paris Opera Ballet, the Royal Ballet, New York City Ballet, the Boston Ballet, Hubbard Street Dance and the Martha Graham Dance Company. Today, she continues to create and lecture around the world.
Joining Steve Wynn in the award presentation were Nancy Houssels, Nevada Ballet Theatre co-chairwoman Wendy Plaster, Mariam Afshai, and Jay Kornmayer of Wells Fargo.