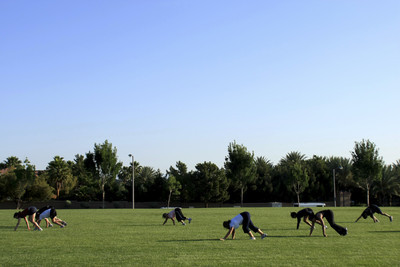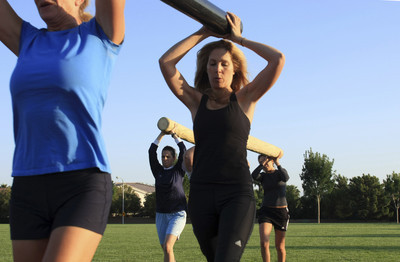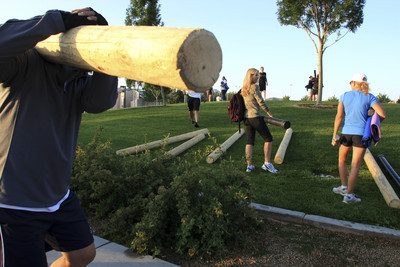 As dawn grows to its full brightness over the baseball diamond, 20 Henderson residents stare at the logs and steel pipes scattered across the infield. Like the obelisk at the opening of "2001: A Space Odyssey," they are a mystery.
"I have no idea what they're for," says Richard Gacovino. "It's always something different with this class."
Once the 6 a.m. Boot Camp Las Vegas begins at Mountain View Park, the cylinders — which weigh 50 pounds each — will be lugged while sprinting, squatting and performing sit-ups.
There are 800 fitness boot camps across America, according to the National Exercise Strength Training Association, a fitness certifying organization based in Rancho Santa Margarita, Calif. In Southern Nevada alone, Boot Camp Las Vegas convenes 72 times a week at 10 locations. (A competing company, Adventure Boot Camp, runs sporadic four-week boot camps for women only. The next is later this month.)
"No dropping!" yells Julie Johnston, who coaches the 6 a.m. Mountain View class, as teams of two students each pump the logs and pipes over their shoulders.
"I mean it!"
For three years, Johnston has taught three hourlong classes per day.
"I want to be tough on them, because it's gonna get them results," she said earlier. "They pay me to push them, not be nice to them." (The cost to participate is $10 to $12 per workout.)
Ten years ago, there were about 20 fitness boot camps nationwide, according to Spencer Ellis, chief
executive officer of NESTA.
"And it wasn't as structured as it is now," Ellis said. "It was just guys who used to be in the military who made civilians crawl on the ground and do push-ups and jumping jacks.
"That didn't mean those exercises were safe and effective for a 30-something mom who may have bladder-control issues after having children."
"It hurts!" grunts Gacovino, a 43-year-old TV photographer for KVBC-TV, Channel 3, as he and his workout partner complete their 30th log-thwarted sit-up.
"It's supposed to hurt!" Johnston replies.
Johnston — a 25-year-old former marketing executive born in San Mateo, Calif. — founded Boot Camp Las Vegas in 2005, when she weighed 180 pounds.
"I had cottage cheese on the fronts of my legs, hanging out, just when I was standing," she said. "I was miserable."
She had heard about fitness boot camps, but there were none in the valley.
"I was almost willing to move somewhere else to go to something like this," she said. "So I just started one myself."
Because fitness boot camp is not a solo activity, Johnston — who is NESTA-certified after a six-month class — drafted her family.
"I begged my three brothers to come out to this park by me on the east side, and I was the instructor," she said. "Then, other people wanted to join."
As membership grew bigger, Johnston grew smaller. Now she has 650 active members and weighs 116 pounds. Running the camp is her full-time job.
"Just one more!" Johnston shouts while hovering over Yassine Leyouvi, a 28-year-old Realtor specializing in foreclosure.
If there is one thing boot campers learn fast, it's that Johnston is a liar — at least whenever she shouts, "just one more!"
"A lot of trainers don't push their students to failure," she said. "They keep it to 60 (percent) to 70 percent. I don't believe in that."
A death-rattle scream emanates from Leyouvi as his log begins foreclosing on him.
"Come on!" Johnston yells. "You pushed that one way too easy!
"Just one more!"
The dishonesty Johnston uses to get her clients into shape is exactly the kind that got many of them out of shape to begin with.
"It's like eating one more cookie," she said. "It doesn't really mean it's the last one."
Johnston said she doesn't believe in physical barriers to joining her group. She said she has accommodated campers with injuries and disabilities.
"I had one that was 72 years old," Johnston said. "Her goal was to make it for 20 days straight. It about killed her, but she did it. She could jump hurdles and do 20 military-style push-ups."
In cases such as this, one Las Vegas doctor noted, what Johnston might want to exercise a little more of is caution.
"Someone like that should have a workup done to gauge her ability to tolerate exercise to that degree," said Dr. Stephen Miller of Internal Medicine Associates. "Too much stress on the system could precipitate heart-related illnesses or asthma. I would just want to make sure their heart's in good shape before subjecting them to such excessive exercise."
Johnston said new students receive a document recommending that they obtain a doctor's approval.
"But we can't require it," she said. "And actually, tons of people have been recommended by their doctors."
Since attending daily boot camps in February, Gacovino reports lowering his pulse rate from 90 beats per minute to 70 and losing 10 pounds.
"But I lost about 30 pounds of fat and gained 20 pounds of muscle," he says later, once he catches his breath. (Johnston measures her clients' body fat percentage with a scale.)
"The hardest thing is waking up, though," Gacovino says. "It's kind of insane."
The 6 a.m. class isn't even the earliest at Mountain View. (That's an hour earlier.)
Earlier this year, Clark County officials booted Boot Camp Las Vegas from the 94 parks it oversees — going so far as to physically remove classes from Desert Breeze and Mountain's Edge Park. They cited code that prevents individuals from engaging in for-profit businesses there. (Mountain View is run by the city of Henderson.)
Since then, however, the county has drafted a code change making fitness groups an exception. It's pending approval by Clark County's civil district attorney's office.
"We realized that our code might have been outdated, and we're always willing to look at ways to improve serving the public," said county spokeswoman Jennifer Knight, who would not provide a timeline for approval.
"Congratulations, guys!" Johnston yells as the final log is lifted. The campers have done 100 reps of a dozen exercises — "just one more" at a time.
"If I tell them, 'You're gonna do 100 sit-ups,' they would say, 'There's no way,' " Johnston said. "This way, they did 100 without even knowing it."
The campers and Johnston form a circle, touch hands and yell, "Boot Camp Tough!"
Fitness boot camp isn't for everybody, Johnston admits.
"It's hard core, and I'm not going to allow any whining or wusses," she said.
Boot Camp Las Vegas can be reached at 767-8797, Adventure Boot Camp at 353-6445.
Contact reporter Corey Levitan at clevitan@reviewjournal.com or 702-383-0456.
ON THE WEB Boot camp slideshow