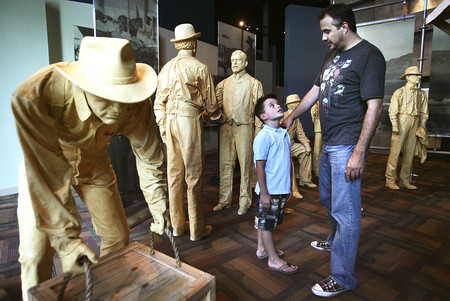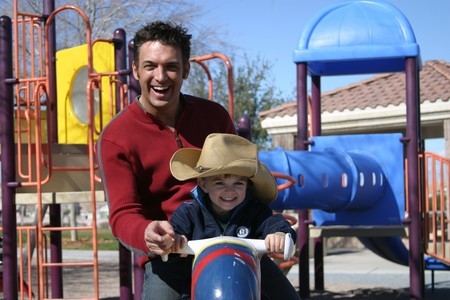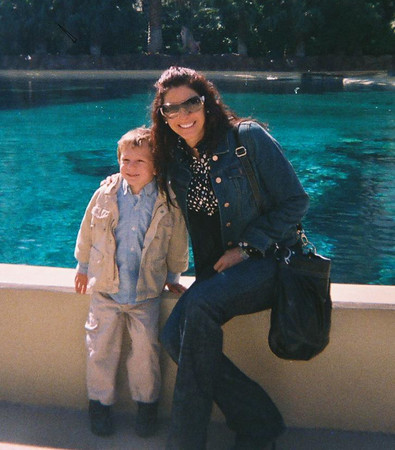 Their summer vacation is well under way. And if you're the parent of a young kid, you probably need one yourself.
We sought some creative answers to where valley parents should take their children to beat the heat. So we hit our abundant creative community.
DEANN LETOURNEAU, LAS VEGAS PHILHARMONIC CONCERTMASTER
Deann and her three daughters — Gracie, 7; Rosie, 4; and Faith, 2 — love fiddling around with the animals at the Bonnie Springs Old Nevada petting zoo, about 25 miles west of town off Charleston Boulevard. This is somewhat of a surprise considering the Great Goat Mishap of 2008.
"Faith was holding the special feed in her hand for this teeny tiny goat," Deann remembers, "but the goat preferred her dress."
The goat didn't get much further than the hem. However, to this day, the girls pull their dresses down whenever they enter the gates.
JERRY MISKO, PAINTER
Jerry and his 6-year-old son, Julian, log much of their quality time at the Springs Preserve, 333 S. Valley View Blvd.
"He loves that little water pump plaything in the playground," Jerry says, "and the train that makes noises.
"He just doesn't want to leave."
The Springs Preserve also reawakens the child in Jerry, a valley native who remembers passing the area when he was a kid and it was a fenced-off mystery.
"I always wondered what was back there," he says.
MATT LEWIS, ELVIS IN "LEGENDS IN CONCERT" AT HARRAH'S LAS VEGAS
Like the real Elvis, Matt is on a spiritual quest. His takes him as often as possible in the summer to Mount Charleston — along with his wife, Janelle Lewis (onstage assistant to Terry Fator), and their kids.
"It brings you back to your center," Matt says.
Five-year-old Chloe and 7-year-old Xander say "thankyouveramuch" for the time they get to spend with their real dad instead of the legend he portrays.
"It's time we get to spend together," Matt says. "It helps to ground the family."
Mount Charleston is about 30 miles northwest of Las Vegas via U.S. 95 and state Route 157.
JOEY MELOTTI, KEYBOARDIST FOR BARRY MANILOW AT THE LAS VEGAS HILTON
Joey, his wife, Valerie, and their kids — Isabella, 3, and Vincenzo, 6 months — regularly park themselves at Fox Ridge Park, 420 Valle Verde Drive in Henderson.
"She likes to run around and throw her little princess ball," Joey reports.
When it comes to the slide, however, Isabella's much more cautious.
"She insists we go on with her or she won't go," Joey says.
This created quite a scene when Valerie was pregnant with Vincenzo.
JOELLE JENSON, MAGICIAN'S ASSISTANT TO LANCE BURTON
Joelle loves hitting cool movies on hot summer afternoons with her 4-year-old boy, Dante. His recent favorite is "Up." He has insisted on seeing it three times.
"He loves the old-man character with the hearing aid and the cane," Joelle notes. "He calls him 'the old goat.' "
Unfortunately, the movies seem to have had a corrupting influence on young Dante, as he has recently taken to calling Joelle's mother and stepdad old goats, too.
"They just laugh," Joelle says, "because what are they gonna do?"
MARCUS WEISS, BLUE MAN GROUP
The heat doesn't make this famous-yet-anonymous performer blue. He and his 10-month-old, Jacob, just walk over to the pool in their community on the west side of the valley.
"You have to cool it down in the afternoons," Marcus explains.
Jacob doesn't quite know how to swim yet.
"But he's very chubby," Marcus says. "When he hits the water, he sort of does little kicks and stays afloat."
Nevertheless, most of the time Jacob can be found at the center of his favorite floatie. The color? Red, of course.
"Not a lot of things in my house are blue," Marcus says. "I suppose you can say that's on purpose."
GERRY "THE MENTALIST" MCCAMBRIDGE, V THEATER
Gerry and his three youngest kids — 4-year-old Luke Vegas, 6-year-old JoAnn and 8-year-old Ronnie — dig playing in the pool in their Green Valley backyard. Volleyball is the game of choice. Neighbors comprise the opposing team.
Using his renown mental powers, Gerry says, he can predict which team will win "before the game even starts."
STEVE WOLFORD, NEWS ANCHOR AT KTNV-TV, CHANNEL 13
It's anchor's away for this anchor and his two daughters — 5-month-old Devyn and 2-year-old Shaye — who can be found almost every summer day at the Henderson Multigenerational Center, where they take swimming lessons.
"They love to splash around in the water and be around hundreds of other kids, just laughing and having fun," Steve says.
It's slightly less fun for Steve and his wife, Holly, who have to serve as Shaye's personal lifeguards. Steve explains: "You turn your back on a 2-year-old for two seconds and …"