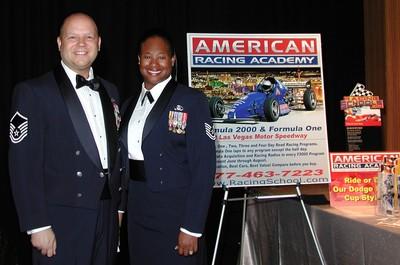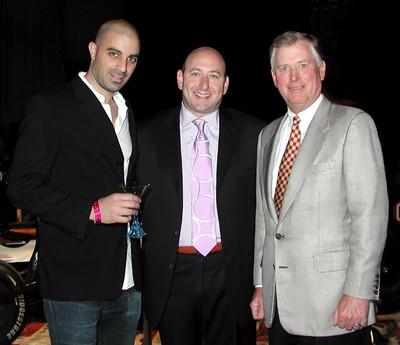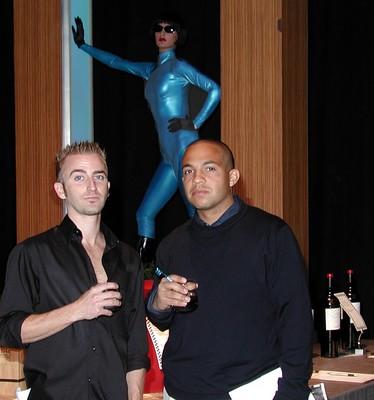 The inaugural Vegas Grand Prix charity gala April 5 at Bellagio benefited Keep Memory Alive, the foundation for the Lou Ruvo Brain Institute, and the Jenyon Foundation, which raises funds for local and national charities through Grand Prix events.
The gala began with a red carpet entrance for the Grand Prix drivers and others involved in the car racing world.
The reception room displayed a race car and colorful posters. A silent auction offered vacations, restaurant dinners, designer items, popular wines and sports memorabilia.
Bombay Sapphire cocktails were featured at ice bars and Bellagio chefs offered buffets of foie gras miniburgers and prosciutto-wrapped dates.
At the appointed hour, doors opened to reveal a dining room decorated in sapphire blue with table centerpieces of white hydrangeas encircling a bottle of Bombay Sapphire encased in ice. Among the seating for 1,500 guests were tables for 10 that were decorated with glass-enclosed iridescent beads over twinkle lights and miniature vases of baby white lillies.
A concert stage looked out over a semicircle grouping of white leather sofas and small tables where sponsors reclined to enjoy sushi and libations prior to the gourmet dinner.
Dinner included shrimp and crab tian, the duo entree of roasted prime beef tenderloin and potato crusted lobster Wellington, and assorted desserts.
Guests included former Vice President Dan Quayle, Las Vegas Councilman Larry Brown, university Regent Thalia Dondero, Camille and Larry Ruvo, Joan and Harvey Dondero, Jennifer and Don Logan, Bob and Melinda Brown, Milo Kostelecky and Puoy Premsrirut, Kara Roberts and Michael Severino.
Mistress of ceremonies Tara Hitchcock introduced Vegas Grand Prix principals Brad Yonover and Dale Jenson.
A live auction brought in $199,200, including a trip for four to Scotland for four days on the Millden Estate that sold for $46,500.
Adding humor to the event was comedian Jay Leno.
Another highlight of the event was the concert by Jon Bon Jovi, and Big & Rich with Cowboy Troy.
Honoring women: About 800 guests attended the National Association of Women Business Owners' ninth annual Women of Distinction Awards Luncheon March 23 at Luxor.
Association chairwoman Jennifer DeHaven introduced vocalist Mary Wilson of the Supremes as mistress of ceremonies, and first lady Dawn Gibbons was the keynote speaker.
The event recognizes three women in 12 categories before announcing the final honorees. The 36 finalists represent women who have risen to the top of their respective fields.
Honored were Paige Fleming, publisher and chief executive officer of Nevada Women, in the category of communications; Sarah Heisien, middle school principal of Faith Lutheran Junior-Senior High School, for education; Debi Nutton, senior vice president of casino operations of MGM Grand, for gaming, hospitality and convention services; Betty Mahalik, life and business coach of Dynamic Solutions Coaching & Training, for human resources, training and development; Carla Sloan, state director of AARP Nevada, for philanthropy, community and government services; Karla Perez, chief executive officer and managing director of Spring Valley Hospital Medical Center, for professional services; Katherine Matheson, principal and chief executive officer of Terra West Property Management, for real estate and construction development; and Loretta Holt, co-founder and president of Sin City Chamber of Commerce, for retail and business services.
Also, Renee Ryan-Thrailkill, founder and corporate broker of Millennium Commercial Real Estate, was honored as Entrepreneur of the Year; Terry Meistering, vice president of design and construction of Harrah's Entertainment, Western Division, received the Glass Ceiling Award; Donna Lattanzio, co-owner of Millennium Staffing Services and founder of Prime Staffing, was the Multi-Business Owner of the Year; and Kelli Bowling, vice president commercial lending team leader of First National Bank of Nevada, received the Rising Star Award.
DOROTHY HUFFEYMORE COLUMNS