Visit Miss Hall's house and Mrs. Fremont's home
October 26, 2008 - 9:00 pm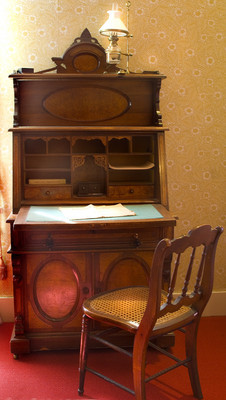 Prescott, Ariz., is continually evolving. In turn a frontier mining camp, army post, and capitol of Arizona Territory, it gave birth to what is claimed to be "The World's Oldest Rodeo," and a Whiskey Row whose fame endures wherever cowboy songs are sung. The town's imposing courthouse and 600 buildings on the National Register of Historic Places earned it one of the "Dozen Distinctive Destinations" award from the National Trust for Historic Preservation; the town's very motto is "History Lives On." Yet Prescott also has been named as one of the "100 Best Art Towns in America," "One of the Best Places to Retire," and claims to be "Arizona's Christmas City."
It had a leg up on other towns because of a location attractive then and now: This city of 38,500 sits amidst the world's largest stand of ponderosa pine, at an altitude permitting comfort any time of year. Even so, it's questionable how many of those kudos Prescott would have won had it not been for one singular woman: Sharlot Hall, who advocated tirelessly for preserving Arizona's state history.
My pilgrimage to visit Sharlot Hall's treasure city begins with a drive down Gurley Street, past the imposing Yavapai County Courthouse and its tree-shaded lawn. Built in 1918, the two-story, neo-classical revival-style building is faced with locally quarried granite and still serves as the county courthouse. A number of boutiques, art galleries and small cafes surround Courthouse Square.
Prescott's infamous Whiskey Row is strung along the west side of Courthouse Square. The Palace Bar, Arizona's oldest restaurant and saloon, built in 1877, served libations to the likes of Wyatt, Morgan and Virgil Earp and Doc Holliday. The Whiskey Row Fire destroyed the Palace Bar building in 1900, but loyal patrons carried the bar itself — an elaborate and heavy Brunswick model — to safety. When the Palace was rebuilt, the bar was restored to its place of honor.
When Arizona became a territory in 1864, Prescott was named as capital. After moves to Tucson and then back to Prescott, the capitol finally ended up in Phoenix. The Governor's Mansion is well preserved and the only building original to the site. Several other buildings have been relocated around the Governor's Mansion and the complex is known as The Sharlot Hall Museum. History displays, Old West memorabilia, American Indian items, home tours and a gift shop, are all part of the museum. In the summer, nearly 400 bushes bloom in the Territorial Women's Memorial Rose Garden.
If anyone ever deserved to have a museum named for her, it was Hall. An Arizona ranch girl, she never married, choosing personal achievement over running a household, a radical idea in the late 19th century. She traveled throughout Arizona exploring and collecting Western historic items.
In a 1910 letter to a friend, Matt Riordan, she wrote: "I'm glad, so glad, so glad that God let me be an Out-door woman and love the big things. I couldn't be a tame housecat and spend big sunny glorious days giving card parties and planning dresses. I'm not unwomanly — don't you dare think so — but God meant women to joy in his great, clean, beautiful world and I thank Him that he lets me see some of it not through a window pane."
She was a poet, journalist, and a fiery advocate for Arizona statehood; in 1906, she campaigned vigorously to keep New Mexico and Arizona from being lumped together as one state. Hall was the first woman to hold salaried office in Arizona Territory, serving as territorial historian from 1909 to 1912.
As the Territorial Governor's mansion on Gurley Street fell into disrepair, Hall fought to save it as a place "to hold the soul of yesterday." In 1927, city officials leased her the property for life and Hall moved in to restore the log building. It was a slow process. During the winter, when the building was so cold, the St. Michael Hotel would let Hall live in one of its hotel rooms. Gradually the mansion was put back in shape. In the museum sits the metal piggy bank Hall used to collect donations.
The restored Bashford House, on the grounds of the Sharlot Hall Museum, holds the museum's gift shop and book store. Its beautiful features contrast sharply with nearby Fort Misery, the oldest log building associated with the territory of Arizona. My personal favorite is the Fremont House. Built in 1875, the house served as home for John Charles Fremont, the fifth territorial governor, and his wife, Jessie.
Like Sharlot Hall, Jessie was a strong, powerful woman, but different in one important way: She was married. But in her marriage she was "the power behind the throne." Hopelessly, romantically in love with John Fremont, Jessie worked behind the scenes obtaining him promotions, assignments and fame, all the while making sure he got the credit for her accomplishments.
Jessie wrote "I am like a deeply built ship, I drive best under a stormy wind" and her life was certainly filled with storms. Raised the wealthy daughter of an influential senator, Thomas Hart Benton, she was beautiful, well educated and witty. Jessie was only 17 when she caught the eye of handsome surveyor John C. Fremont, 11 years her senior. Her parents violently opposed her marriage to the poor and unknown Fremont with his questionable background. The young couple eloped, begging a Catholic priest to perform the ceremony after several Protestant clergymen refused, fearing her father's temper.
Sen. Benton eventually reconciled himself to the marriage and helped Fremont gain expeditions of exploration to the West for the government. Fremont, nicknamed "The Pathfinder," was a very competent explorer — many Western rivers, mountains, and towns bear his name, and it was said of him, accurately, that "From the ashes of his campfires have sprung cities." One of those cities was Las Vegas. But for all his well-deserved fame, he couldn't handle the politics involved in funding the Western trips nor writing the reports required at the end of each journey.
The reports from Fremont's Western trips proved such a success they became Western guidebooks. Some historians claim Jessie's writing of John's expeditions brought more people West than anything except the California Gold Rush.
Jessie and John's life story reads like a hair-raising roller coaster ride: From California gold mines to poverty, Army general to court martial defendant, presidential candidate to being asked to withdraw from the race. While John sank into deep depression, Jessie maintained a brave and cheerful facade, writing newspaper and magazine stories for grocery money.
During one of life's storms, Jessie wheedled the Arizona governorship for John, hoping it would bring him out of his depression and shore up his faltering pride. A good friend allowed Ah Chung, "a good cook and a good man of the upper class of trained Chinese servants," to come with the Fremonts.
Upon their arrival in Prescott, John took to his bed with "nervous exhaustion" and Jessie protectively filled Fremont's shoes, writing in a letter to a friend, "I am governor and see everyone & settle things if needed for he (John) is to be kept absolutely secluded from thinking or talking … ."
The Fremonts rented the home that now sits across from the Governor's Mansion at the Sharlot Hall Museum. Originally, the inside, wood-plank walls were covered with cotton sheeting, but Jessie's fear of "crawly things," made her remove the sheets and scrub the boards with lye. Clean sheets were rehung and covered with wallpaper and curtains were made.
Because rental homes were scarce, the Fremonts paid $90 per month rent — a princely sum since John received only $2,600 a year salary and they paid Ah Chung $40 a month. With the home decorated, Jessie wrote, the town's women "were crowing over me as the most capable and 'contriving' of women for where they thought it would take thousands I have proved that hundreds could accomplish every purpose."
Today the Fremont House is homey and comfortable, with four bedrooms, living room and dining room. A cheery kitchen remains as when Ah Chung reigned.
John was always trying one scheme or another to make them rich. With Jessie managing the governorship, John traveled back and forth to Washington, trying to interest investors in Arizona gold mines. His long absences were widely criticized. Finally, when President Garfield was assassinated, the Fremonts lost their last political connection and President Arthur accepted John's forced resignation in 1881.
John C. Fremont died in 1890. Jessie and her unmarried daughter lived in Los Angeles in a small home provided by a women's organization. She died in 1902, at age 78. Historian Pamela Herr wrote of her, "She married a man who could act the part she could not play, loving him deeply and loyally."
A visit to the Sharlot Hall Museum isn't just a trip back in history. The museum hosts festivals, living history and theater performances and is itself well worth a trip to Prescott. And it is the closest we shall ever come to meeting two of the most interesting women of Western history.
Contact Janet Farnsworth at jfarns40@frontiernet.net.
GETTING THERE Location: Prescott, Ariz., 252 miles southeast of Las Vegas Directions: From Las Vegas take U.S. 93 south 105 miles to Kingman, Ariz. Merge onto Interstate 40 east for 96.4 miles to Exit 146 (Ash Fork/Prescott). Turn right onto Arizona Route 89 heading south for 46.5 miles. Enter next roundabout and take second exit onto Arizona Route 89 south. Stay straight to go onto East Gurley Street, directly to the historical center of town Best time to visit: April, May, September, or October, but Prescott weather is bearable any time of year. General information: Prescott Area Coalition for Tourism, www.visit-prescott.com, (928) 708-9336 Sharlot Hall Museum: 415 W. Gurley St. Prescott, (928) 445-3122, www.sharlot.org. OPEN 10 A.M.-4 P.M. FALL & WINTER, 10 A.M.-5 P.M., MAY 1-SEPT. 30. ADULTS $5, UNDER 18 FREE. Accommodations: Hassayampa Inn,122 E Gurley St, (800) 322-1927, www.hassayampainn.com; Hotel St. Michael, 205 W Gurley St, (800) 322-1927 www.stmichaelhotel.com; Hotel Vendome, 230 S. Cortez St. (888) 468-3583, www.vendomehotel.com. Restaurants in historic district: Peacock Room, Hassayampa, 122 E. Gurley St., (928) 778-9434; Bistro St. Michael, 205 W. Gurley St., (928) 776-1999; The Rose Restaurant, next door to Hotel Vendome, 234 South Cortez St., (928) 777-8308 (Dinner Wed.-Sun. 5-9 p.m.; reservation suggested.)