November 9, 2008 - 10:00 pm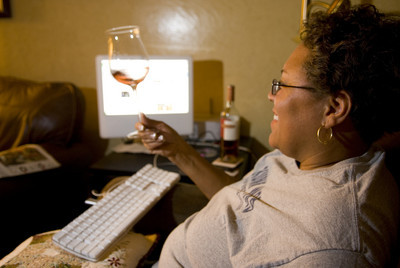 The recliner in her northwest Las Vegas living room beckons Irene King, but not to recline. The 56-year-old Las Vegan uses it to type on her computer. The TV viewing party for "Iron Chef America" at Marche Bacchus happened five days ago, but King hasn't blogged about it yet because her day job as a management analyst for Clark County takes precedence.
King sips a glass of Paso Robles Rose from the Villicana Winery before she begins her latest entry to vegaswineaux.com, which discusses wine-related events in the valley.
"Wine helps my muse," she explains, "especially the pinks."
King is one of an estimated 112 million people worldwide sharing their observations, opinions and private lives on blogs (a contraction of "Web logs"), according to Blogger and Podcaster magazine, which tracks that number as growing by 172,000 daily.
"There's a confluence of reasons," says Larry Genkin, the Maryland-based magazine's publisher and editor. "It doesn't cost anything, and it's very simple to start one. Plus, when you have a blog, because the content changes so regularly, you tend to score highly with the search engines."
In Las Vegas, blogging is conducted by hundreds of individuals and most media outlets — including the Review-Journal, Las Vegas Sun, Las Vegas Weekly, CityLife and Los Angeles Times. And each blog employing "Las Vegas" in its name enjoys a distinct readership advantage. Ours was the most-searched U.S. city name in October, according to online measurement company hitwise.com. Nearly 7,000 searches were conducted for "Las Vegas," making it the 911th most-searched phrase or word.
"Just living in Vegas, for the rest of the country, is almost like you're a celebrity," says King, explaining that the overwhelming majority of her readership resides elsewhere.
" 'You live in Las Vegas?' they ask me," King says. " 'What casino do you live in?' "
"Vegas as a tourist destination has an enormous online following," adds Steve Friess, founder of vegashappenshere.com. "There are people out there for whom Vegas is their main hobby, and there are large communities online that follow it there."
Friess — a 36-year-old freelance reporter for USA Today, Newsweek and the New York Times, who previously worked on staff at the Review-Journal — uses his blog to report on, and react to, local news stories.
"There are a lot of different intersections for blogging in Las Vegas," he says. "There's the tourist industry, but there's also a tremendous amount of interest in the politics of Nevada. It happens to be an important political place this year, and in general because of Harry Reid."
Hugh Jackson says the lack of humorous political commentary in Las Vegas was the niche he saw a need to step into three years ago.
"I wasn't sufficiently entertained by local media," says the publisher of lasvegasgleaner.com. "I thought that local politics needed to be poked fun at a little more aggressively."
Jackson — who also writes a column for CityLife and has worked for the Las Vegas Business Press, both of which are owned by R-J operator Stephens Media — says his blog's daily readership includes "a few hundred" Las Vegans in addition to visitors from Reno, Carson City and Washington, D.C.
"I think the thing that surprises me the most is the intensity of the connection that you have with readers when you blog," the 46-year-old says. "It's completely different than what you have for print publications, where you're going at the reader and you may or may not get any feedback from them.
"Online, it's much more intimate and immediate," Jackson continues. "You're posting at any time of the day, and people are coming back at you."
Most bloggers earn about enough through advertising revenue to cover operating costs. Just a handful — Perez Hilton and Matt Drudge being the most famous — have figured out how to make a living from it. But the exposure of being in such an attractive Internet locale allows Vegas blogs to serve as marketing tools for other income streams.
Jackson does freelance policy research, for instance, and Friess finds his blog to be a good fishing pole for paying journalism assignments.
"I often find that, from the stuff that I do on the blog, I will hear from an editor here and there who will be looking for somebody to write a piece about something going on in Las Vegas for a Web site or a magazine," he says. "There are ways that I promote things I've done that may or may not make money, but it all adds up to a career."
The increased exposure of a Vegas platform isn't always a good thing, however. Michael Politz, publisher of Food and Beverage Magazine, faces a reported six-figure lawsuit for an anonymous letter he posted on his blog, thevegaseye.com, on Aug. 12.
The letter — purportedly written by a previous employee of the Planet Hollywood nightclub Prive to the Nevada Gaming Control Board — alleges that Prive management sold drugs through the club and served liquor to underaged women.
"I put the letter up because I thought it was interesting," says Politz, a former freelance gossip reporter for Star and Us Weekly.
Prive's attorneys found it interesting, too.
"They said, 'Take it down or we're gonna sue you,' " Politz says. "I said, 'If you're not gonna sue me, I'll take it down.'
"And they said, 'We're still gonna sue you, but take it down.'
"Why would I do that?"
Attorneys for the plaintiff refused to comment to the R-J. The case is currently in federal district court.
"Bloggers don't have the safety net of editors," Genkin says, "but they have the same liability of defamation and libel. You have a very powerful megaphone with a blog, and you've got to be careful that what you say is true."
Contact reporter Corey Levitan at clevitan@reviewjournal.com or 702-383-0456.
BLOG JAM
Ten popular Vegas blogs:
vegashappenshere.com
Political, gaming and media news and commentary
whilelasvegassleeps.com
Vegas nightlife, culture and news of the ridiculous
lasvegasgleaner.com
Left-leaning political commentary
vegaswineaux.com
The intersection of Vegas with wine appreciation
thevegaseye.com
Restaurant and nightclub news and gossip
lasvegasvegas.com
Hotel, restaurant and casino deals for locals
vegastoday andtomorrow.com
Construction projects planned for The Strip
everythinglv.com
Links to major valley news stories
vegasrex.com
Sin City from a punk's eye view
living-las-vegas.com
What to do off Strip