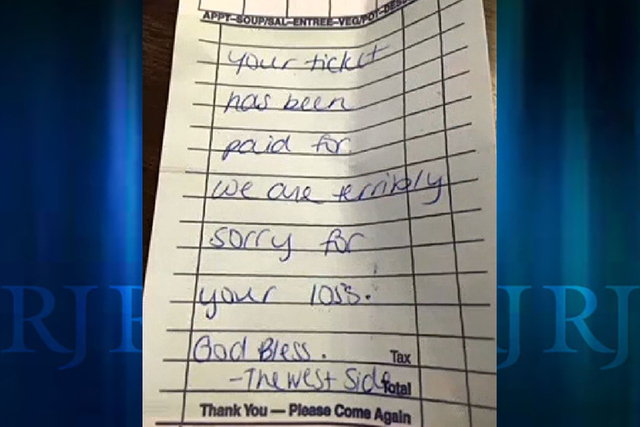 A random act of kindness by a waitress in Fort Worth, Texas, helped a grieving couple by paying for their meal.
Shaun and Debbie Riddle were eating at the West Side Cafe, where waitress Kayla Lane told a local CBS affiliate she's very good at remembering customers, including the couple and their newborn.
The Riddles newborn daughter, Glory, fell asleep and didn't wake up at just nine weeks old.
When asked about their daughter, they told Lane she had passed away.
"I'm like, 'Oh gosh, I made them remember!'" even though it's going through their minds all day, every day," said Lane.
At the end of the couple's meal, they got a note on their receipt saying their meal had been taken care of.
"Your ticket has been paid for," the note said. "We are terribly sorry for your loss. God Bless. – The West Side."
Lane insisted the company paid for the meal, but she had paid out of pocket. A manager of the restaurant said she had a habit of picking up the tab.
"We were grateful to see that there are good people in the world and that people want to help," Debbie said.
Contact Kristen DeSilva at 702-477-3895 or kdesilva@reviewjournal.com. Find her on Twitter: @kristendesilva