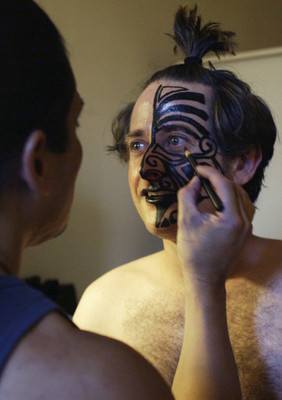 The white man is no friend to the Polynesian culture. His arrival on the Pacific Islands in the early 1800s precipitated a chain reaction of misery that decimated virtually all indigenous language, religion and art.
And now, this.
The eight dancers in Rozita Lee's Drums of the Islands revue are worried about my addition to their troupe, which performs at the twice-weekly Imperial Palace luau.
"Once in a while, when it rains, we have to cut the show and give free coupons out for the next show," says dancer Foi Tuitama.
"We might have to give out some coupons tonight."
The two-hour poolside performance spotlights cultures from the five sets of islands — Hawaii, Fiji, Tahiti, Samoa and New Zealand — that most of the cast members can trace their ancestries to.
"We have never had a non-Polynesian dancer in the show in 17 years," Tuitama said earlier. (My Jewish friends and I sometimes refer to one another as members of the tribe. But I don't think that counts.)
I am to portray a warrior from the Maori, the first known human residents of New Zealand. A traditional pui pui skirt hugs my hips and my face is adorned with swirls, called ta moko, that would normally identify my clan (and be carved into my skin with sharp bone instead of drawn on with MAC eyeliner).
Although I have rehearsed dozens of times, that doesn't matter.
"Normally, we would have new dancers train for two months before we let them onstage," said Tuitama, who is half Maori and half Samoan, "and it takes them at least another four months after that before they're considered comfortable."
Tuitama, 44, was born in New Zealand and moved to Samoa with his family when he was 6. His father was a Samoan chief — and not just the luau kind.
"He instilled in me pride in both my cultures," Tuitama said. "He always taught me that it's important to represent the culture you belong to. And if you cannot do a good job, don't do it."
The drums signaling my portion of the show begin beating. Rozita Lee's daughter, a dancer named Xanna, darts into the poolside dressing room with a can of spray tan.
"You can't go out looking like that," she says.
Two minutes later, the can is empty but no dent has been made in my resemblance to a snowdrift.
"You need to go," Xanna says.
Joining the line in the middle, I climb the stairs at the side of the stage to behold the stares facing it. We begin our pre-dance chant, "Ka Mate" ("to the death"), and a woman in front who is eating huli huli chicken stops chewing entirely.
The tribal dance, or haka, we're about to perform is a series of arm and leg twists, jabs and jumps whose intricacy reminds me of the moves I learned to become a Chippendale. Only there is no fly to unzip at the end.
"This is not a joke," Tuitama said earlier.
Hakas were originally danced to psyche warriors up for battle. They involve rolling of the eyes and Gene Simmons-like tongue activity.
"It's like a stare-down," Tuitama said. "You scare off the other side. Sometimes the hakas were so bloody and fierce that the other warriors decided not to fight them."
The last hakas to be danced for real were against European settlers in a series of 19th-century uprisings the Maori refer to as "White Man's Anger."
Needless to say, they didn't work. Nowadays, hakas are danced to psyche audience members up for the buffet line.
"It's mostly ancient history," said Tuitama, "although in the last 20 years, there's been a strong rebirth of pushing the younger generation to accept and practice our cultures."
Of his four sons, Tuitama said three are fire dancers.
"They learned like I did — at family gatherings," Tuitama said. "You've got all your cousins and uncles all getting together, and you prepare for months."
Tuitama started dancing professionally at the Polynesian Culture Center in Hawaii, while attending college. When he arrived in Las Vegas in 1990, construction provided a stable day job. (He currently clocks in at Stewart & Sundell.)
"But word just got around about my dancing," he said.
Tuitama was immediately hired as a fire dancer at the Tropicana and, after answering an ad, joined the Drums of the Islands when it began at the Imperial Palace in 1991.
"My culture is something that I love, and I enjoy sharing it with people who come to see us," Tuitama said.
Drums of the Islands dancers earn $75 to $200 per night.
Earlier, Tuitama remembered the troupe's biggest onstage embarrassments.
"I remember my fire getting out of hand and flames burning up the stage," he said. (Near the end of the show, Tuitama portrays a Samoan fire dancer.)
Then there was the time the hotel lost power.
"We had to do half the show without electrical instruments," he said. "It's a good thing we had drums."
Another night, a dancer reported for work drunk and fell off the stage.
"I mean, he hit the ground," Tuitama said.
Surprisingly, the latest entry to Tuitama's list does not occur tonight. OK, so I resemble the lost member of KISS — and I'm constantly watching the others to remind me of my next move — but I damn near nail the routine. (When I withdraw my head from the middle of Peni Lave's legs at the end, causing him to wince in pain, that's actually part of the regular script.)
"Ladies and gentlemen, we take a very short explanation at this time," Lee announces.
But even before she reveals me as a reporter, people are applauding.
"I have to admit, we had a bet to see if you could get through it or make a complete fool of yourself," Tuitama says afterward. "But you proved us wrong.
"You represented your tribe well."
Watch video of Levitan as a Maori warrior at www.lvrj.com/columnists/Corey_Levitan.html. Fear and Loafing runs the first Sunday of every month in the Living section. Levitan's previous entries are posted at fearandloafing.com. If you have a Fear and Loafing idea, e-mail clevitan@reviewjournal.com or call (702) 383-0456.
Watch the video