Whether real or artificial, Christmas trees ring in the holidays
December 3, 2015 - 10:55 pm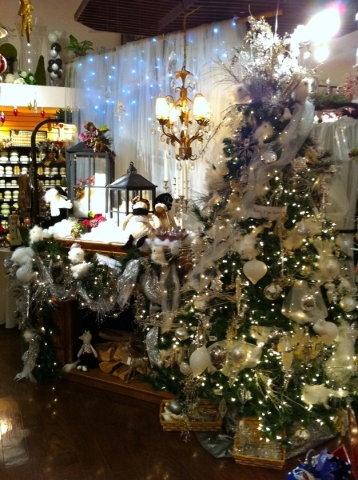 It's a big deal in many houses every year. The debates can be long and loud over whether to buy a real or fake tree for the holidays.
"I love my fake tree," said Holly Gaby, a married mother of four children under the age of 8. "It's light enough to pull it out by myself and set it up so we can start decorating."
Having to bundle up her children and choose a tree from a lot, strap it to the roof of the car and lug it home fills her with dread. Not so her husband, Tom.
"I love the smell of the tree lots and that moment you bring that perfect tree home," he said. "It feels more like Christmas if you have a real tree."
They have reached a compromise. She is in charge of the fake tree's arrival in their living room and its tear-down by New Year's Eve. He skulks around tree lots and brings home branches to decorate the mantel and front porch.
"It took us years to get that far," Holly Gaby said.
But there are many benefits to a live tree, said John Rubbico, CEO of Rudolph's Christmas Tree lot at Boca Park.
"You don't have allergy problems like you can with a fake tree because they are not old enough to carry pollen," said Rubbico, who has been in the tree-selling business locally for nearly 20 years. "A fake tree can hold allergens that are in the home and store them and multiply over the years."
There is also a big environmental benefit. For each tree cut, it is replaced on average 1.5 times by tree farms that plant replacement trees each year.
"It's a total myth that a fake tree is better (environmentally)," Rubbico said. "The carbon footprint of a live tree versus a fake tree is drastically different. A live tree decomposes and can be used for mulch and other things and never ends up in a landfill."
He recommends looking for a tree that has a good weight to it and a fresh cut.
"The branches are like skin, so if no needles come off, it's a good, fresh tree," he said.
Make sure to water every day so that the bottom of the tree stays open to receive water. That should make the tree last through the month of December easily.
Rubbico sells trees starting at $19.99 and offers a free service of delivering and setting up the tree. For $20, his company will come and remove the tree after the holiday.
"We deliver within two hours of the purchase, and we've been doing that for 10 years," he said. "It's really helpful to those who may be disabled or alone for the holiday and can't put up a tree themselves. We take care of it all for them."
But don't knock the many ways an artificial tree can brighten the season, said Doug Verser, senior consultant for Seasons Floral Home and Gift on South Rainbow Boulevard.
"You can easily get exactly the tree that fits with your décor and space," Verser said.
Seasons Floral sells many types of artificial trees in varying colors, heights and styles. They also assist in setting up and decorating trees for customers who already have an artificial tree.
"They can be used any time without the risk of drying out and dying before the holiday, and, once purchased, they remove the need for future trips to the tree lot," Verser said.
Cleanup is also much easier than a live tree.
"There is no messy sap, insects or falling needles to vacuum," he said.
Many artificial trees come pre-lit, saving time when setting up and insuring that the lights are evenly distributed.
"Many of the trees come in as few as three pieces, ready to quickly assemble so you can spend less time setting up, and more time making memories," Verser said.
He also notes that artificial trees can be safer.
"We've all seen the stories of Christmas tree fires," he said. "Artificial trees sold in the U.S. are required to be flame retardant."
To decorate an artificial tree, he recommends spending the time to shape the branches, which have often been tamped down during storage.
"This is the No. 1 thing that people do not do that can make the most impact," he said. "We had a customer whose tree we were setting up and we shaped each and every branch. The customer broke into tears when she saw the result. The tree she was going to throw away was beautiful."
When shaping the individual branches keep in mind that the small branches nearest the trunk are meant to go almost straight up in a V-shaped pattern to hide the trunk.
"This will provide a much more full-looking tree," he said.
Tree decor can include almost anything. Consider going with more artificial flowers and plants.
"It is astonishing to see what a difference a few stems of frosted ivy, some artificial boxwood and some red berry stems can make in a tree," he said. "This is the No. 1 florist trick to creating a beautiful tree."
If your decor is a collection of random elements collected over the years, adding several branches of matching silk poinsettias and several stems of artificial holly can work to unify it.
Buying smaller trees to put throughout the house with different themes can carry the spirit of the season throughout the house.
"Where decorations are concerned, you are only limited by your imagination," he said. "A winter woodland theme might include ornaments featuring birds, deer, owls, pinecones, acorns and more. Add a giant birdhouse and some large lime green poinsettias, and it can become magical."
A popular theme this year is chalkboard ornaments.
"Many of the ornaments give you the ability to add your own personal messages to your tree," Verser said.
If you collect a particular item, incorporate that into your tree.
"Tea cups carefully wired onto the tree with a smattering of gingerbread cookies can make a fun and whimsical tree for the kitchen," he said. "A small tree on the bathroom counter decorated with seashells from your vacation and whimsical sea life ornaments can add a fun and personal touch to your space."
Nontraditional trees are also an attention-grabbing option when considering using artificial seasonal materials.
"Inverted trees allow ornaments to hang down out of the tree insuring every ornament is seen," Verser said. "Thin, oval-shaped trees are prefect when your space doesn't accommodate a tree with much depth and wall hung trees are perfect when floor-space is truly at a premium."
When looking to buy an artificial tree, look to see that the branches are individually attached to the trunk with metal hinges.
"There should be no plastic attachments on the tree," he said. "The plastic has a tendency to become brittle when stored in our summer heat."
If you are selecting a pre-lit model, make sure you select a model that features lights that remain lit if one bulb goes out.
"This will ensure you don't have to spend hours searching for a burnt-out bulb," he said.
And store in a heavy canvas bag.
"This will ensure you don't have to fight with a cardboard box that, after a few years, is more tape than box," he said. "This will make storage much easier and help to insure none of the lights get broken in storage."