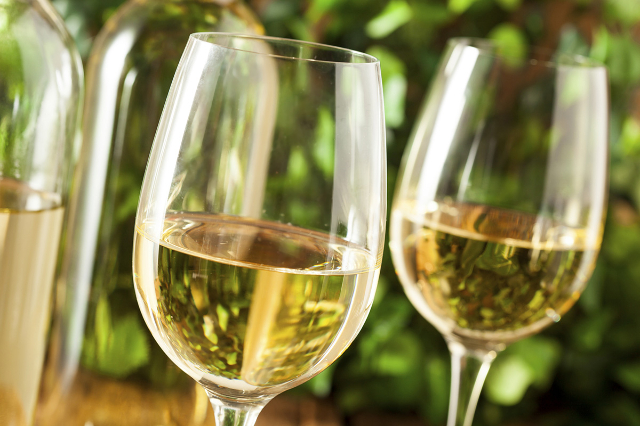 Wine: Pop Crush White Blend
Grapes: Viognier (30 percent), riesling (22 percent), gewurtztraminer (17 percent)
Chardonnay (10%), Muscat (10%)
Region: California
Vintage: 2013
Price: $8.99
Availability: Vons and other major stores
In the glass: Pop Crush white blend is a fine pale citrine-yellow color with a light translucent core going out into a watery meniscus showing a medium viscosity.
On the nose: There is a plethora of olfactory pleasers led by honeydew melon, white peach, nectarine rind, cornflowers, sweet aromatic white grape juice, lemon balm and white tea.
On the palate: The wine has an immediate pleasant and slightly soft, sweetish white fruit action coating the inside of your mouth with white peach flesh, white cranberry juice, crushed ripe green Thompson seedless grapes, lemon curd and a perfumed melonlike character going into a nicely balanced midpalate. The finish is utterly pleasant and has yet more white fruit crush, showing some measure of acidity again for balance with a sweet peach kiss at the end, lingering for a bit. It has a nice mouthfeel.
Odds and ends: I actually picked this out of a tasting that I did of blended whites quite some time ago and somehow I must have forgotten to mark it down for further review, but then I retasted it recently and again found it to be superbly charming, especially this time of year. Pop Crush is a wine that is blended from a quirky conglomeration of grape varieties with both some favorites and some lesser-known ones in the mix. Chief among them we find viognier. In the Rhone Valley, viognier is the one grape variety that produces some of the fabulous aromas found in the top whites from that French region. Pop Crush has everything one could be looking for to quench the inevitable thirst in the summer heat. Actually for a white wine, this is like mad science gone right and the harmony among the grape varieties is something to be in awe of, especially at this reasonable price. Without further ado, grab a bottle of this widely available summer blockbuster wine and dunk it in ice or the fridge until 48 to 50 degrees Fahrenheit and simply enjoy by the glass or with some grilled jumbo prawns. Drink it now through 2017.
Gil Lempert-Schwarz'€™s wine column appears on Wednesdays. Write him at P.O. Box 50749, Henderson, NV 89106-0749, or email him at gil@winevegas.com.