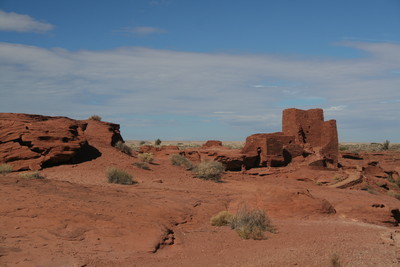 Always get an early start on a trip to Flagstaff, I reminded myself. Taking my own advice, I was able to share a winter sunrise over the Grand Canyon with my daughter, Charlotte, and still have plenty of daylight left to explore the other outdoor charms surrounding this miniature mountain metropolis. Flagstaff's agreeably small scale and choice location make it an ideal headquarters for days under the sky, concluding with nights under good hotel blankets.
Flagstaff not only serves as a great base for trips to the Grand Canyon, several national monuments and the 1.8-million acre Coconino National Forest, but has its own charms right in town, such as the Lowell Observatory, Riordan Mansion State Park and the downtown historic district. There are enough charms to enjoy Flagstaff a few bites at a time, and we bit off two days' worth.
We started our exploration at Wupatki National Monument. After a brief stop inside the visitor center to pick up a trail guide, we headed out the back door and took a one-half-mile tour of the Wupatki Pueblo. This is the largest and best preserved pueblo in the 56-square mile park. In all, 2,700 archaeological sites have been documented so far in the monument.
Wupatki Pueblo is thought to have been occupied from the 1180s to around 1225 by what archaeologists refer to as the northern Sinaguans. The name comes from Sierra Sin Agua, "mountains without water," the Spanish name for the San Francisco Peaks just north of Flagstaff. These include the highest point in Arizona, Mount Humphrey, at 12,633 feet.
The pueblo consisted of 100 rooms and was three stories high. The builders incorporated natural red sandstone outcroppings as some of the walls and floors, adding other walls of stone and clay mortar. Although we couldn't distinguish the different types of rooms ourselves, the trail guide helped us identify the living areas from storage rooms and community areas.
On our tour of the grounds, we also visited two large rounded, stone structures. The first was an open-air room most likely used as a central gathering place. The other, although similar in shape, turned out to be a ceremonial ball court. This court is the only stone masonry one found to date in Arizona. It is about 100-feet-long by 64-feet-wide with an opening at each end. Exactly how the ball court was used is unknown.
This pueblo was the largest at the time in this area, for more than 50 miles. It was situated near the crossroads of two major trade routes, one going north and south, the other east and west. Although the residents of this pueblo were chiefly engaged in farming, it is also known they participated in trade and contacts with travelers from other clans and cultures.
One of the most interesting natural phenomena we found at the pueblo is a blowhole. A blowhole is a small fracture in the ground where air either flows out or in, depending on the weather and air pressure. Underneath the opening is thought to be a natural tunnel about 165-feet wide and high, and perhaps 50-miles long. In most cases, when the air is cold outside, compared to inside, the blowhole sucks air in. When the outside air heats up and is less dense than underground, it blows out like we found it doing.
Charlotte first placed her hand over the blowhole to check it out, and then leaned directly over it, attempting to look down into the hole. This resulted in her long hair flying up above her head as if she had an extremely powerful hair dryer blowing on it. This was pretty comical and some nearby children came rushing over so they could do it, too.
Just down the road from Wupatki, we entered the 3,040-acre Sunset Crater Volcano National Monument. Scientists say a series of eruptions occurred here between 1040 and 1100, making it the youngest volcano on the Colorado Plateau. In some places the volcanic rock looks as if the eruption just happened, for no vegetation grows there, but in other places small pockets of plants have set down roots. The drive through the park is the best way to see this unique landscape.
In 1929, the volcano itself was nearly dynamited to create a landslide for the movie "Avalanche." But when locals caught wind of this plan, they lobbied for protection, which resulted in the establishment of the monument in 1930. You can't climb the 1,000-foot-high cinder cone, but there is an easy one-mile loop, the Lava Flow Trail, located at the base of the crater, which will give you up-close views of the blackened landscape.
We were staying at the Hotel Monte Vista, built in 1927 and located in Flagstaff's Historic District. Over the years, the four-story brick hotel has seen its share of famous guests, including Humphrey Bogart, Bob Hope, Clark Gable and Spencer Tracy. This was the hotel of choice back in the 1940s and 1950s when Hollywood came to rural Northern Arizona to film more than 100 movies.
Historic hotels and reported ghost sightings go hand-in-hand, and the Monte V, as locals call it, is no exception. Many guests, including the late actor John Wayne, have reportedly had encounters with a phantom bellboy during their stays. The story goes that they heard a knock at the door and then a voice calling out "room service" but when they opened the door no one was there. Other common sightings include a ghostly figure of a young boy in a hotel hallway, a transparent dancing couple in the cocktail lounge and a woman in a rocking chair sitting and looking out the window of a third-floor room.
Fortunately, it wasn't until after we had checked out the next morning, that we found out our room was the scene of a double homicide. In the early 1940s, two women were thrown from the third-floor window. Many guests staying in the room have said they felt as if they were being watched. Several male guests have said they felt as if someone were holding a hand over their faces, and they were not able to breathe. Although I remain a skeptic, I have no explanation as to what happened to my silver earrings. I know I placed them on the night stand before going to bed.
That evening, we walked around the historic downtown district. Since this is a college town, home of Northern Arizona University, everywhere we went was bustling with the energy of young people. Live music could be heard at several restaurants. Within five minutes of our hotel we found plenty of high-end outdoor clothing and equipment stores, antique shops, art galleries, small boutiques, dining spots and a couple of breweries.
The next morning, we walked down to the restored 1926 train station, still in use today as a visitor center and Amtrak station. If you are a light sleeper and staying in the historic district, or for that matter just about anywhere in town, you might have trouble sleeping, as trains pass through all night long. The town is on the main line of the busy Burlington Northern Santa Fe, and sees about 65 trains every 24 hours.
Because of Flagstaff's high elevation and about 100 inches of annual snowfall, some of the most popular winter activities are snow-related. With a good snowfall, the Arizona Snowbowl, a ski and snowboard resort, will satisfy any downhill urges. And it takes only a light snow to bring Nordic skiers out for some cross-country action in the surrounding Coconino National Forest.
For cross-country skiing at the Flagstaff Nordic Center, all you need to do is show up dressed for an outdoor winter experience. They offer lessons and rental skis for all ages, so you can easily get off and going on more than 25 miles of groomed trails. Older children usually take to this type of skiing easily under their own power, but even small children and babies can come along pulled behind you on a sled, available to rent. You can further the experience by making reservations through the center to stay in a yurt or cabin along the trail, for a remote, yet comfortable overnight experience.
I consider any visit to Flagstaff incomplete without a stop at the Lowell Observatory. Founded in 1894 by Percival Lowell, this private, nonprofit research institution has been responsible for a multitude of important discoveries, including Clyde Tombaugh's discovery of Pluto in 1930. The Lowell campus is open to the public for a variety of tours, telescope viewing and exhibits. Earlier this year, it opened the John Vickers McAllister Space Theatre. The 24-seat planetariumlike theater offers daytime space programs, nighttime shows and educational programs for children.
On our way out of town, we stopped at the Riordan Mansion State Park. The mansion was built in 1904 by two brothers, Timothy and Michael Riordan, logging magnates who owned the Arizona Lumber and Timber Company. Talk about keeping things in the family: They not only married two sisters but the two families lived in the mansion together, along with eight children.
The mansion is actually two houses connected by a common room, an elaboration of the "dog-trot cabins" — double cabins connected by a porch — once popular with humble back-country families. But the Riordan residence was much more elaborate, including 40 rooms and 13,000 square feet of living space. The architecture is Arts and Crafts style with log-slab siding, stone arches and wooden shingles. Tours are available.
In winter, try to leave Flagstaff by about noon. That will allow enough time to stop in Williams for a chocolate malt at the 1950s-style ice cream parlor where your parents may have taken a break along Route 66 in pre-Interstate days. For all the charming scenes bypassed by those interstates, they have one virtue: They get you home in time to unload your car by the warm glow of a Nevada sunset.
Contact Deborah Wall at Deborabus@aol.com.
GETTING THERE Location: Flagstaff, located in north central Arizona, about 253 miles from Las Vegas. Directions: From Las Vegas, take U.S. 93 south for 105 miles to Kingman, Ariz. Go east on I-40 for 148 miles to Flagstaff. Lodging: Hotel Monte Vista, 100 N. San Francisco St., Flagstaff. Rooms and suites, $50 to $120 per night, during the week. (928) 779-6971, hotelmontevista.com. Flagstaff Visitor Center: Located in the renovated train station in historic downtown. (928) 774-9541, flagstaff.arizona.org">. Wupatki National Monument: Wupatki Pueblo is wheelchair accessible to an overlook, and beyond with assistance. (928) 679-2365, nps.gov/wupa. Sunset Crater National Monument: (928) 526-0502, nps.gov/sucr. Walnut Canyon National Monument: (928) 526-3367, nps.gov/waca. Museum of Northern Arizona: Open daily, 9 a.m.-5 p.m. Closed major holidays. Located three miles north of downtown Flagstaff on U.S. Highway 180, (3101 N. Fort Valley Road) (928) 774-5213, musnaz.org. Riordan Mansion State Historic Park: Open daily through April, 10:30 a.m.-5 p.m. Tours on the hour. Reservations recommended. Closed major holidays. 409 W. Riordan Road, (928) 779-4395, azparks.gov. Lowell Observatory: Guided tours, day and evening programs and telescope viewing. Winter daytime hours, daily noon-5 p.m. Evening hours, Wednesdays, Fridays and Saturdays, 5:30-9:30 p.m. Extended hours the rest of the year. Closed major holidays. 1400 W. Mars Hill Road, (928) 774-3358, lowell.edu. Flagstaff Nordic Center: Aspen Yurt starts at $75 per night or the Eco-Hideaway cabin at $135 per night. Located 15 miles northwest of downtown Flagstaff at Mile Marker 232 on Highway 180. (928) 220-0550, flagstaffnordiccenter.com. Arizona Snowbowl: Skiing and snowboarding. Open daily, 9 a.m.-4 p.m., depending on snowfall. Located 14 miles north of Flagstaff. U.S. Highway 180 to Snowbowl Road. (928) 779-1951, arizonasnowbow.com.