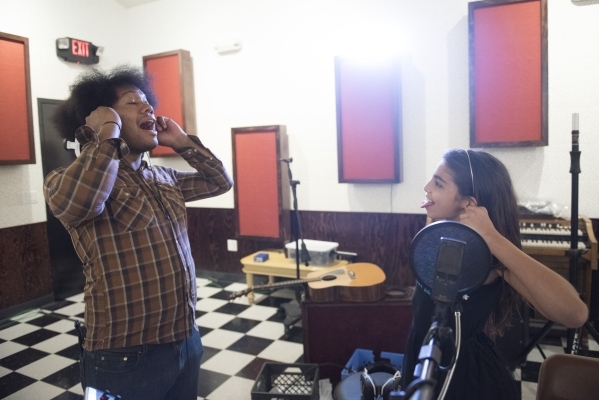 A group of six kids gathers around a collection of instruments — guitars, drums — in the backroom known as the Codex at the downtown bookstore The Writer's Block.
For the past two Thursday nights, the students have been learning how to write music during a songwriting workshop.
"We are going to shape your stones and turn them into diamonds," says Diego Cano, who is teaching children about songwriting. "We are going to take these lyrics and turn them into songs."
This program isn't an anomaly.
It's all a part of store owner Scott Seeley's mission to help children in the community have access to writing programs.
"The idea is to inspire kids to write," Seeley says. "We are doing that but finding ways to make writing fun."
The program started about four months ago and is open to students ages 5 to 18.
Seeley says they are developing a variety of workshops such as songwriting, poetry, short story writing, creative nonfiction, writing for newspapers, playwriting and blogging.
Fiction writing classes can be broken down into different genres such as horror story writing.
Classes are taught by a range of teachers such as local journalists, authors and college students working on their master's in fine arts or their doctorates in English.
To help the program grow, Seeley hired Jamison Crabtree to come up with workshop ideas and find volunteers to teach them.
Each workshop takes place in the Codex in the back of The Writer's Block, which allows aspiring authors a space to work. The space also features anything from readings by local authors to book clubs throughout the year.
July featured the songwriting workshop, in which a group of six children of various ages had signed up for the three-week program.
During that time, Cano not only taught the students about writing but also other musical concepts such as rhythm.
Students created a variety of lyrics — one even had a rap. After they produced the lyrics, Cano came up with ways to put the words to music.
"From one artist to another artist, don't get mad at me," Cano says, sharing some of his ideas for the songs.
Some songs have guitar and hand claps, and with others, he experimented with autotune.
After each class, students don't just walk away with an experience or a vague memory. Each workshop allows students to produce a tangible item to showcase what they learn.
During the songwriting workshop, students wrote and produced a song — singing on the tracks. Songs were put on a compact disc for them to keep.
During their last class, students went to National Southwestern Recording, inside the 11th Street Record Store across the street from The Writer's Block, to experience a recording studio and belt out their songs, teaching them the final component of the songwriting workshop.
Similarly, in the poetry workshops, students printed out miniature booklets with their work.
Seeley has done a free writing program for children before.
In 2004 when he was living in New York, he founded a nonprofit 826NYC in the back of a superhero supply store, which supported the effort.
The organization served as a writing program to give underprivileged children access to opportunity.
After he left New York, he handed the nonprofit over to someone else.
When he opened The Writer's Block in downtown Las Vegas in 2014, he decided to bring back the program.
Though it's not a nonprofit, it is still the same concept.
"We've only been running a few months, but we are seeing the same patterns like New York," he says. "We have some students who only try one class and others who sign up for all of them."
Students are selected in a lottery style allowing everyone an opportunity.
Seeley plans to keep the workshop size smaller so children get individual attention they might not get in a larger classroom setting.
"But it's hard to turn away a kid who might be interested in taking a class," he adds.
If a child ends up on a waiting list, he or she is guaranteed a spot in the next class.
The workshops have already been a success, Seeley says. He wants to add a variety of new classes and perhaps repeat some of the fan favorites.
Upcoming workshops at The Writer's Block include a poetry class from 6 to 7:30 p.m. starting Aug. 10. The program, which is open to six students ages 12 to 14, meets on Mondays, Aug 10 through 31. A horror fiction writing class is set for 6 p.m. Aug. 11 and 18 for students ages 12 to 14.
In the future, Seeley plans to host field trips for schools where youngsters can see the bookstore and see the back space where writing programs are held.
And he hopes to take classes through a workshop in which students will collaborate on creating a book. The workshop will conclude with students taking home a copy of the book they created.
Workshops might be customized if teachers have suggestions.
Crabtree says in addition to school field trips, he wants to have the program visit classrooms.
"We want to go to the school or the teachers instead of having them come to us," Crabtree says. "Then, we can work with the teacher and help them with what they want or need."
But for now, Seeley is glad to see the spark come on in children's eyes when they visit the bookstore in hopes of becoming a writer.
Contact reporter Michael Lyle at mlyle@reviewjournal.com or 702-387-5201. Follow @mjlyle on Twitter.