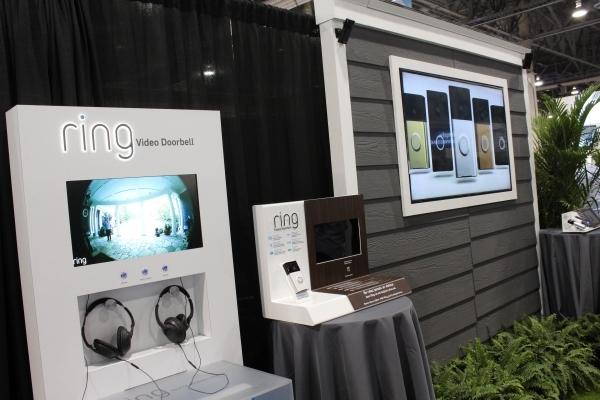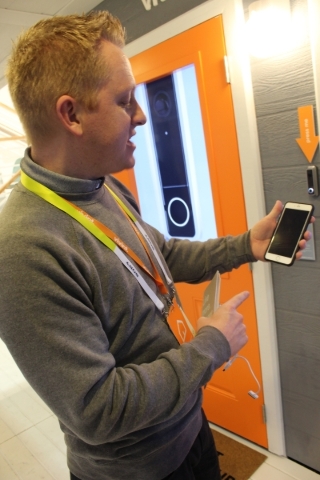 Ding dong.
The front doorbell not only sends the sound echoing through the house but a text message to a smartphone notifying the homeowner a guest, mailman or anyone else has arrived.
This is just part of the smart home industry that is developing technology intended to make life easier.
Not too long ago, the technology being developed for smart homes was about security to monitor what was happening in and around the home.
"It once was about keeping you safe," says Jefferson Lyman, chief marketing officer of Vivint Smart Home. "Now, it's about keeping you connected."
Various companies gathered at CES to showcase their variations on how to cool and heat the house, turn on or off the lights, lock and unlock the door and even let the dog out through the doggie door — all from the convenience of a smartphone or tablet.
During a presentation, Ian Chen with NXP talked about what makes smart home technology worthwhile.
"It saves time, provides actionable information and saves money," Chen says.
Products range from smart meters telling people how to make adjustments that lower costs to automated environmental controls in the house that help save money — and conserve energy.
But when it comes to technology for the home, Chen says people's expectations are higher because of science fiction.
"You watch 'Star Trek' and want it to work the way it works there," he says.
Iris by Lowe's Smart Home Solution demonstrated its total integrated system that people can set up to do all those functions.
The technology can be applied to just about anywhere in the house with specific functions depending on the room.
People can choose the features that appeal to them such as a way to preheat their ovens while driving home from work, close the living room blinds if they are out while it gets dark or turn off the living room lights while they are comfortable in bed.
At CES, companies such as Vivint announced new features.
Vivint Ping, a two-way talk camera with a one-touch call out, was unveiled at the convention.
It enables users to check on pets or older family members, while children can touch base with their parents easier.
While convenience and connectivity play a role in some of the offerings, security is still a selling point.
Numerous booths offer technology to monitor and record the people outside the front door, whether it's a passer-by or someone approaching.
Some smart home technology focuses on a total-home integration while some just focuses on a specific part.
SecuRam featured its Genesi SmartLocks. While some smart locks read fingerprints, this smart lock is designed to recognize the vascular pattern below the epidermal layer of the finger, which is the vein in the finger. This is a form of identification much more difficult to fool than a fingerprint, although the company still offers fingerprint door locks.
Beyond the CES showroom, smart home technology is growing among customers.
He estimates a few years ago, one in five new customers wanted more than just the security component in smart home technology — they would purchase the security features as well as some of the other devices. As of last year, that is down to one in four, he adds.
In the future, it might necessarily be bigger or "more exciting devices."
"It will just be ways to standardize the devices," he adds. "These devices will become simpler."
Contact reporter Michael Lyle at mlyle@reviewjournal.com or 702-387-5201. Follow @mjlyle on Twitter.