Zombies and aliens and wizards, oh my!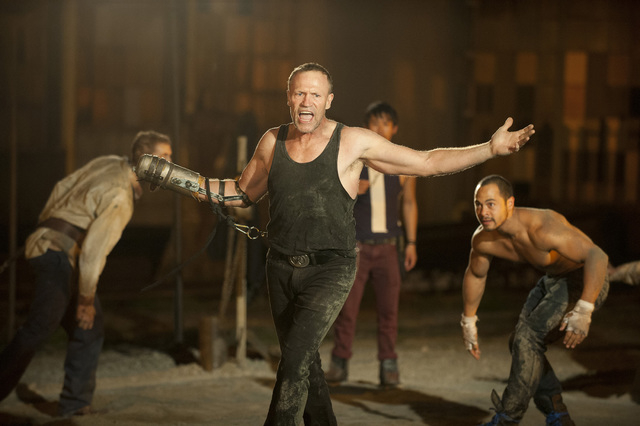 It will be a weekend of wizards and warriors and superheroes and supervillains and Wookies, mutants and Gorn.
Maybe even a little kid dressed like Merle Dixon from "The Walking Dead," too.
In some alternate universe, all of that probably makes for just an ordinary weekend in Las Vegas. However, in this particular universe's iteration of Las Vegas, all of that means that Wizard World Comic Con Las Vegas 2015 is hitting town for a Friday-through-Sunday run at the Las Vegas Convention Center, 3150 Paradise Road.
"What populates a comic-book convention? Well there's actors, and there's dealers and there's comic-book artists and writers, and there's cosplay people, toy sales people, people who are selling trading cards and people selling swords. It's not a flea market," says Neal Adams, a pioneering comic-book artist who, at 73, remembers when conventions were easily housed in a downscale hotel ballroom.
"It's really a mall of your popular culture coming into your backyard and allowing you to visit it," says Adams, who will be at next weekend's event.
Michael Rooker, an actor with a long resume who's now best known for his role on "The Walking Dead," has found he loves meeting fans at conventions. And, yes, he really did meet a child cosplayer dressed as a miniature Merle, complete with an aluminum foil knife prosthetic, he says in a recent phone interview.
"Getting the opportunity, as actors, to come out of their bubble and actually meet the (fans) who watch you loyally every week and loyally over the years, and when, as an actor, you do a lot of different things and to find that people follow your career — your whole career — I'm telling you, it's pretty amazing," Rooker says.
Wizard World hours are from 3 to 8 p.m. Friday, 10 a.m. to 7 p.m. Saturday and 11 a.m. to 5 p.m. April 26. Three-day weekend admission is $75 in advance and $85 on-site, and one-day advance tickets are $35 for Friday, $45 for Saturday and $40 for April 26 (autographs and VIP tickets extra). For more information, visit http://www.wizardworld.com/home-lasvegas.html
Wizard World Inc. CEO and Chairman John Macaluso says next weekend's event will be the first-ever Wizard World convention in Las Vegas. The company produces more than two dozen Wizard World events across the country each year, he adds, and "we've just gotten so many requests for us to do a show in Las Vegas."
Macaluso expects the Las Vegas convention to draw from both Southern Nevada and cities within a 250- to 300-mile radius. And, like any other fans of pop culture, sci-fi or fantasy, Macaluso says attendees are sure to be very passionate.
Scheduled to appear next weekend will be several cast members of "The Walking Dead," including David Morrissey, Steven Yeun, Emily Kinney and Rooker. Others scheduled to appear are World Wrestling Entertainment's Roman Reigns, Robert Englund (Freddy Krueger from the "Nightmare on Elm Street" movies), Cassandra Peterson (Elvira), James Marsters ("Buffy the Vampire Slayer"), Jason David Frank ("Mighty Morphin Power Rangers"), B.J. Britt ("Marvel's Agents of S.H.I.E.L.D."), Kevin Conroy ("Batman: The Animated Series"), Lou Ferrigno ("The Incredible Hulk") and Sean Patrick Flanery ("The Boondock Saints").
Comic and graphic novel creators scheduled to appear along with Adams include Salvador Larroca ("Captain America" and "Avengers vs. X-Men"), Clay Mann ("Harley Quinn" and "Hulk"), Arthur Suydam ("Marvel Zombies" and "Army of Darkness") and Mike Zeck ("Superman" and "JLA").
Gamers, traders, collectors, autograph seekers and fans of every stripe can indulge their particular passions at the event, and cosplayers — a subgenre of fans specializing in detailed costumes — can strut their stuff at a contest Saturday, while kid cosplayers can compete April 26.
"There's such a diversity on the floor, and it's really very exciting," Macaluso says. "The fans don't come for one hour. They come for days. We have programming all day long."
Whether you choose to call it nerd culture or geekism, it's no longer even a niche subculture in pop culture. Look, Macaluso says, at the ratings for the AMC series "The Walking Dead" — the show's first season averaged viewership of just more than 5 million, while almost 16 million viewers saw its most recent season finale a few weeks ago — and how well movies such as "Iron Man" and "The Avengers" have done at the box office.
"The whole industry is trending toward genre material," Macaluso says.
"We have become a culture that in spite of itself and without knowing it, has changed over to a comic-book culture," Adams says. "We are in fact taking over the world. And it's a peaceful takeover."
Conventions have become so much more about movies, TV and other pop culture derived from comics that some fans grumble the writers and artists have been pushed aside. Adams sees the glass as half-full.
"You mustn't feel bad about the artists, because the artists are there all day, and they're doing great," he says. "They're more like fans. They get it. The actors have handlers, and agents."
Actors show up to preformed lines to sign autographs and pose for photos, but the comic book guys are sitting at their tables all day, Adams says.
"People can come and talk to them, they can get a drawing done or buy stuff at their table," he says. "They're there for the fans.
"I'll get as many people as an actor will get, but it's because I'm there all day. That's the way a comic book convention should be. This other thing? I'd rather those actors keep their asses in their chairs all day."
Artists have another advantage, says Adams, who also will meet fans and sign and sell his works from 4 to 7 p.m. Wednesday at Alternate Reality Comics, 4110 S. Maryland Parkway.
"The actors are all jealous of us because people know who we are and when we go to a convention we're like gods," he says. "Everybody treats us great. And then we walk out on the street and nobody recognizes us."
Adams is revered by older comics fans for his early '70s work with writer Dennis O'Neil. They reinvented Batman, moving away from the campy 1960s TV show and making the character at once more realistic, yet more visually striking. And their teaming of two minor characters linked only by a color, Green Lantern and Green Arrow, was hailed as one of the earliest attempts to ground superheroes in the real world, confronting social issues of racism and drug addiction.
But Adams and DC Comics had fallen out by the end of the 1970s. The artist says he went on to make much more money in the advertising world, but in recent years has made amends with mainstream comics and started drawing Superman and Batman again.
"Things have changed," he says. "Rates have gotten better, royalties have gotten better. Seeds that I planted 30 years ago have finally come to fruition.
"The fights that I had with DC and Marvel, I won. And guess what? They profited by it. … Every business makes big mistakes along the way."
How do Adams and other pioneering artists feel about not owning an iconic character such as Batman, but contributing enduring pieces of the legend that continue to be mined for movies and TV shows?
"They drop a $100,000 check on me," he says with a laugh. "How do you avoid some artist suing you? Give them a $100,000 check."
The Batman "Dark Knight" trilogy of movies and the TV series "Arrow" both make use of the villain Ra's al Ghul created by O'Neil and Adams. "These guys are doing interpretations of stuff that we've done, only they're trying to take it further and put their mark on it," he says. "And we want you to do that. We don't want you to just copy our stuff."
Rooker also will be among next weekend's celebrity guests. His "Walking Dead" character, Merle Dixon, was introduced in the show's first season, disappeared after what viewers assumed to be a grisly death, and then returned, to wild fan acclaim, in season 3.
Rooker gleefully describes Merle as "crazy, psychotic … a boisterous loudmouth and, in some people's terms, racist and sexist."
That viewers came to love Merle can be chalked up to the talent of Rooker, an articulate, thoughtful guy with a great sense of humor about both himself and "The Walking Dead."
Since his film debut in 1986's truly creepy "Henry: Portrait of a Serial Killer," Rooker has forged a career playing anything from cops to crazies in everything from TV shows to video games. His big-screen credits also include playing Yondu Udonta in the box-office hit "Guardians of the Galaxy," a character Rooker jokingly describes as "Merle Dixon and me, all mixed together."
How does an actor craft such an eclectic list of credits? Not, he says, by simply accepting any role that comes down the pike.
"I turned down many serial killer-type roles after 'Henry.' It's, like, what do you do? You've done Henry, and OK, I could go on and do more of these kind of roles, but I sort of veered away from that and went in other directions. I like to go in other directions."
Then, even in accepting other, different sorts of roles, "I was very picky in the beginning," Rooker says. "How many times can a cop be played? How many times can we see this same role being written, because, when it's written on paper, sometimes those things read exactly alike.
"So I was always searching internally, searching for, just, motivating factors to make all of these characters as different as I can, and being picky, and just kind of trying to do what hasn't been done before."
"My take on things tends to be a little off-kilter and skewed," Rooker adds with a laugh, "and this makes for some really interesting translation."
Rooker says the challenge and the satisfaction of acting lies in turning a one-dimensional character on the page into a fully realized character on screen or onstage.
"I'm kind of lucky," he says. "It's totally choices, and if you have one line, two lines, three lines, four lines, for God's sake, it doesn't matter. Those lines, you have to somehow find the beginning, middle and end in one line, and that's hard to do."
Take, well, Merle Dixon.
"In the beginning, you see Merle Dixon in one way and, all of a sudden, next he shows you something else," Rooker says.
Rooker adds he was amazed to witness fans' favorable reaction to both the show and his character growing and intensifying from season 1 to Merle's return in season 3.
After Merle's assumed death in season 1, not only did fans want him back, they wanted him to wreak havoc, Rooker says with a laugh. "They wanted him to get his revenge. And it's interesting how we didn't give (fans) complete revenge, yet they still ended up loving the character."
Contact John Przybys at jprzybys@reviewjournal.com or 702-383-0280, and follow @JJPrzybys on Twitter. Read more from Mike Weatherford at bestoflasvegas.com. Contact him at mweatherford@reviewjournal.com.
Preview
What: Wizard World Comic Con Las Vegas 2015
When: 3 to 8 p.m Friday, 10 a.m. to 7 p.m. Saturday and 11 a.m. to 5 p.m. April 26
Where: Las Vegas Convention Center, 3150 Paradise Road
Admission: Three-day weekend admission is $75 in advance and $85 on-site, and one-day advance tickets are $35 for Friday, $45 for Saturday and $40 for April 26; autographs tickets and VIP tickets extra (wizardworld.com)