Common early signs of COPD that shouldn't be ignored
September 20, 2023 - 7:39 pm
Updated September 21, 2023 - 10:47 am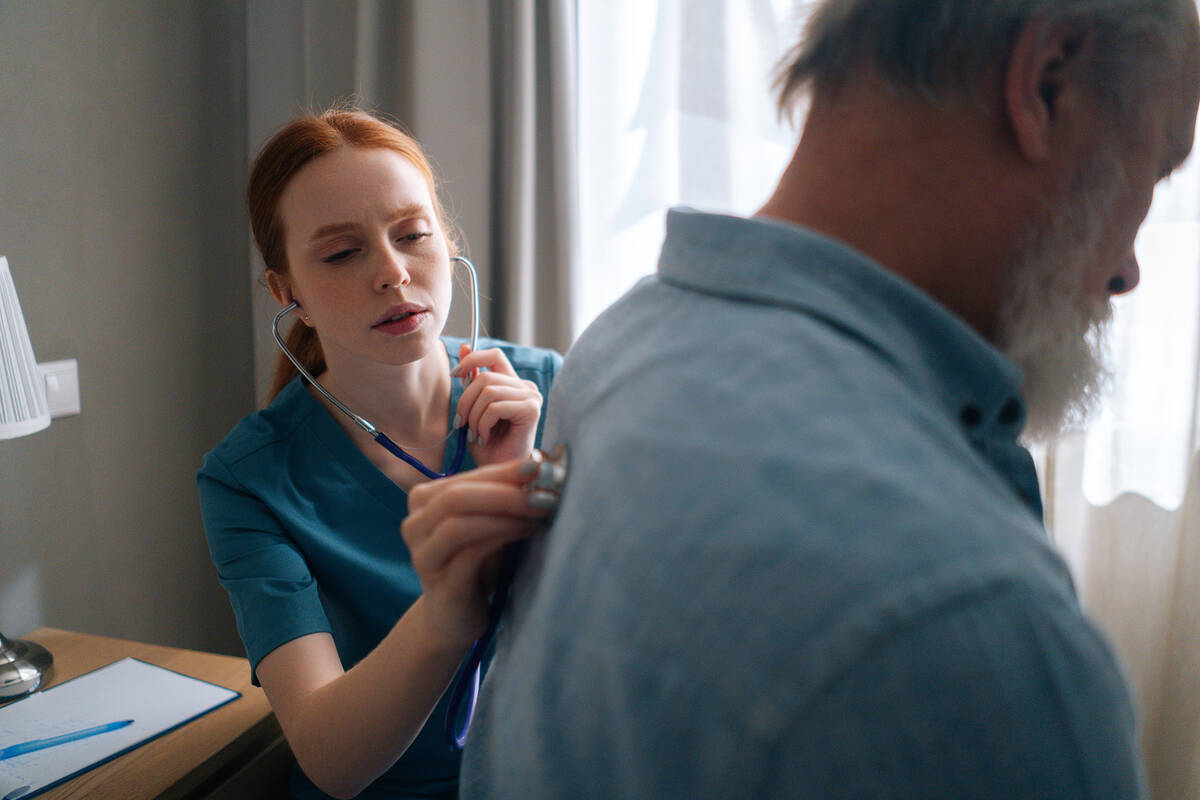 Our lungs are a vital piece of our overall health. However, a group of diseases known as COPD can significantly affect lung health.
"COPD stands for chronic obstructive pulmonary disease," explains Dr. Sophie Vergnaud, a pulmonologist and the senior medical director of GoodRx Health. "It's a long-term breathing condition that includes both chronic bronchitis and emphysema. In COPD, there is damage to the airways in the lungs that gets worse over time."
Smoking is the primary cause, accounting for around 8 in 10 COPD-related deaths, according to the Centers for Disease Control and Prevention. However, the American Lung Association notes that other factors — such as increased respiratory illnesses in childhood, a history of asthma and age — also increase risk.
COPD, which is not curable, has four stages.
"Stage 1 is early disease," explains Jennifer Sidi, an adult acute gerontology nurse practitioner and the director of advanced clinical providers at Northwell Health's Center for Tobacco Control. "Stage 2 is a moderate disease. Stage 3 is a severe disease, and Stage 4 is very severe or end-stage disease."
Vergnaud notes that COPD affects millions of people in the U.S. In 2020, about 15 million people were living with a known COPD diagnosis — likely an undercount of the number of people who have the disease.
"It's likely that many more people have it but don't know it," Vergnaud says. Part of the reason for this? Early signs are easy to overlook, but prompt diagnosis is critical to improving health outcomes.
"Understanding the signs of COPD can help you flag symptoms to your health care provider and potentially intervene in its early stages," Vergnaud says. "Early intervention can also help slow the progression of the disease, alleviate symptoms sooner and prevent severe complications and hospitalization."
Two experts shared more on COPD, including the commonly missed signs to bring up with your doctor.
No. 1 missed early sign
If you're dealing with a cough — whether it's a phlegmy one or a dry cough — that's an easily missed sign of COPD. And, Sidi and Vergnaud say, a chronic one shouldn't be ignored.
"A commonly missed sign of COPD is the cough," Sidi says. "The cough may cause the production of phlegm, but it also may be a dry cough. One should seek medical attention if the cough lingers for a long period of time — greater than two to three weeks — and does not seem related to any illness."
A cough is a common sign of COPD, but it's so easy to chalk it up to something less severe. "For those who do have mild symptoms, it's common for them to attribute symptoms to getting older or being out of shape," Vergnaud says.
It doesn't help that a cough is associated with other conditions, particularly during winter. "Often people attribute coughs to other issues — colds, flu, allergies — and do not think that a chronic cough may be an issue that is stemming from a chronic disease," Sidi says.
Other signs you shouldn't ignore
A persistent cough isn't the only sign of COPD to flag with a health care provider. Vergnaud says other early, common symptoms of COPD include shortness of breath (on exertion), tiredness, chest tightness, noisy breathing and repeated chest infections.
Vergnaud says it's easy to blame some of these symptoms, such as shortness of breath and tiredness, on weight, age or heart disease.
If you're worried about COPD
Vergnaud and Sidi say speaking with your provider about COPD concerns is important.
"If you think you could have COPD, make an appointment with your health care provider to discuss a screening," Vergnaud says. "They'll want to know a little more about your symptoms, your medical history, your lifestyle habits and even what jobs you have worked in."
The National Institutes of Health says about 15 percent of COPD cases stem from air pollutant exposure at work, such as dust and fumes from things such as asbestos and asphalt.
If you're diagnosed with COPD, regular care is essential. "It is extremely important to seek medical attention for any worsening symptoms and to do regular follow-ups with a pulmonologist," Sidi says.
Does COPD go away?
Unfortunately, no. "Lungs cannot recover from the damage done by COPD," Sidi says.
However, treatment is available. Sidi says COPD treatment may include medications such as bronchodilators and corticosteroids, keeping active and exercising, pulmonary rehabilitation, oxygen therapy, surgery to remove parts of the damaged lungs for severe cases and lung transplants in severe cases.
"The goal is to manage symptoms and keep the disease as mild as possible," Sidi says. "Someone can remain in the early to moderate stages of disease for many years."