Healthy life doesn't bug Ant-Man star Paul Rudd
February 10, 2023 - 6:26 am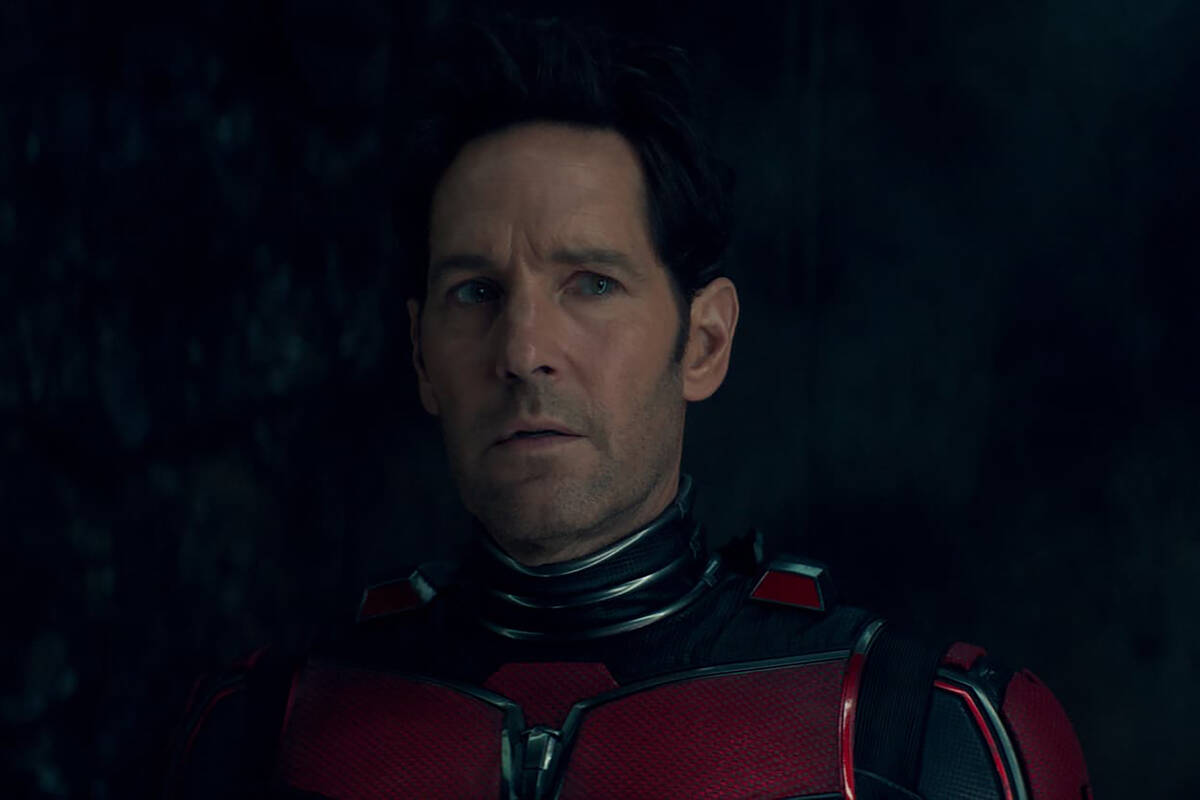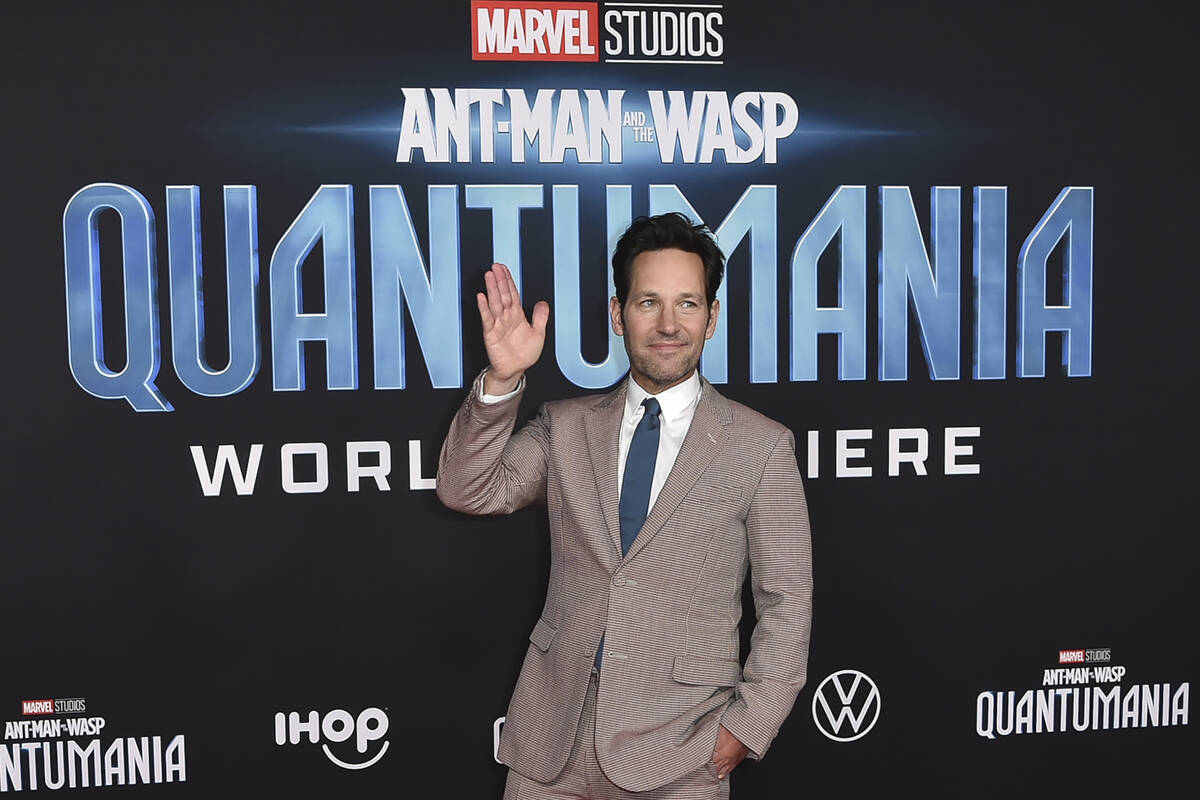 At 53, ageless Paul Rudd looks the part of a chiseled superhero in real life as much as he embodies Ant-Man on the big screen.
But it wasn't always that way.
"When it was announced that I was going to be a superhero, a lot of people probably said, 'What the hell? Paul Rudd? In a superhero costume? Is it a comedy?' " he says with a warm laugh on a Zoom interview from Los Angeles.
The Marvel franchise favorite returns to theaters Feb. 17 with "Ant-Man and the Wasp: Quantumania."
In the new film, billed as a family road trip, Scott Lang (Rudd) and Hope Van Dyne (Evangeline Lilly) team up with Dr. Hank Pym (Michael Douglas) and Janet Van Dyne (Michelle Pfeiffer) to explore the Quantum Realm. They not only find odd creatures but encounter the ultimate evil in Kang the Conqueror (Jonathan Majors).
Rudd, star of movies including "Clueless," "The 40-Year-Old Virgin," "Knocked Up" and "This Is 40," plus a slew of Avengers films, is married to screenwriter Julie Yaeger. They have two kids: Jack, 16, and Darby, 13.
Ant-Man's big tips for living the good life:
Expect change
Rudd says that his character Scott Lang/Ant-Man has embraced life's changes — as has Rudd: "When we start this new movie, it's present day. Scott is taking a victory lap. He was a guy with a regular job and no super abilities, but he joined the Avengers and fought Thanos. Now, he has written a book, a bit of a memoir called 'Look Out for the Little Guy.' "
It's never too late
"I think he really does want to be a normal dad. He always had a love-hate relationship with it. But now he's accepted being a parent and is happy that saving the world is in his rearview mirror. He wants to spend some time together with his only daughter. He missed out on a lot and wants to recapture time. … Of course, his best plans don't last because life changes on a dime. The important thing is he has still grown and is ready for anything."
Get your Zzz's
To prep for playing Ant-Man again, Rudd focused on health starting with one element that many workout warriors forget. "You can talk about diet and the gym, but the truth is one of the best ways to get in shape and feel great is to pay attention to your sleep," he says. "I know a lot of people who get to a certain age and only sleep four or five hours a night. They even get up at 5 in the morning to train. If there is a way to get eight hours of sleep in your life then you will feel so much better."
Focus on health every day
Rudd says he follows a strict diet and workout regimen for the Marvel films. "It's a new thing for me to center a day around fitness," he admits. "I mean, I worked out in the past, but never this much." Rudd says he also had to come to terms with his mental status over diet and exercise. "I'm one of those people who want to look good, but I also want to eat and drink as much as I want. That approach really doesn't work. You have to make health a true part of your life and pay attention to it every single day."
Eat right and move
He also found out that it takes both moving and eating right. "You can't do one without the other to see real progress," he says. What's his plan? Upon waking, it's coffee and cardio before he eats anything. "My workouts were being affected by what I ate, so I eat afterwards," Rudd says. Some of his diet staples include eggs, salmon and protein shakes, but no sugar. No junk food either. "Veggies can be your friend," he insists.
Love what you do
In Scott Lang/Ant-Man, Rudd has found a character he really enjoys playing. "What I like most about him is he's a regular guy who has reservations about all of this action," Rudd says. "He's part of this group of impressive superheroes, but he's the first guy to say, 'What the hell am I doing here?' He's a real person. … As an actor, you want to play someone relatable and someone you can understand. I like his human qualities most of all. Even with his kid. His daughter is older and has ideas of her own. There's that regular push-pull to it that is every person out there dealing with life."
Life can be wrinkle-proof
Rudd doesn't appear to have aged since he debuted in a certain 1995 teen comedy. "I was so dreamy in 'Clueless,' " he jokes. "I even fell in love with me … and I haven't changed a bit." He adds, "I don't tan and I do use sunscreen all the time, which apparently really works. But I don't really do it to prevent wrinkles, but to prevent skin cancer. And I do see myself aging — I just embrace it."
Sing it, Ant-Man!
Ask if he has an Ant-Man costume at home and Rudd jokes, "I not only have one, but I wear it at home. You should see me do karaoke in the Ant-Man suit."