Yoga bolsters mental, physical strength at any age
August 11, 2023 - 10:31 am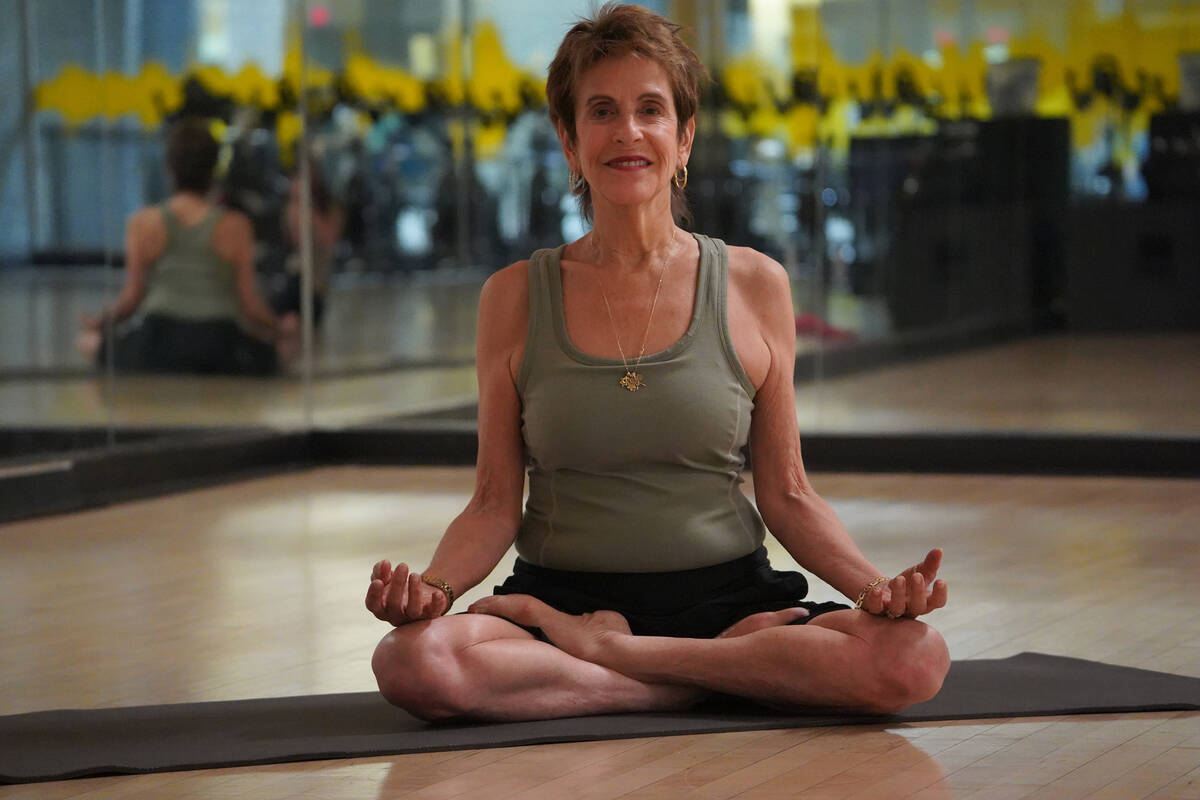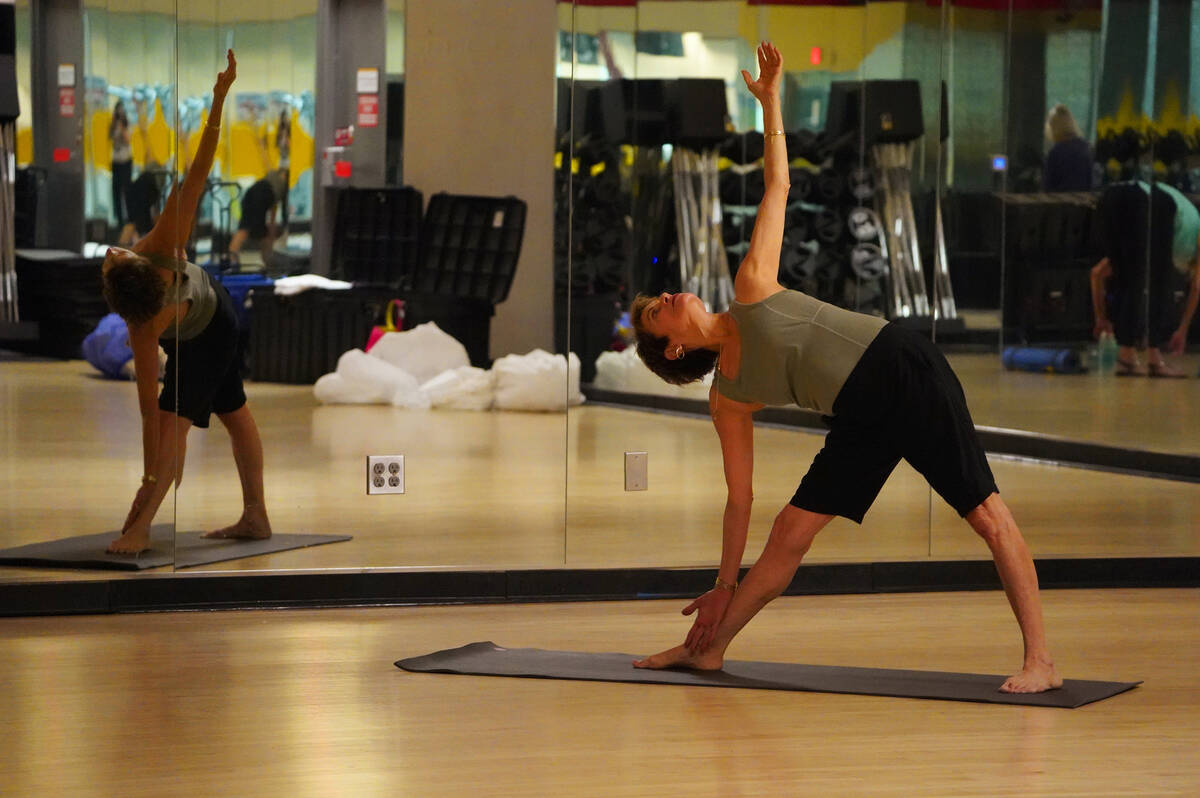 Why not try yoga during these downward dog days of summer?
Yoga offers a wide array of options — affordable parks-and-rec classes, pricey studio sessions, programming at UNLV's OLLI senior learning center or group exercise choices at a gym where you may already have a membership. Also, there's YouTube to help you create a home routine, maybe supplemented by an app on your phone.
These possibilities have in common the physical and mental health goals of stretching, strengthening and relieving stress.
A yoga dabbler for decades, my routine has been to take a string of classes during the summer and then promptly put my practice on hold. This year may be different, though, because of Diane Rosenstein, a Southern Nevada yoga instructor whose classes are an irresistible combination of exercise and encouragement. She advocates making yoga a year-round, lifelong habit.
After rolling out your mat in Rosenstein's class, it's as if you're benefiting from 72 years of experience and wisdom, which is exactly what's happening. At her age, she's not shy about sharing what she believes will help students with the challenges of aging.
"You always have the ability to help your body and your mind," she said. "It is yours to be kind to, to take care of."
Living in the moment
Yoga strengthens people physically and mentally, she said, no matter their age. "Where do you want your legs to take you?" Rosenstein asked. "Take care of your legs, so they can take you places. If your legs aren't strong, then the rest of your body isn't as strong."
The retired optometrist received her yoga instructor credentials in her late 60s after moving to Southern Nevada from Oregon to be closer to her grandchildren.
Rosenstein teaches a gentler and slower-paced Yin-style yoga at a neighborhood 24 Hour Fitness and elsewhere around Henderson for a total of seven classes per week. After practicing yoga for more than 30 years, the petite instructor has enviable muscle tone and flexibility. For her, one of yoga's most important benefits is the clarity that comes from focusing on the breath, an approach that acts in a pre-emptive fashion against unproductive ruminations.
"Yoga is an exercise to get fit and to stretch and to get toned — get your muscles strong, your tendons and ligaments stretched," she said during a pre-class interview. "You can also use yoga to learn to relax and have a quiet mind and learn to tack your breathing to your mind, so you can hear your breath. That way your mind is so busy (focusing on breathing), that it doesn't wander."
When the brain is focused on breathing and distracted from any loops of worry or regret, "that's what's meant by living in the moment," she said. "You're not living in stories of the past. It's a little spring cleaning for the mind. When you learn to have a quiet mind, your mind gets to relax."
In Rosenstein's experience, a relaxed mind helps to shift mindsets. "What do you want your mind to do?" she urges her students to ask themselves. "Do you want a day spent in irritation, or do you want to still make it a nice day? Knowing you have the control is wonderful."
Stretching out the tension
Yoga, in its many forms, has been around for centuries, and a quick search on the internet for local yoga classes attests to its modern-day popularity. Studies have suggested yoga helps with everything from cognition and sleep to anxiety and cellular health, in addition to its obvious benefits of increased flexibility, balance and strength.
"Yin yoga is open to all levels," Rosenstein said. "With yoga, you really can do an awful lot for yourself." Anyone with health concerns should check first with their medical practitioners to make sure yoga is a good fit, she said. Once cleared, she suggested, yoga students should seek conversations with their instructors, if any modifications are needed.
Yoga's long stretches for muscles and its repetition of poses release tension from muscles that have been spending too much energy managing tension, Rosenstein said. Stretching is so important because tight muscles can cause poor posture and decrease range of motion. Stretching can decrease back pain and muscle soreness, and it can increase muscle blood flow and improve performance on daily tasks and physical activities.
As people age, Rosenstein added, "our range of motion gets narrower, our muscles get tighter, and the tension in our body increases. Once you get rid of that tension, you have all that energy to spend on other things. People come out of yoga, and they're very surprised that they're not tired. They're more energetic. All that effort that had been used to tamp down our tension can now be used on the things that we want to use it for."
Music, motivational quips and practical tips are part of Rosenstein's teaching routine. There's more jazz, Eric Clapton and Johnny Cash in her lineup than new-age instrumental.
Common refrains in her yoga classes: "Bend from the hips with a straight back," "Activate your abs," "Repetition brings flexibility" and "Tuck in those abs to keep that back safe." Heard once each this summer: "You can release your abs when you go to sleep, and that's really it" and "Don't stay in a pose that you can't wait to get out of."
Rosenstein said she tries to stress "safe yoga." Pushing yourself is important, she said, but know your limits. "Let all of the tension stretch out," she told her class on a recent July morning. "Bring it to the edge of what you can do, but be kind to your body. Listen to what it needs."
In these downward dog days of summer, nurturing is what our bodies and minds are craving. "We're like the plants outside right now in need of a drink of water," Rosenstein said. "You have to take care of yourselves in this heat."