Apartment fire in central Las Vegas displaces family of four
January 10, 2018 - 2:42 am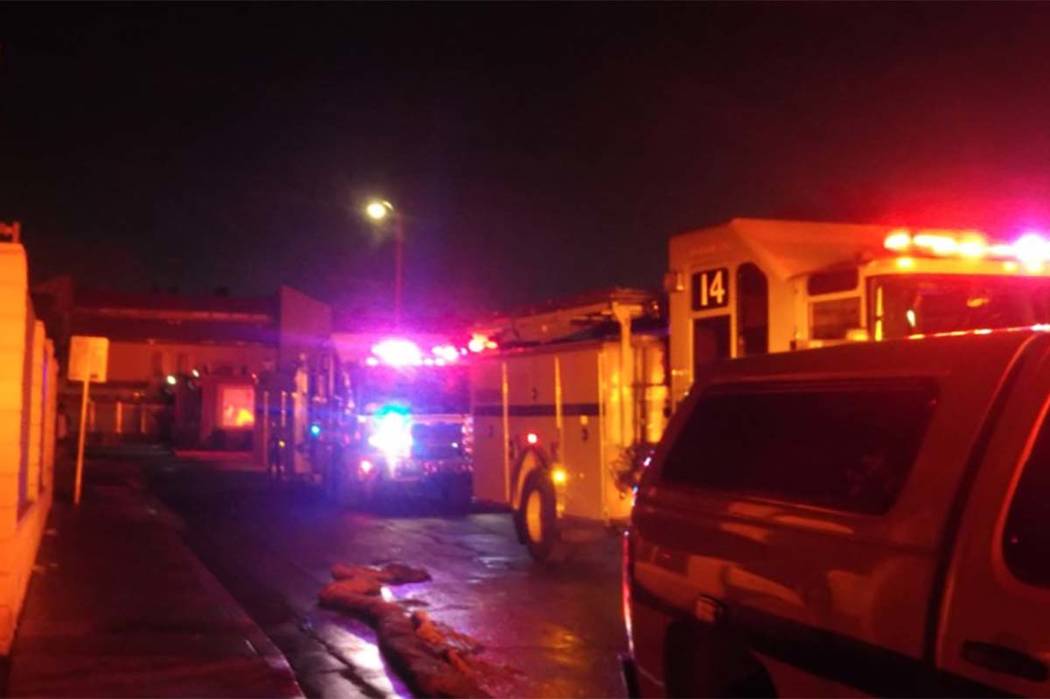 No one was injured in a fire Tuesday night at a central valley apartment complex.
The Clark County Fire Department responded about 11:30 p.m. to the Townhome Villas apartments, 1000 Dumont Blvd., near Maryland Parkway and Desert Inn Road.
The fire started in the attic of an apartment on the second floor, according to CCFD Battalion Chief Jonathan Wiercinski.
A family of four, including an infant, was displaced because of smoke and water damage, Wiercinski said. They were moved to another apartment in the complex for the night, and the American Red Cross of Southern Nevada was called in to assist.
Firefighters are starting to pack up at the scene. Just spoke to a battalion chief, so we should get some more info in a few minutes. Looks like this apartment complex is on the 1000 block of Dumont, between Maryland and Cambridge. pic.twitter.com/hvun55NJh4

— Max Michor (@MaxMichor) January 10, 2018
At the scene, security guards stood in a median near the complex's entrance to watch firefighters work.
Wiercinski said firefighters had difficulty getting to the fire because of the way the roof of the building had been built. Nets set up to keep pigeons away contributed to the challenge of putting the fire out.
"It's kind of a labyrinth back there," he said. "It's as unique as can be."
Still, firefighters managed to keep the fire from spreading to other buildings in the complex.
Fire investigators are working to determine what caused the fire, Wiercinski said. The cost of damage has not yet been estimated.