$13.7 million in bonuses still in play for Project Neon work
December 11, 2017 - 10:27 am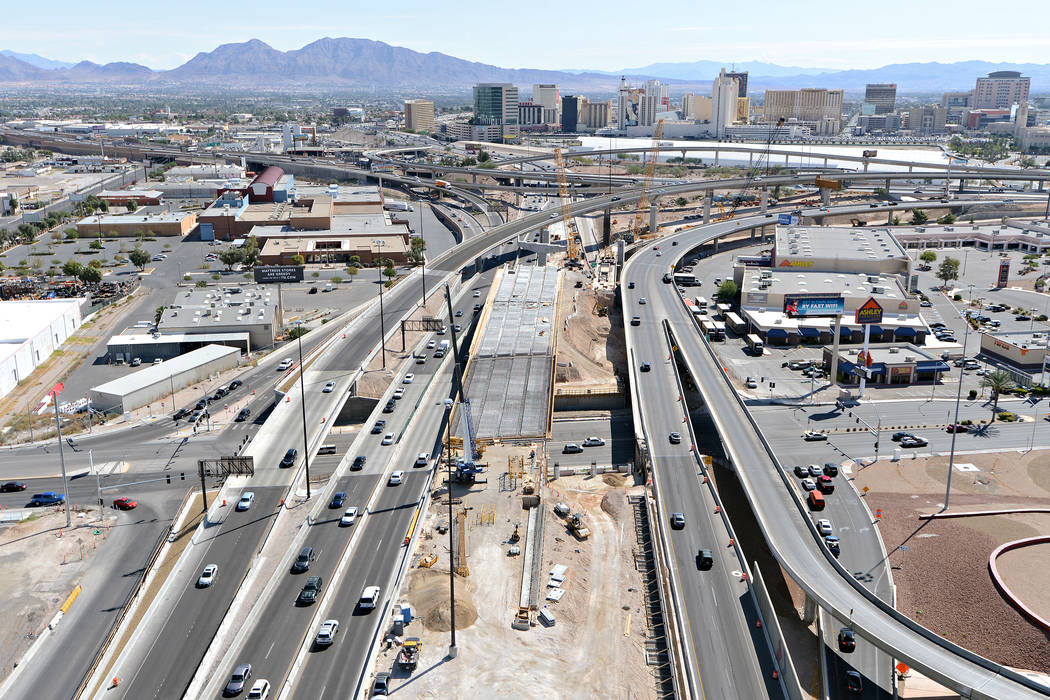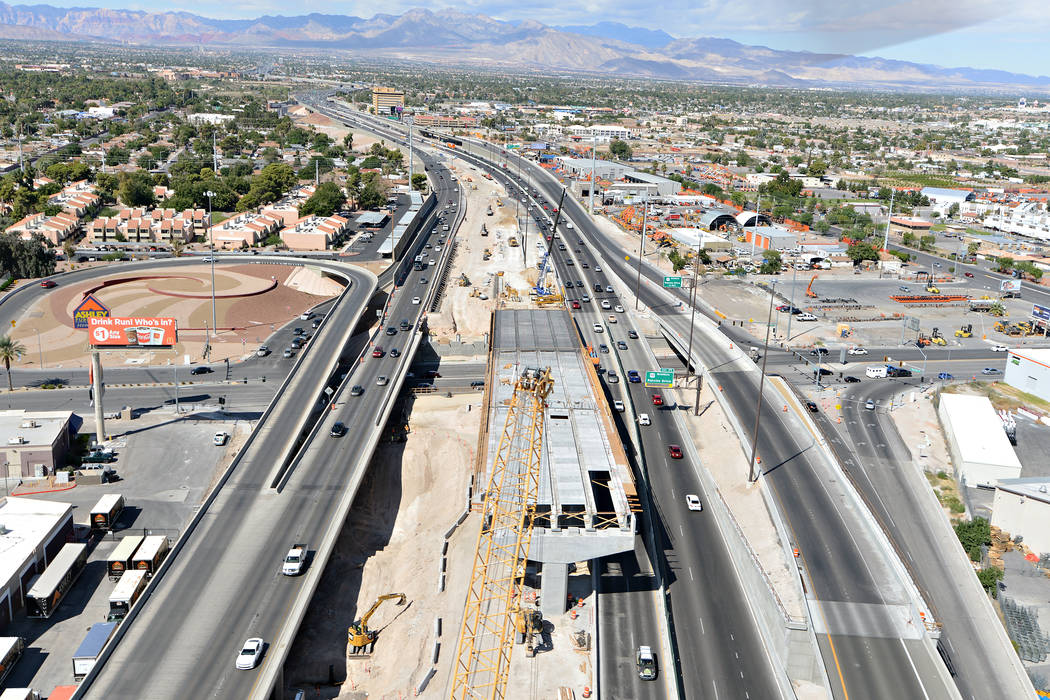 Kiewit Infrastructure West Co., the general contractor for Project Neon, could reap $13.7 million in potential bonuses through the project's November end date.
The project's remaining third phase has a 250-day window, from March through November. The phase will involve several Interstate 15 milestones that carry maximum allowable incentives for early completion totaling $13.7 million.
Kiewit Infrastructure West received a $5.16 million bonus for completing the second phase of the project Nov. 22, nearly two months ahead of schedule. Officials said the early completion did not compromise the quality of the work.
"The quality guidelines don't change whether work is finished early, late or on time," said Tony Illia, a spokesman for the Nevada Department of Transportation. "Everything must meet strict Federal Highway Administration design standards, regardless. If work is subpar or incomplete, NDOT will not sign off and the contractor won't be paid."
The main requirement for the bonus was to open U.S. Highway 95 lanes, north and southbound, to full capacity, Illia said. Full capacity means three lanes in each direction to the Spaghetti Bowl interchange and two lanes in each direction through or under the bowl, he said.
The deadline for returning U.S. Highway 95 to full capacity was Jan. 15 . Had the company been late, Illia said there would have been a $97,000 fee per day, the same amount as the bonus.
Project Neon, the largest public works highway project in Nevada history, kicked off in April 2017 and was supposed to reduce accidents and add traffic lanes to Nevada's busiest highway interchange at Interstate 15 and U.S. Highway 95.
Kiewit Infrastructure West is working under a $559.4 million design-build contract, which carries up to nearly $20 million in early completion incentives and millions of dollars in potential late penalties.
Future work
The next phase of work will involve mainline impacts on Interstate 15 between Sahara Avenue and the north end of the Spaghetti Bowl.
The early completion of the second phase allows Kiewit more time to plan and prepare for the work that will take place in 2018, said Jay Proskovec, a spokesman for the company.
"We will have about nine months to construct 18 bridges and over 2 miles of concrete paving," he said.
Alexander Paz, director of the Transportation Research Center at UNLV, said it is common to have bonus incentives on large construction projects.
"The opposite is also common; that is, if there are delays, contractors are required to pay for the corresponding lost," Paz said.
Illia said that requirements for bonuses in the Phase 3 of Project Neon will remain the same.
"So, the quality standard doesn't change between schedule milestones," Illia said. "Again, everything must meet strict federal quality design standards. Bonuses are essentially tied to time. The project schedule has an incentive scale in place that pays bonuses per day up to a capped amount."
On Nov. 30, NDOT started construction on a $33.7 million freeway interchange for Interstate 15 and Starr Avenue, which is aimed at reducing traffic congestion in southwest Las Vegas and in Henderson. The contract was awarded to Las Vegas Paving, and work is expected to end by May 2019.
Contact Daria Sokolova at dsokolova@viewnews.com or 702-383-0497. Follow @DariaSokolova77 on Twitter.