Christmas attractions are aplenty in Las Vegas this season
December 6, 2016 - 8:32 am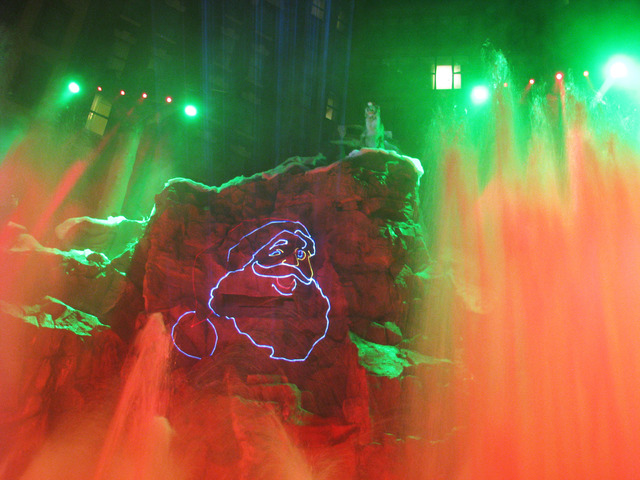 The Las Vegas Valley goes all out for the holidays, but a few places in the east valley manage to stand out among the crowd.
MYSTIC FALLS PARK
Mystic Falls Park at Sam's Town, 5111 Boulder Highway, switched over to its winter display Nov. 22. The climate-controlled indoor park that is dominated by a several-story waterfall in one corner now includes snow and tiny hats on the animatronic woodland creatures snuggled into the nooks and crannies of the decor.
The park has undergone this transformation each winter for 22 years and remains the place to go to feel like being in a snowy wonderland forest, without going outside or being cold. This year, the decorations include new pieces such as giving a look inside Santa's workshop, with elves making toys and loading Santa's sleigh.
Cowboy Santa has returned, and visitors can meet and take photos with the unusual interpretation of the iconic figure from 4 to 8:30 p.m. Thursdays and Fridays and noon to 8:30 p.m. Saturdays and Sundays.
A nine-minute holiday-themed show takes place at 5 p.m. daily through Dec. 31 at the falls, with classic holiday songs including "It's the Most Wonderful Time of the Year," "Frosty the Snowman" and "Let It Snow." The music is enhanced by laser displays and special lighting. At the climax of the show, it starts to snow.
Following the show, visitors can stroll the park, grab a drink or eat at one of the restaurants that ring the park, including the latest addition, The Angry Butcher steakhouse.
Visit samstownlv.com.
HOLIDAY AT THE PARK
The newest addition to the holiday-themed venues in the valley is Holiday at The Park, the open-air dining and shopping venue between New York-New York and Monte Carlo. The venue's numerous trees have been wrapped with white lights and animated dripping icicles and ornament tunnels, giant illuminated sculptures that visitors can walk through. The most prominent holiday addition to the park is a 60-foot Christmas tree with 13,000 lights and 3,000 ornaments over an ice-skating rink near T-Mobile Arena.
The ice rink is open from 10 a.m. to 10 pm. daily through Dec. 30; 4 to 10 p.m. Monday through Friday and 10 a.m. to 10 p.m. Saturday and Sunday from Jan. 1-15; and 10 a.m. to 12:30 a.m. on New Year's Eve. Admission, which includes skate rental, is $15 for two hours, with a 20 percent discount for locals. Children 2 or younger are free.
"I sure didn't expect to come to Vegas and find ice," said Aaron Simmons, in town from Texas to attend the National Finals Rodeo. "Maybe in a drink, but a rink and skating, that's something different."
Carollers are set to stroll and perform from 5 to 9 p.m. through Dec. 17 and 5 to 10 p.m. Dec. 18-24.
Santa will greet visitors and pose for photos for a fee from 4 to 10 p.m. daily through Dec. 24.
Visit tinyurl.com/hatp2016.
GLITTERING LIGHTS
Glittering Lights at Las Vegas Motor Speedway is marking its 16th year in the valley.
"I haven't missed a year since it moved up here to the speedway," said longtime east valley resident Gabriel Martinez. "It's something the family looks forward to. It doesn't feel like it's the Christmas season until we do this."
The drive-thru show features more than 3 million lights lining the 2½-mile course. Each year new displays are added, and the additions this year include a tribute to "How the Grinch Stole Christmas" and Yo Ho Ho Diggin' for Gold, featuring a two-story pirate ship and an expanded Santa Safari tunnel.
Another addition is the Santa Tram, which boards at at Exotics Racing, 6925 Speedway Blvd., on weekends in December. The ride on the open-air tram includes popcorn, hot cocoa, photos with Santa, games and a mini train ride. Tickets for the Santa Tram are $35.
The cost of driving your own vehicle through the display is $20 per carload Monday through Thursday and $30 per carload Friday through Sunday.
A portion of each ticket benefits the Las Vegas Chapter of Speedway Children's Charities.
Glittering Lights is open from dusk to 9 p.m. Sunday through Thursday and dusk to 10 p.m. weekends and holidays through Jan. 7.
Visit glitteringlightslasvegas.com.
To reach East Valley View reporter F. Andrew Taylor, email ataylor@viewnews.com or call 702-380-4532.