Construction bedevils businesses near downtown Las Vegas
September 18, 2017 - 4:28 pm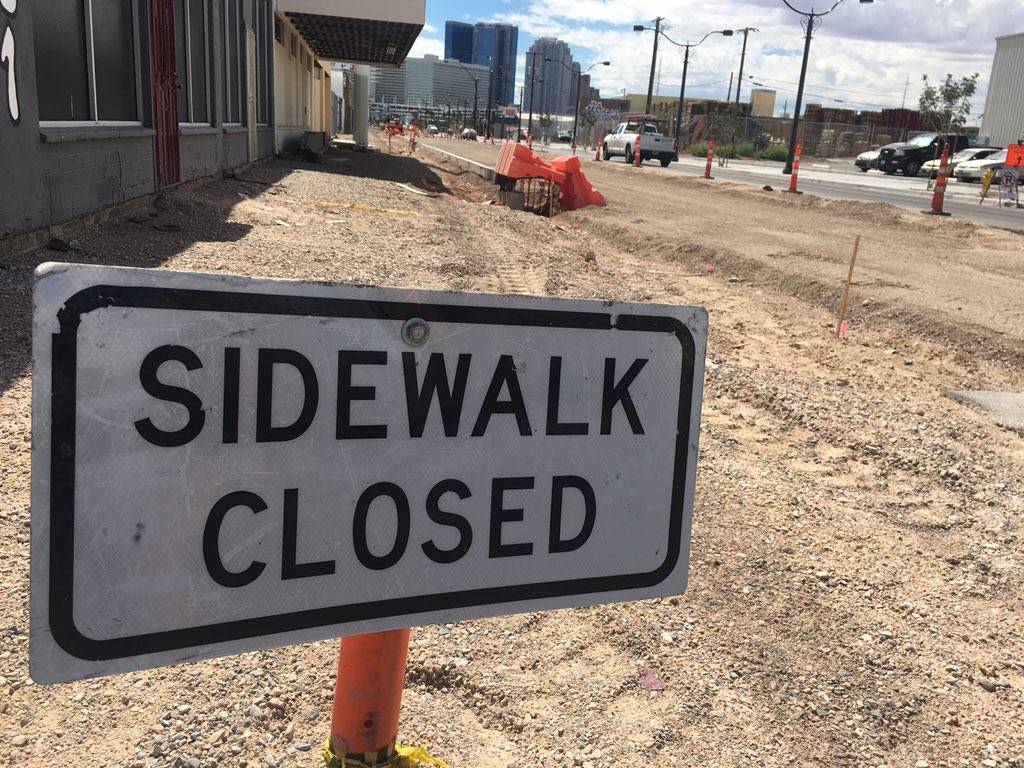 Business owners say the ongoing construction near the Las Vegas Arts District has been "brutal" for their bottom line and fear the worst is yet to come.
Main and Commerce streets permanently became one-way north- and southbound roads, respectively, in early September. The change is aimed at eventually accommodating "green" bicycle lanes, landscaping and widened sidewalks as part of a $44 million project that improves traffic flow, creates new parking areas, bolsters growth, reduces vacancy rates and better protects pedestrians, said city spokesman Jace Radke. The project began in May 2016 and is expected to be completed in late summer 2018.
In the meantime, the west side of Main Street is blocked off, with parking only available on the east side. Construction is set to move to the east side in early 2018, Radke said.
Commerce Street, which lacks sidewalks and has only cones and dirt in front of the entrances to many businesses, provides a picture of what's to come on Main Street.
"When there's no parking on this side of the street and no sidewalks, it's going to be brutal," said Jesse Amoroso, owner of Cowtown Guitars and a frequent appraiser on the History Channel's "Pawn Stars." "When they tear the sidewalks out, nobody's going to walk through three blocks of dirt to get up here."
"Our local business, since all this started a year ago, has dropped down to barely anything," Amoroso said. "I'm surviving on my online sales, 100 percent. If it wasn't for online sales, I'd be closed."
Business owners acknowledged that the changes were needed but said the long project might outlast many of them.
"The outcome will probably be good, for the ones that can survive," said Jorge Souza, owner of JJC Clocks and Antiques. "I know a lot of people are going to be going out of business."
Those at popular destinations such as Casa Don Juan are noticing the downturn in traffic. Business is down significantly in the evenings, manager Joseluis Barajas said.
That hasn't stopped the restaurant from announcing plans to expand, and Barajas said that despite the inconvenience, he's optimistic.
"I think it is going to be worth it," Barajas said of the construction. "Once everybody knows something new is happening on this side of town, everyone is going to want to come and see it. When I hear something new happens somewhere in Vegas, I go check it out. I think it's going to good in the long run."
Still, even typically popular events in the area, such as First Friday, haven't helped to offset businesses' losses.
"First Friday used to be a mixed bag … but you would have a pick-up in sales. Now, they basically just kind of shut this street off and nobody stops," said Vanessa VanAlstyne, owner of Las Vegas Oddities and Antiquities. "It's so hard to keep it going month to month with a small business; anything else that adds to it just makes it harder."
All businesses along both streets have remained open throughout the construction.
The project is funded by the city, fuel-revenue indexing and the Regional Transportation Commission of Southern Nevada.
Contact Diego Mendoza-Moyers at dmendozamoyers@reviewjournal.com or call 702-383-0496. Follow @dmendozamoyers on Twitter.
Timeline
Early September: Main and Commerce streets became permanently one-way
October: Construction on Commerce is expected to be complete
Early 2018: Construction on the west side of Main is scheduled to shift to the east side of the street
June: The project is expected to be complete
Temporary signs
The city provides free off-site signs to indicate that particular businesses are open during construction. The orange signs are reserved for businesses whose names are obstructed by road work.