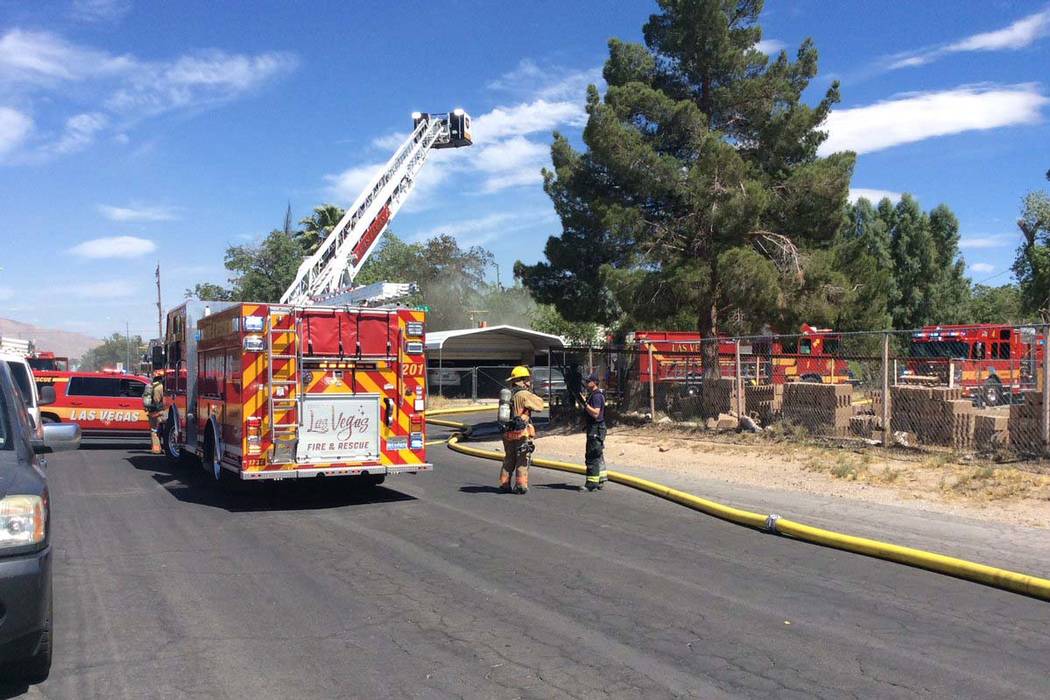 A fire stemming from an unattended grill at an east Las Vegas home Thursday generated so much smoke that a nearby middle school had to shut off its air conditioning system to prevent smoke inhalation.
The blaze was first reported about 2:10 p.m. at a home near North 27th Street and Sunrise Avenue, Las Vegas Fire Department spokesman Tim Szymanski said.
No one was injured in the fire, which began after two people at the home told fire crews they left a grill unattended on the outdoor patio "for a minute," Szymanski said. The blaze caused heavy damage at the home and was out about 30 minutes later.
But at nearby Martin Middle School, 200 N. 28th St., many students were exposed to thick smoke.
"As firefighters were arriving on scene, the school was dismissing students for the day," Szymanski said. "The smoke started to overwhelm the students; staff at the school got the children to return inside to shelter them from the smoke."
The students waited with staff inside the school's theater until their parents arrived, Clark County School District spokesman David Roddy said.
One student had a reaction to the smoke and was taken to Sunrise Hospital and Medical Center with the child's parents, Szymanski said. Two other students were checked for smoke inhalation and released.
As Tuesday night, a damage estimate had not been calculated.
Contact Rachel Crosby at rcrosby@reviewjournal.com or 702-387-5290. Follow @rachelacrosby on Twitter.
Sunrise Ave & N 27th St, Las Vegas, NV 89101