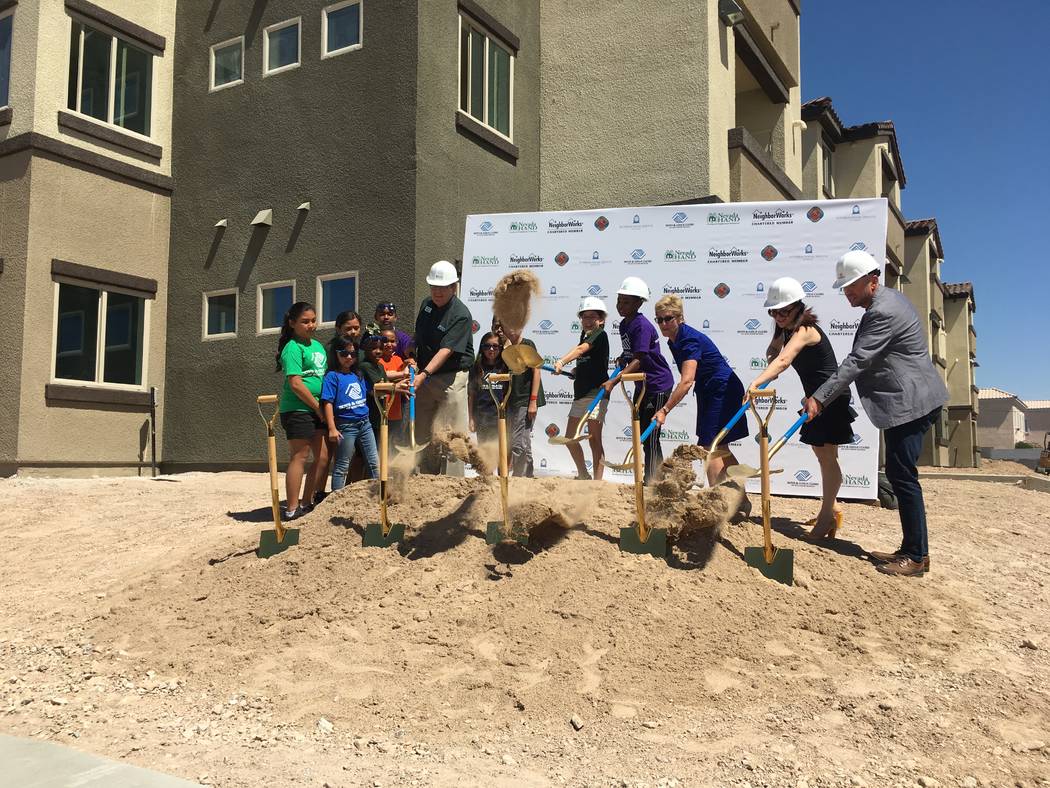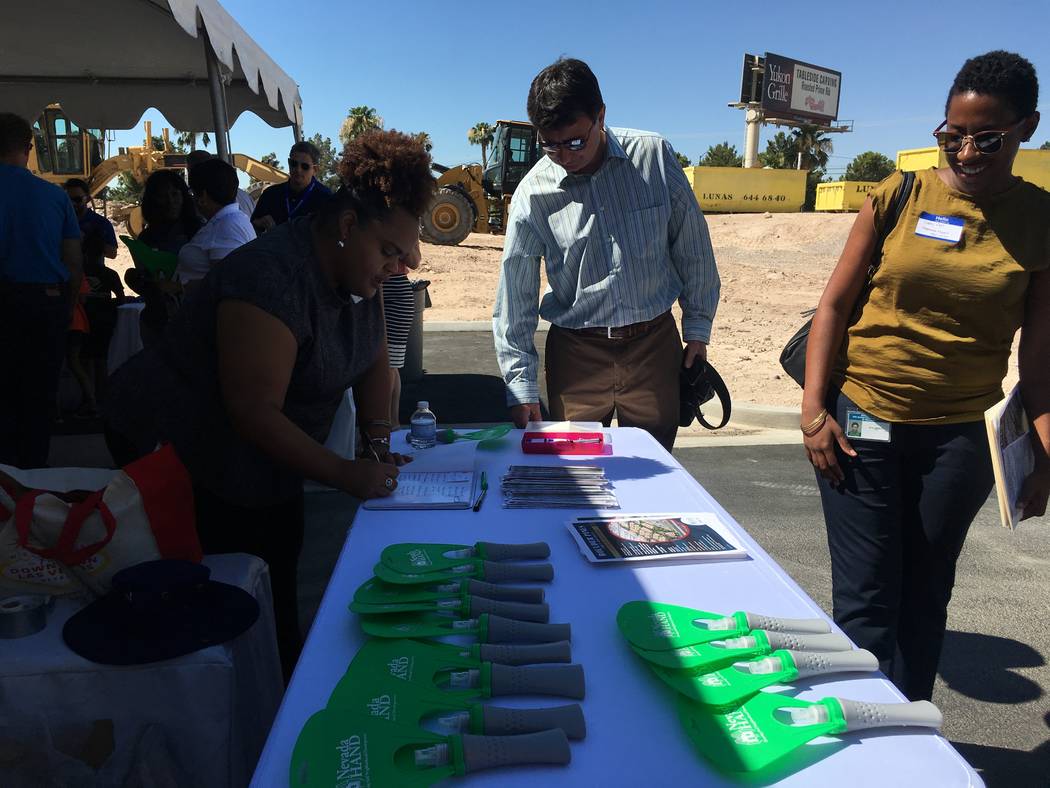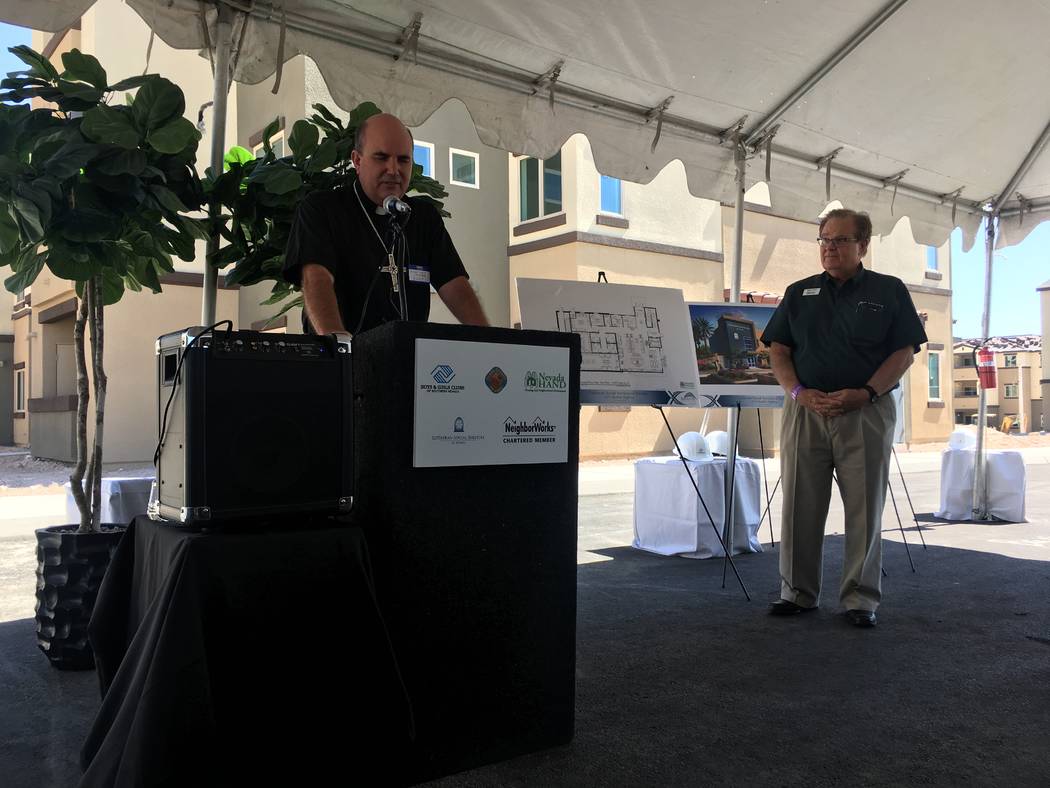 Three Las Vegas nonprofits have teamed up to create a 22-acre campus that will help low-income residents in the east valley.
Nevada HAND, Boys & Girls Clubs of Southern Nevada and Lutheran Social Services of Nevada hosted a groundbreaking June 29 off Boulder Highway near Arizona Charlie's. A charter elementary school, Mater Academy of Nevada, already is on-site.
Michael Mullin, Nevada Hand CEO, got the idea for the campus when he applied for a grant to put a new apartment complex on the lot. Boys & Girls Clubs and Lutheran Social Services also were applying for a building grant.
"After talking to (the Boys & Girls Clubs), we then talked to Lutheran Social Services because we thought we would be much better together than competing with each other," Mullin said.
The Boys & Girls Clubs and Lutheran Social Services buildings are funded largely through a $5.79 million grant from the Department of Housing and Urban Development.
Nevada HAND is nearly finished building 264 low-income apartments. The Boys & Girls clubhouse will provide after-school activities for children. Lutheran Social Services will house its food pantry in the new building. Other nonprofits will provide mental-health services, homeless prevention and infant care.
There are two Boys & Girls clubhouses on Nevada HAND properties elsewhere in the valley. This existing partnership has made the planning of the new clubhouse easier and more cost efficient, said Andy Bischel, Boys & Girls Clubs of Southern Nevada president and CEO.
"The need is inexhaustible," Bischel said. "We could put a clubhouse in every neighborhood of this community, and we still probably couldn't meet the need. So it's not about wanting another clubhouse; it's looking for that right partnership where you can defray as many of your capital expenses as possible, so you can maximize the program revenue to actually provide services to a needy area."
Armena Mnatsakanyan, executive director of Lutheran Social Services, said it helps residents to include various social services on one property.
"We are bringing several key services under the same roof so that our client doesn't have to travel to different areas of the town," Mnatsakanyan said. "Basically, it's a one-stop shop service for people."
The Nevada Homeless Alliance, Renewing Life Center, Nevada Partners and Baby's Bounty will be joining Lutheran Social Services in about six months, Mnatsakanyan said.
Clark County Commissioner Chris Giunchigliani helped the organizations get funding. After pitching to 27 people, they were approved $6 million seed money, which then brought in much needed donations.
"We tried to anticipate what we needed for kids, and that was really my motivation," Giunchigliani said. "I wanted some place safe, a place where they do their homework and then could have fun activities and not get in trouble. There's nothing in this corridor for young kids."
Contact Katelyn Umholtz at 702-383-0279 or kumholtz@reviewjournal.com. Follow @kumh0ltz on Twitter.