East valley woman drives jet cars that surpass 300 mph
November 13, 2017 - 12:02 pm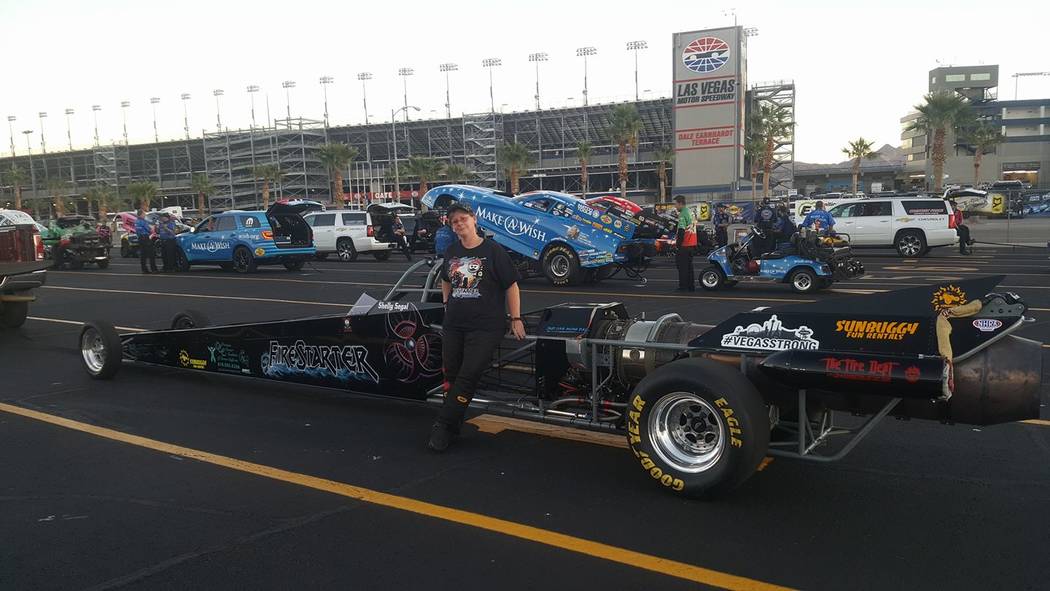 Although her husband was injured in a crash more than 30 years ago, it didn't stop Shelly Segal, 45, of the east valley from learning to drive jet cars — which can travel at more than 300 mph. She's one of about six female performers nationwide in the National Hot Rod Association sport, she said.
Segal's husband, Jerry, 60, started driving jet-powered cars in 1979 and began building them in 1981. He quit performing in 1986, after he crashed a jet car at Los Angeles County Raceway in Palmdale, California, while going 312 mph. He broke some vertebrae in his neck, and doctors said it was a miracle he could still walk, Shelly said.
"(I'm not scared) because if I'm scared, I feel like I should not be driving the car," she said. "I am very aware that it could hurt or kill me, but I think it's that adrenaline rush that kind of overpowers that fear and reminds me that life is all about having fun."
Shelly met her husband about 10 years ago, long after he had stopped performing, and they married about five years ago. Even before meeting him, she'd hang out at racetracks and watch jet dragsters in her home state of Illinois as a teen, she said. She didn't try the sport until 2010, when her now-husband took her to a racetrack to drive a jet funny car — a type of drag car that can reach 330 mph. She said it came naturally.
"I love the adrenaline, the smell, the rumble of the car, and the people are very unique with drag races," Shelly said. "Overall, it's very family oriented. Once you're in it, you're definitely a part of the family."
When Jerry realized his wife's passion for the sport, they decided to build a jet car. They started in 2013 and finished the following year, just in time for her to get her (NHRA) license in Oklahoma City.
She calls it the FireStarter. It has a General Electric J-85 engine, the type that's often found in military fighter aircraft such as the Northrop F-5, and the engine has a custom-built afterburner and produces up to 4,500 pounds of thrust, equivalent to about 5,000 horsepower, she said.
Jerry said that he was cautious when designing Shelly's car, making it heavier than it needs to be because she was a less-experienced driver.
It typically costs about $75,000 to build a car, Shelly said, but because Jerry is a fabricator and already had many of the parts they needed, they spent about $10,000.
Her NHRA license is in the exhibition classification only; jet-powered cars have been deemed too dangerous to compete by the NHRA. Instead, she and other drivers entertain the audience with a fire show and making a run on the track. Shelly said that jet cars are rare, so oftentimes people have never seen one.
The NHRA announced in January 2017 that it will feature more jet car exhibitions at its national events.
Shelly has been performing since 2014 and participated in 12 events this year, in places such as California, Oklahoma and Alberta, she said. She only drives on drag strips that are mostly a quarter-mile or one-eight of a mile. She and her husband haul the jet car via a trailer, Jerry said.
Shelly's first event was in 2016, she said. She said she also was the first female jet car pilot to drive on the Sacramento Raceway Park, Barona Speedway in Lakeside, California, the Albuquerque Dragway in New Mexico and the Las Vegas Motor Speedway, which hosted the NHRA Toyota Nationals in October.
Shelly also teaches sketching and crafts classes at the Cora Coleman Senior Center in the east valley. She said the seniors there have become her fans.
Tommy O'Brien of Mabank, Texas, who has been participating in jet car racing since 1982, said in a phone interview that he's seeing more women get involved.
"I know for a fact that women have better hand-eye coordination, and they're better with attention to detail," he said. "I think women are not only successful in the sport, they are at the top of their game."
Although they don't technically compete, Segal said they still challenge each other "behind the scenes" on who's the best driver and who is the fastest.
Shelly said being successful doesn't just require driving; it's also knowing how to campaign your car — especially if you are new — so you are able to book gigs and to gain sponsors. Her goal is to turn the hobby into a full-time business.
Contact Kailyn Brown at kbrown@viewnews.com or 702-387-5233. Follow @kailynhype on Twitter.
Online
To keep up with Shelly Segal and the FireStarter, follow her on social media: facebook.com/firestarterjetcar.