Exhibit at Winchester Cultural Center inspired by Bible's Tower of Babel
Updated July 21, 2017 - 3:04 pm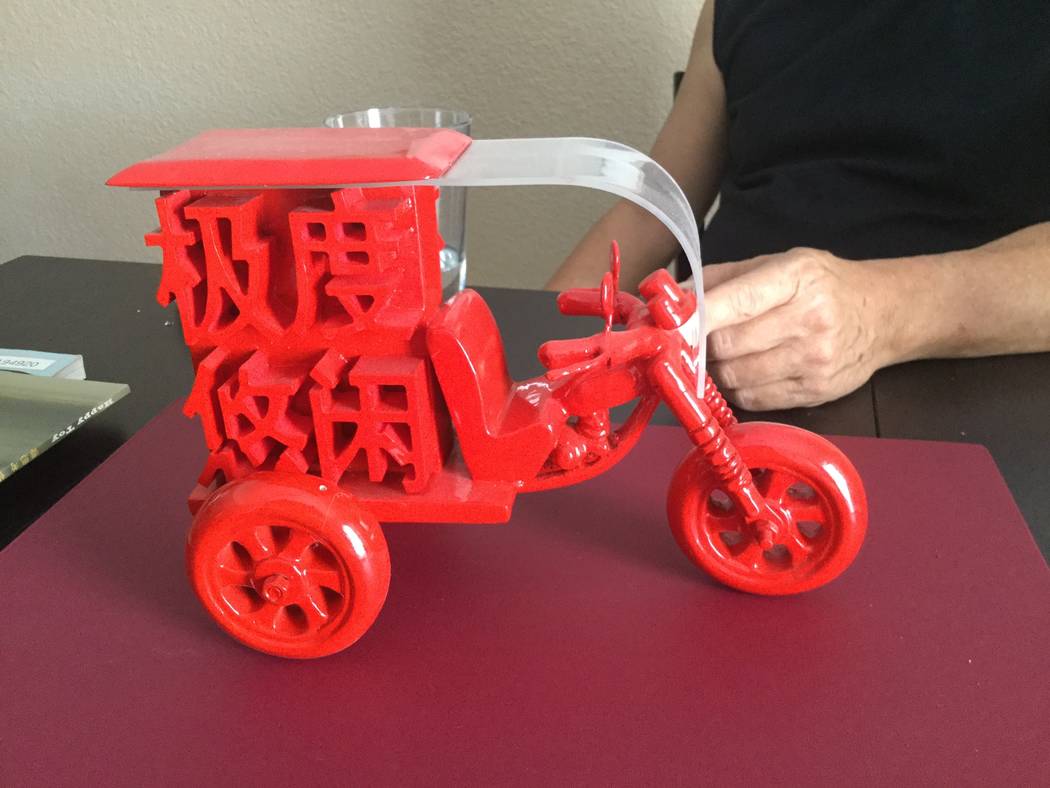 Laurens Tan turns languages, globalism and identities into works of art.
Tan, who has called the Netherlands, Indonesia, Las Vegas and Beijing home, has been making sculptures and digital animations for more than three decades. His exhibit "Babalogic Two" went on display July 17 at the Clark County Government Center Rotunda Gallery.
The centerpiece of the exhibit is a plastic model of the Tower of Babel, a structure described in the Bible that people tried to build high enough to reach God. When God grew angry, the Bible states, the builders were made to speak different languages.
"All the other things that go on (in the exhibit) use this as a basis," Tan said.
The tower was made out of sheet plastic using a laser cutter, he said. Around each level are Chinese characters depicting the evolution of Mandarin as it was influenced by Western culture and language.
Holding up the tower is a three-wheel bike resembling the ones people in rural China use as taxis, as family transportation or for carrying crops.
"It looks like you're carrying the Tower of Babel into the market," Tan said. "Now we can communicate with each other. What are we going to do with it?"
Tan splits his time among Las Vegas, where he owns a home, his Beijing studio and Australia, where he lived most of his life. His parents were born in Indonesia but moved to the Netherlands, where Tan was born. Dutch was his first language, English his second.
Tan said his father didn't want him to be an artist and "metaphorically" held his hand into economics school. Tan was a top student in math but failed accounting and ended up enrolling in art school at 25.
He hasn't stopped creating since.
"I also taught," Tan said. "I love teaching art. It's not just making, it's actually sharing."
Tan periodically visited Las Vegas for about 10 years starting in the 1990s while completing his thesis for the University of Technology Sydney in Australia. The collection he made of digital paintings and sculptures focused on finding an identity in a city defined by change and mass production.
"I thought (Las Vegas) is one big walking souvenir," he said. "Vegas is one of the most unique cities in the world."
Tan said that after spending about 10 years in Beijing, he has an understanding of Chinese culture and how that city and Las Vegas are rapidly changing. He also appreciates the language his grandfather spoke.
"Chinese is so different for us English speakers," he said. "There's nothing to tie the two languages together."
The Chinese characters on "Babalogic Two" were strategic, Tan said. By the fourth level of the tower, Western ideas such as "chain store," "postmodernism" and "birth control" were integrated into the language.
"It was about the bridge between English and Chinese," he said.
Patrick Gaffey, the program supervisor of the Winchester Cultural Center, which organized the exhibit, said Tan "has quite an international reputation, and he has done some really impressive shows in the past."
The best way to experience visual art like Tan's is to see it in person, Gaffey said.
"Visual art is used to express things that can't be expressed through music or written language or spoken language," he said. "People try to learn about visual art out of books, but the way to learn about it is through looking at it."
Contact Katelyn Newberg at knewberg@reviewjournal.com or 702-383-0240. Follow @k_newberg on Twitter.
If you go
What: Laurens Tan's "Babalogic Two" exhibit
When: Through Sept. 1
Where: Clark County Government Center Rotunda Gallery, 500 S. Grand Central Parkway
More information: 702-455-7340