Free Comic Book Day comes to Las Vegas on May 6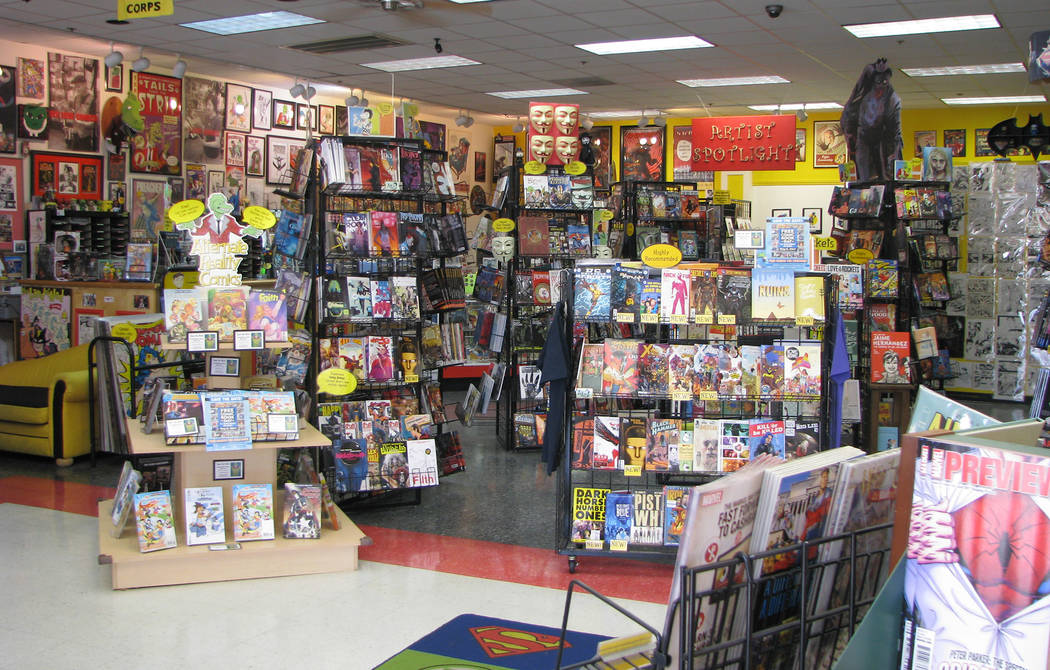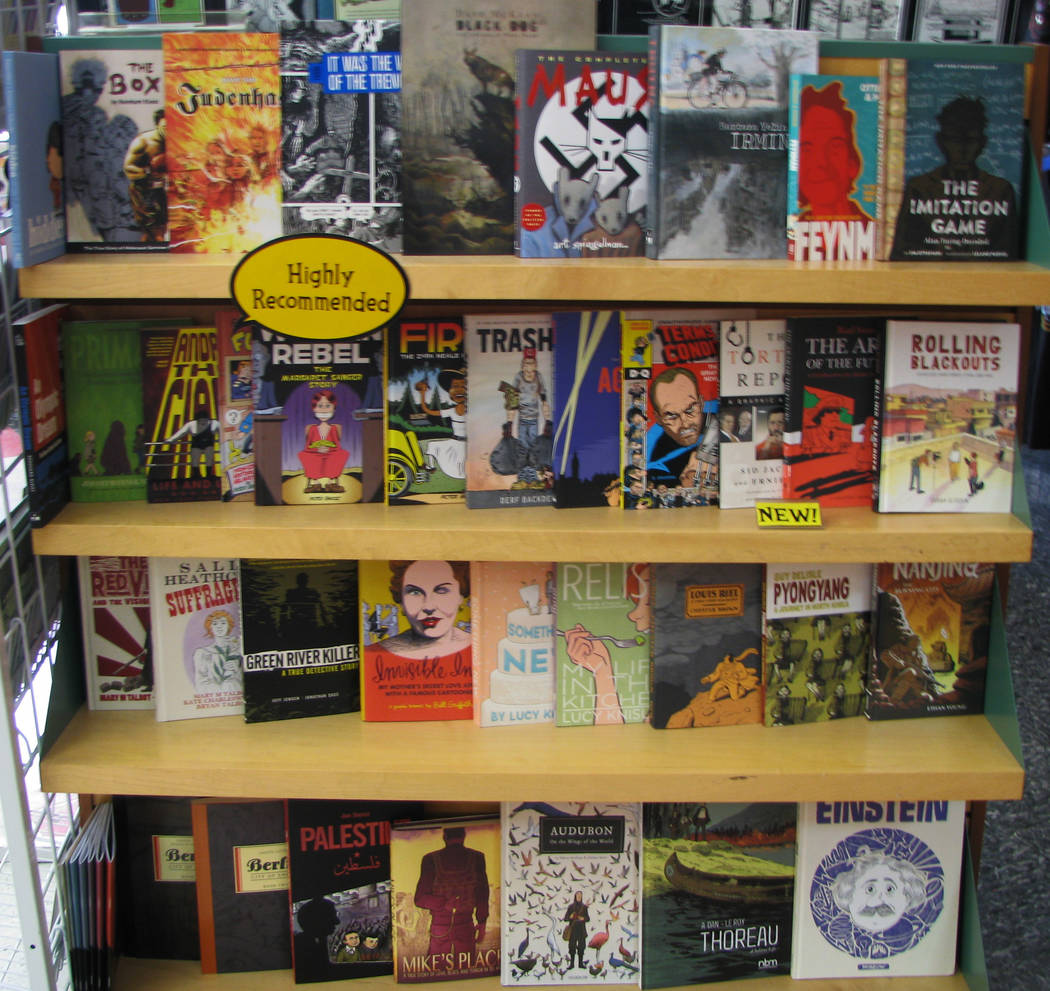 Like the summer blockbuster movies they inspire, comic books keep gaining popularity. Free Comic Book Day, on May 6, also has grown to become one of the biggest events of the year for comic book retailers.
The annual international promotion in which retailers give away millions of comics started in 2002. Publishers produce special editions and stories of some of their most popular titles and offer the books to retailers at cost. Shops release them to the public during the event, which is usually timed for the weekend of the first big comic book-based movie of the summer. This year that film is "Guardians of the Galaxy Vol. 2."
"That's the book I'm looking forward to the most," said Wes Quinonez, manager of Celestial Comics, 9440 W. Sahara Ave., Suite 170. "The first movie caught a lot of people by surprise. They weren't characters a lot of non-comics fans were familiar with, and now people really want to know what the rest of that story is, and most of that's going to found in the comics."
All 13 comic shops in the Las Vegas Valley are participating this year. Many of the shops will have appearances by comic book creators, local artists and costumed characters.
"We'll have raffles, and The 501st (Legion) will be here," Quinonez said referring to the nonprofit group of Star Wars imperial stormtrooper cosplayers who make appearances at special events. "We're going to have 14 local artists coming in and doing sketches. The sketches are free, but the artists will accept donations for Critical Care Comics.
Critical Care Comics is a nonprofit that delivers comic books to children in hospitals.
"It's really one of our favorite times of the year," said Ralph Mathieu, owner of Alternate Reality Comics, 4110 S. Maryland Parkway. "Everyone is so excited and there's a real festive atmosphere. We have a lot of people show up in cosplay and we see a lot of new faces."
The number of comics that each store gives to each customer varies, but Steve Riddle, owner of Velvet Underground Comicsq, 825 S. Decatur Blvd., plans to give eight books to each customer, in part to draw attention to his new location.
"As far as I know, that's more than anyone else is giving out," Riddle said. "We've got our own building, finally, after 26 years at our old location … and I want people to see it."
Vegas Comics, 8866 S. Eastern Ave., Suite 103, is set to celebrate its first Free Comic Book Day with appearances by local artists and Kansas-based pinup-style artist Ryan Kincaid.
"We'll also be offering specials on pressing and dry cleaning comics," owner Lael Berelowitz said. "We kind of get the defects out of the book and get rid of some of the yellowing of the pages to increase the value of your book, whether it's for financial or personal value."
Cosmic Comics, 3830 E. Flamingo Road, Suite 2, is also set to have artists on hand, including balloon artists and face painters for the younger crowd and hourly raffles and extra comics for anyone in line by the time manager Roland Wellington arrives.
"We get people waiting in line out here for hours before the store opens," Wellington said. "If I get here at 6 a.m. and there's people here, I want to let them know we appreciate that."
The store plans hourly raffles leading up to a larger raffle at 6 p.m. Wellington says it's a way to generate readership, reward regulars and bring in new customers while celebrating the medium.
Contact F. Andrew Taylor at ataylor@viewnews.com or 702-380-4532. Follow @FAndrewTPress on Twitter.
Free Comic Book Day
All 13 comic shops in the valley will participate May 6. Special-edition comics will be given away to customers, but not all shops will have all books. For more information, visit freecomicbookday.com.
Action Comics & Games, 210 N. Boulder Highway, Henderson; 9 a.m. to 9 p.m.; 702-387-5566 or actioncomicsandsports.com
Alternate Reality Comics, 4110 S. Maryland Parkway, Las Vegas; 10 a.m. to 7 p.m.; 702-736-3673 or alternaterealitycomics.net
Battlezone Comics, 4444 W. Craig Road, North Las Vegas; 10 a.m. to 8 p.m.; 702-645-7249
Cactus Comics, 2655 Windmill Parkway, Henderson; 11 a.m. to 7 p.m.; 702-270-3232 or facebook.com/SilverCactusComics
Cheese Boy Comics, 8060 S. Rainbow Blvd., Suite 125, Las Vegas; 10 a.m. to 8 p.m.; 702-938-5020 or cheeseboycomics.vegas
Cosmic Comics, 3830 E. Flamingo Road, Las Vegas; 9 a.m. to 8 p.m.; 702-451-6611
Celestial Comics, 9440 W. Sahara Ave., Suite 170, Las Vegas; 10 a.m. to 9 p.m.; 702-222-9883 or celestial-comics.com
Maximum Comics, 5130 S. Fort Apache Road, Las Vegas; 10 a.m. to 8 p.m.; 702-367-0755 or maximumcomics.com
Maximum Comics, 520 S. Marks St., Henderson; 10 a.m. to 8 p.m.; 702-242-6642 or maximumcomics.com
Maximum Comics, 7950 W. Tropical Parkway, Suite 120, North Las Vegas; 10 a.m. to 8 p.m.; 702-722-6642 maximumcomics.com
Torpedo Comics, 8775 Lindell Road, Suite 150, Las Vegas; 10 a.m. to 7 p.m.; 702-444-4432 or facebook.com/Torpedo-comics-333457673417419
Vegas Comics, 8866 S. Eastern Ave., Henderson; 10 a.m. to 7 p.m.; 702-750-9399 or facebook.com/vegascomics
Velvet Underground, 825 S. Decatur Blvd., Las Vegas; noon to 5 p.m.; 702-258-2689