Harnessing mobility: Dog guides blind east valley woman
November 7, 2017 - 9:15 am
Updated November 13, 2017 - 8:34 am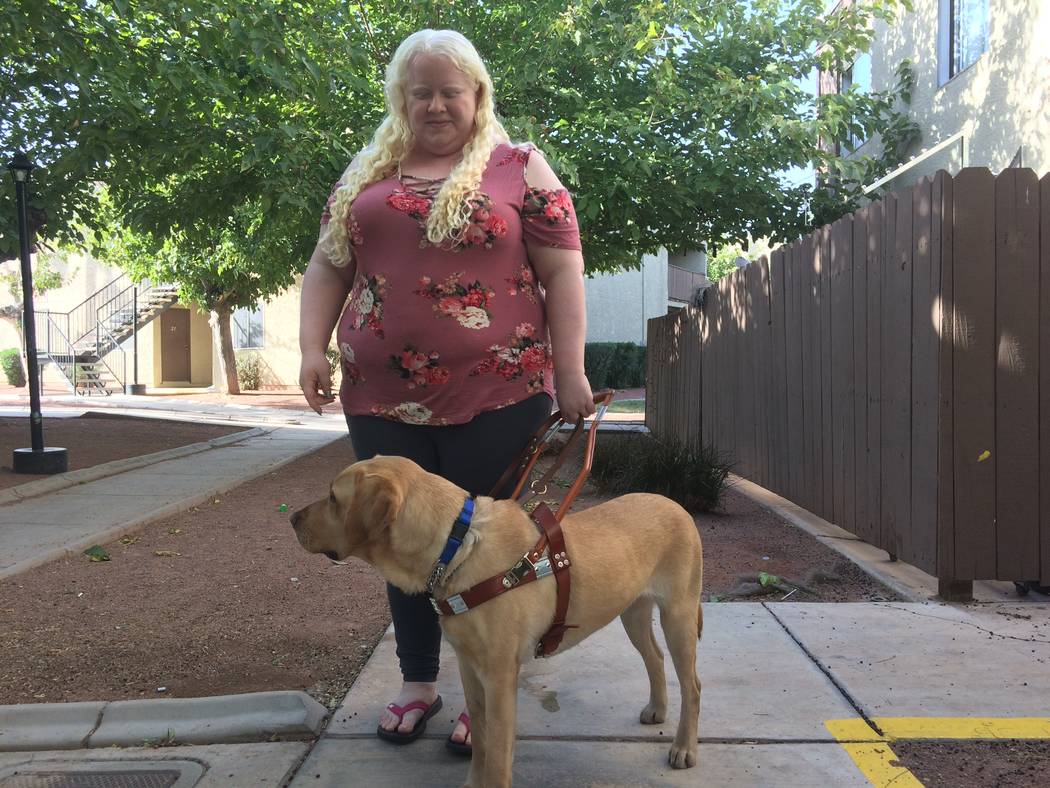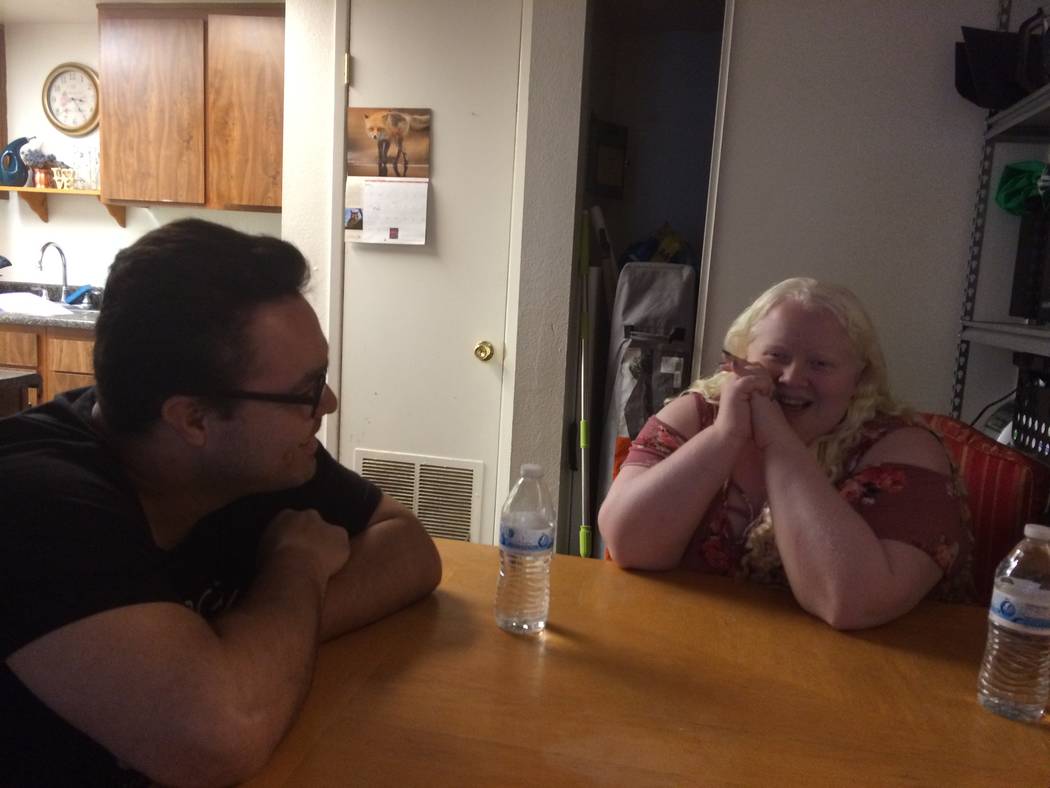 Vanessa Rosado, 25, has always lived in a shadowy world. The California native and east valley resident has been classified as blind since birth due to albinism and could only see shadows and patches of light.
It was enough to allow her to navigate familiar surroundings. She used a white cane to get around unfamiliar ones. But "I'd go out of my way to not have to cross a street," she said. "Uh-uh, not me."
That has changed since Riley, her service dog from Guiding Eyes for the Blind, came into her life in September.
"Now, we fly across the street," Rosado said of the Labrador retriever and her, laughing.
Rosado's fiance, Oscar Benavides, 32, suggested she apply to receive a dog from the nonprofit group and helped her fill out the application. She was one of 13 people to receive free dogs this fall. She was the only one from Nevada.
"I've never had a dog, so this is a whole new thing," Rosado said.
She said she'd wanted a Guiding Eyes dog since the end of high school but was apprehensive. Benevidas, who grew up around animals, had to convince her.
"I told her a dog is a person's best friend," he said. "It's really true."
Rosado left Las Vegas on Sept. 25 for Yorktown Heights, New York, where Guiding Eyes is headquartered. She was there for three weeks. She met Riley right away, and the two were left in a room to get acquainted.
"There were a lot of different emotions going on. I was crying, she was crying. Mostly because she wanted to go with her trainers," Rosado said. "It took about two days before she realized she was with me now."
Her own trust issues came into play the first time she stepped off a curb to cross a street — her biggest fear — with Riley.
Part of that stress is fueled by the loss of her brother Gilbert Vasquez, who was 25 when he was hit by a vehicle while crossing a road and killed in 2009. He was not visually impaired.
Rosado and Riley worked together for two weeks, learning commands and encountering various situations such as handling traffic, getting on and off escalators and elevators, and negotiating changes in elevation. A lot of it was boringly repetitive, but there also was the "life or death" test for the dog. An instructor, driving a car, intentionally created a seemingly hazardous situation to ensure the dog kept Rosado from being hit.
"And they were really (proactive) about the escalators," she said. " … They didn't want the paws to get stuck" in the moving parts.
Guiding Eyes for the Blind has placed 16 service dogs in the Las Vegas Valley in the past 20 years, according to the group.
It costs roughly $50,000 to breed, raise, train and match a guide dog, and to support the team throughout the lifetime of the animal, the group states. To receive a guide dog, one must be older than 16, be a U.S. resident, be legally blind, demonstrate the confidence to walk outdoors unaccompanied, and be responsible for the care of a dog.
Benjamin Cawley, director of admissions and himself a trainer for Guiding Eyes, said his favorite moment of his job is when a person is matched with a dog and having a "front-row seat to their initial walk together. … They start to see the potential and believe that they will be able to take the dog home and succeed."
The pair flew home Oct. 15. Benavidas said that "I had to train myself that, when she's in harness, I'm not to pet her."
When Riley is in the harness, she knows she's on duty and acts accordingly. There's no petting by strangers. When the harness comes off, she's like any other 2-year-old dog and will bring over her ball or plastic bone for a game of fetch. Riley sleeps in a cage outfitted with her own bed.
Benevidas, like Rosado, has less stress now. He works nights in security, opposite Rosado's schedule in her job as a mailing clerk at a military location. When her fiance leaves for work, she is home alone.
"It's weight off my shoulders, having the dog with her whenever she'd go out. And I'm more comfortable being away at night, the safety (factor)," he said. "Plus, there were the (logistics) of getting around, letting her know there were stairs, asking myself, 'How can I guide her from Point A to Point B?'"
Riley requires bathroom breaks and, like any dog, loves to be walked. She has doggie shoes for when the summer temperatures make pavement super heated.
"My days go by faster, I have this lovely dog with me … they were lonely before I got the dog," Rosado said.
Visit guidingeyes.org.
Contact Jan Hogan at jhogan@reviewjournal.com or 702-387-2949.
By the numbers
An estimated 10 million Americans are considered blind or are visually impaired. Seniors account for 5.5 million of them. Studies predict that in the next 30 years, the aging population of baby boomers will double that figure. Worldwide, 82 percent of blind people are 50 or older.
Source: National Federation of the Blind